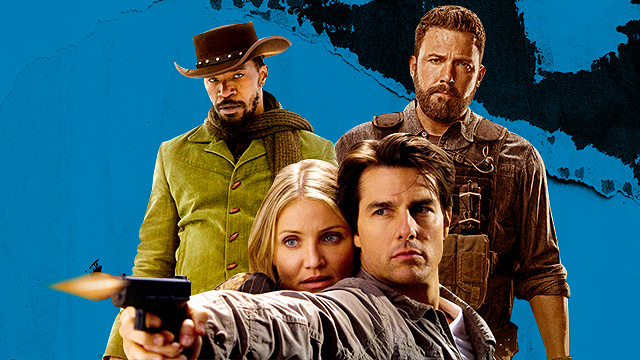 (SPOT.ph) It's hard to believe that 2022 is almost halfway over. While the upcoming end of June is definitely looking, uh, bleak… we're going to put away all those negative vibes by escaping into the realm of the movies. Can't think about the letdowns and the missed opportunities of the year, when you're busy watching Tom Cruise, Ryan Reynolds, or whoever, kick some butt on a globe-trotting adventure!
While comedies, dystopian movies, or even zombie movies may be catered to your more …specific feels this month, we're instead going back to basics with the classic adventure film genre. These 10 Netflix titles are sure to launch you into the escapist fantasy you need right now.
Here are 10 adventure movies on Netflix to help you get away from stress:
Da 5 Bloods (2020)
Da 5 Bloods is the latest feature of acclaimed director Spike Lee. It follows a group of Vietnam War veterans who return to the country in search of the gold they buried there during the war almost 50 years prior. The film's first half is essentially a hang-out film between old friends, with absolutely stellar performances from Delroy Lindo, Clarke Peters, and the late Chadwick Boseman. You get to groove with these complicated characters, who are unsurprisingly still suffering from their experience with the war, before things get explosive and messy in the latter half, as the jungle still has relics from the war hidden in the trees and beneath the ground. It's a fun ride, especially for history buffs.
ADVERTISEMENT - CONTINUE READING BELOW
6 Underground (2019)
Like a lot of films directed by Michael Bay, 6 Underground marches deep into the realm of sensory overload, but that's why we dig the "Bay-hem". This film has all the parkour, car explosions, crude humor, and over-saturated patriotism you'd expect from a Bay action film, but it's also cool to see the filmmaker experiment with modern technology. Trust that he goes all out with the drone shots in this film. It's just one of the most exhilarating flicks you can catch at home. More Netflix movies with over-the-top parkour and giant magnet machines, please.
Triple Frontier (2019)
From the "cool" and "hip" crew of 6 Underground to the absolute daddy-certified group of Triple Frontier. Ben Affleck, Pedro Pascal, Oscar Isaac, Charlie Hunnam, and Garret Hedlund starring as bearded hunks having a melancholic trek around a South American forest? We'd need a whole franchise, honestly, but Triple Frontier does serve as a thrilling heist/action film to watch on a lazy afternoon. It even surprisingly has some truly touching and comedic scenes between the main group. Would like to petition for Netflix, again, to have more of their adventure movies be focused on sad and tired, divorced dudes.
Star Trek Beyond (2016)
Taking the adventure to outer space, Star Trek Beyond is our sci-fi adventure entry on this list. Unlike the first two films of the modern Star Trek series, Beyond feels like it gets closer to hitting the core of what the franchise is about: scientists and space explorers. That may sound nerdy, but it leads the film to have some pretty fresh and exciting action sequences that aren't necessarily confined to just having two aliens shoot at each other. With Beyond, you get a slick ensemble film where the crew is split off into groups exploring a dangerous planet, not to mention cool alien designs, space motorcycles, and Beastie Boys needle drops. Campy sci-fi at its biggest!
CONTINUE READING BELOW
Recommended Videos
Baahubali: The Beginning (2015)
If you enjoyed the recent number one hit movie on Netflix, RRR, you will surely enjoy the director S.S. Rajamouli's previous action-fantasy epic, Baahubali. Netflix has English, Hindi, Mayalam, and Tamil dubs of both Baahubali: The Beginning and its sequel Baahubali: The Conclusion on its streaming platform, both clocking in at around three hours each. Like RRR, it'll prove to be worth it though, as you're treated to fantastic colors, all-out action and musical sequences, and a classic tale of royalty and heroes of legend. At the time of their release, they were the most expensive Indian films ever produced, and they remain one of the most successful films from India until today.
Django Unchained (2012)
Next, we have the brilliant clash of modern filmmaking with classic Hollywood in the 2012 Western Django Unchained. This mostly dialogue-centric journey through the Southern United States at the height of slavery showcases that you don't need a constant barrage of action to be an engaging adventure flick. However, since it's a Quentin Tarantino Spaghetti Western, do expect that there is a bunch of gun violence and lots of exploding squibs of blood. Jamie Foxx and Christoph Waltz are phenomenal as this pair of cowboys forced into a partnership, but the film takes off into new heights once Leonardo DiCaprio and Samuel L. Jackson enter the picture a bit later on. Hopefully, it has your curiosity and your attention now.
Knight and Day (2010)
Itching for a Tom Cruise fix after Top Gun: Maverick and that new Mission: Impossible trailer? While there are other Cruise classics on Netflix, like Steven Spielberg's War of the Worlds and his 2010's hit Jack Reacher: Never Go Back, we're instead throwing it back to the offbeat, buddy comedy between Cruise and Cameron Diaz, Knight and Day. Truly ahead of its time, this secret agent action flick capitalizes off the superstar value of "Tom Cruise can do anything," years before Cruise himself started doing HALO jumps out of airplanes and hanging off the world's tallest building. Now, we're even more invested in Cruise's hijinks, which makes Diaz' character all the more fun as a protagonist in the film.
ADVERTISEMENT - CONTINUE READING BELOW
2012 (2009)
Since the world didn't end in 2012 like we had hoped—er, we mean, as the Mayans had predicted—it's a bit more fun now watching this disaster movie from the "end of the world" blockbuster director Roland Emmerich. Some may say Independence Day is his best work, but 2012 feels closer to what compels him the most about these disaster movie projects. It goes all-out with its apocalyptic imagery, with multiple natural disasters happening simultaneously and characters in different parts of the globe experiencing the end of the world in different ways. It's a showcase of vividly expansive imagination, with a melodramatic family drama at its center. What's more to ask from a blockbuster?
Ip Man (2008)
A biographical film of Ip Man, a Wing Chun grandmaster and the teacher of martial arts legend Bruce Lee, Ip Man is one of the go-to entries into the martial arts films genre. Starring Donnie Yen, the film features breathtaking and hilarious fight scenes that take advantage of the physicality of all the performers involved. Coupled with a story centered on Ip Man teaching the martial art throughout Japan's invasion of China in the 1930's, you got yourself a historical epic that shouldn't be left on the "Watch Later" pile.
King Kong (2005)
Both a sweeping epic romance through the lens of a 1930s Hollywood adventure flick and a technically proficient, modern blockbuster starring a huge CGI gorilla (who is motion-performed by Andy Serkis, of course), Peter Jackson's King Kong deserves to be up there in the conversation of greatest blockbusters of the 2000s. You'll feel genuine emotion for the big ol' monkey, even in the midst of all the dinosaur, big worm, and swashbucklin' action. It's three hours long, but worth it for when the ending has you in a pool of tears over a gorilla.
ADVERTISEMENT - CONTINUE READING BELOW
Hey, Spotters! Check us out on Viber to join our Community and subscribe to our Chatbot.
We are now on Quento! Download the app and enjoy more articles and videos from SPOT.ph and other Summit Media websites.
Your guide to thriving in
this
strange new world.
Share this story with your friends!
---
Help us make Spot.ph better!
Take the short survey
Load More Stories