(SPOT.ph) When it comes to superlatives, the Philippines has a lot under its belt. We're home to some of the world's best islands, the best beaches on the planet, and the global center of marine biodiversity. Surprisingly, hosting these natural wonders doesn't necessarily equate to being the most environmentally conscious nation. A 2015 study found that the Philippines is one of the world's top five producers of plastic waste in the world—along with China, Indonesia, Thailand, and Vietnam. It's a list we should definitely not be proud of. Luckily, we already have more than a handful of people who are trying to solve this plastic problem one ecobrick or one shampoo-refilling station at a time.
Here are 10 genius solutions that can hopefully get us out of this plastic ditch ASAP:
The creation of ecobricks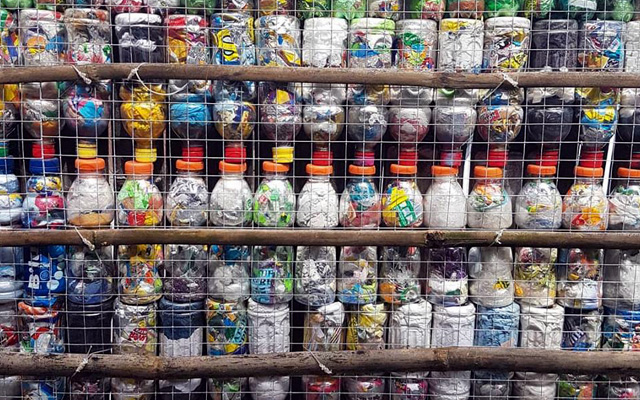 ADVERTISEMENT - CONTINUE READING BELOW
When Canadian artist Russell Maier started stuffing non-biodegradable waste into plastic bottles to create a reusable building block in 2010, little did he know that it would become the global movement that we know today. Ecobricks, as the stuffed bottles are called, were "discovered" while he and his friend were experimenting with sand-filled plastic bottles to make bricks. While gathering sand from the shores of Chico River in Sabangan, some plastic pieces ended up inside the bottles so they thought of just stuffing each with pure plastic altogether. Now, eco-friendly establishments like The Circle Hostel serve as drop-off points for eco-bricks. 
How you can help: Make your own ecobricks by washing and drying plastic waste, cutting them into strips, and stuffing them inside a used plastic bottle. The Plastic Solution has a network of drop-off points, which brings these ecobricks to communities where construction materials are needed.
Sustainable practices at Lio Tourism Estate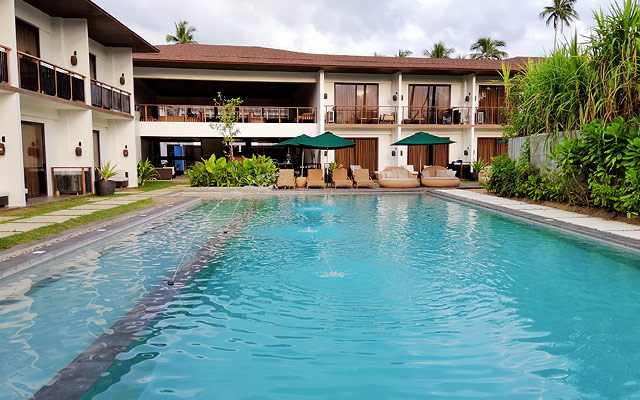 Promoting and developing tourist spots—especially natural wonders—can be tricky. On one hand, infrastructure can make it easier for people to see paradise; but, on the other, it can also destroy the surroundings. El Nido Resorts, which was opened by Ten Knots Development Corporation in the '80s, has made an effort to balance these two sides of the same coin by following a strict sustainability policy even before sustainable tourism became a buzzword. They have their own sewage treatment plant, a materials recovery facility for waste management, a rainwater catchment system, a desalination plant, a set of solar panels, and eco-reefs. Aside from these fancy facilities, their employees—from the staff to the management—go through a comprehensive course on nature conservation and protection. They have also engaged the local community to join them in their cause. Ayala Land, which is developing Lio Tourism Estate with Ten Knots, is following these eco-friendly practices for the whole 325-hectare piece of land in El Nido.
ADVERTISEMENT - CONTINUE READING BELOW
How you can help: You can join the monthly or annual coastal cleanups at Lio Tourism Estate. They also have the Lio Beach Festival, an annual event filled with talks on sustainability and activities to raise awareness on environmental preservation.
Green Antz Builders' plastic-turned-bricks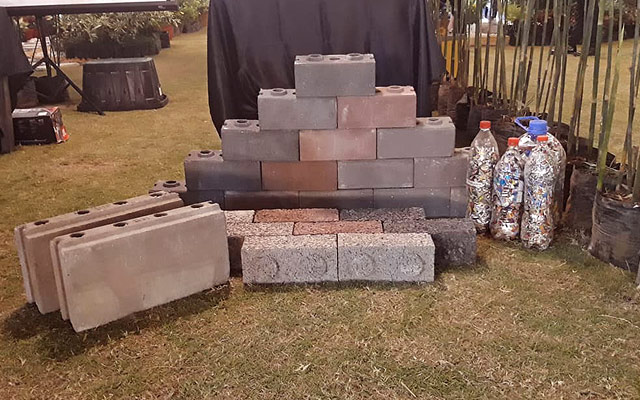 Green Antz Builders, an eco-conscious construction company based in Plaridel, Bulacan, takes ecobricks to the next level by making actual bricks from shredded plastic and wet cement. Each brick uses around 100 single-use plastic sachets and is reported to be five times stronger than regular hollow blocks, and costs less on a per square meter basis. Currently, Green Antz provides building materials for the construction of homes, schools, and daycare centers in Bulacan, Cavite, Rizal, and Cebu. The company also just signed a memorandum of agreement to develop a research and training facility for eco-friendly construction materials in the Clark Freeport Zone.
ADVERTISEMENT - CONTINUE READING BELOW
How you can help: Segregate your plastic waste and donate them to Green Antz Builders.
Envirotech Waste Recycling's plastic-turned-chairs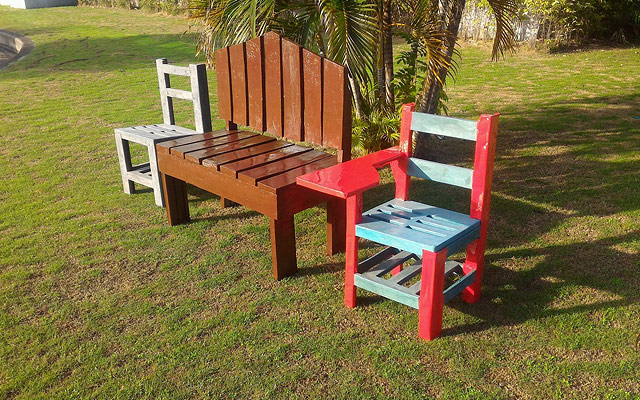 Envirotech Waste Recycling, which is based in Davao City, collects plastic waste from landfills and transforms them into school chairs. It was founded in 2010 by mechanical engineer Winchester Lemen, who later joined forces with entrepreneur Derrick Tan to start the Winder Recycling Company in 2017. Their mission is two-fold: Reduce plastic waste in the Philippines and reduce the "backlog of 1.7 million school chairs in our country." Each chair costs P1,700—about P200 more than wooden chairs—but is more sturdy and has a 20-year warranty with free replaceable parts. They also save a lot of trees in the process.
ADVERTISEMENT - CONTINUE READING BELOW
How you can help: Envirotech Waste Recycling has a dropoff point in Zambales for your plastic donations.
Siargao Recycling Art Studio's Plastic Shop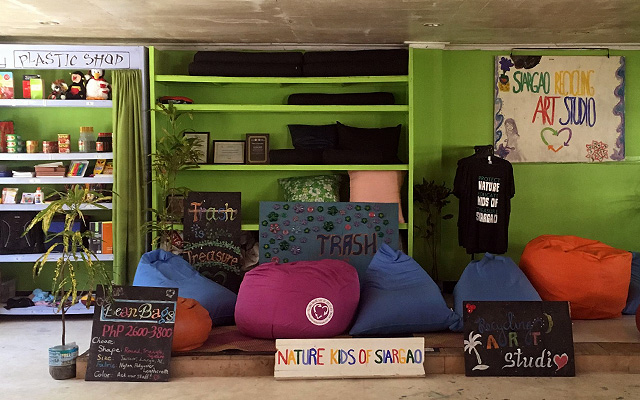 While eco-conscious companies are building bricks and chairs from shredded plastic, down south in Siargao, an art studio turns shredded trash into stuffing for pillows and bean bags. Siargao Recycling Art Studio is one of the projects of Nature Kids of Siargao, a non-government organization that aims not only to protect nature but also educate kids about preserving the environment. It was founded by Sanne "Sunny" Sevig, who moved from Stockholm, Sweden to Siargao in 2012 and immediately fell in love with the island. Siargao Recycling Art Studio also hosts Pay By Plastic, which lets local community members swap trash donations for canned food, household items, toys, and school supplies.
ADVERTISEMENT - CONTINUE READING BELOW
How you can help: If you can spare some time during your vacation in Siargao, Nature Kinds of Siargao welcomes volunteers. You can also donate your plastic waste (or better yet, don't produce waste at all!).
Wala Usik, not your ordinary sari-sari store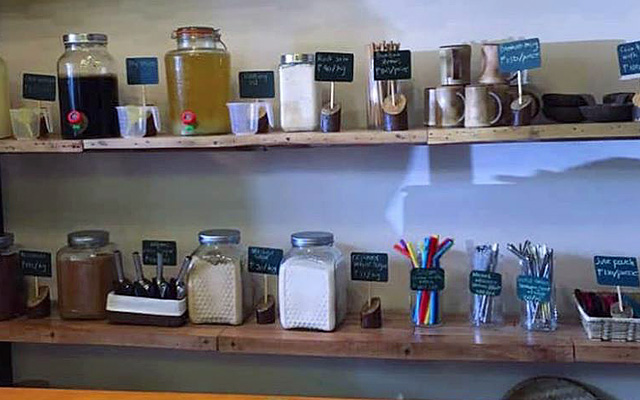 Wala Usik, which comes from the Hiligaynon terms "wala" (nothing) and "usik" (waste), is the first zero-waste sari-sari store in Bacolod City. Opened in January, it encourages customers to bring their own containers and refill them with locally sourced kitchen ingredients and fresh produce—just the way our grandparents did it before sachets and packets took over store shelves. They also sell tumblers, bamboo mugs, metal straws, and upcycled fashion items. Wala Usik is a project by non-profit organization Philippine Reef and Rainforest Conservation Foundation, Incorporated, which is also behind the conservation of the beautiful Danjugan Island.
ADVERTISEMENT - CONTINUE READING BELOW
How you can help: Drop by and take photos of Wala Usik when you're in Bacolod City. Your posts on Instagram can go a long way towards raising awareness on how we can replicate this in other parts of the country.
Refilling stations in Metro Manila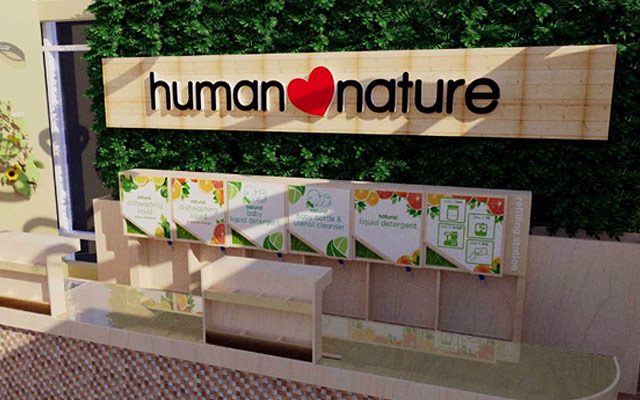 ADVERTISEMENT - CONTINUE READING BELOW
Just look at any dump site and you'll find sachets of three-in-one coffee, shampoo, laundry detergent, and other personal products. Though people say that this can be attributed to our tingi-tingi culture, other companies have taken the initiative of opening refilling stations to do their part in trying to solve the packaging problem. Messy Bessy has refilling stations at Power Plant Mall, Venice Grand Canal Mall, and Uptown Mall, while Human Nature can refill selected home care essentials at their The Block, SM North EDSA, and Commonwealth branches. For south people, Refuse—which offers refilling services for laundry detergents, dishwashing liquid, and fabric conditioners—has a station at Pop Culture in Alabang Town Center; and Ritual, which offers refilling of kitchen ingredients, can be found at the Languages Internationale Building in Makati City.
How you can help: Sign the petition to make refilling stations widely accessible (and acceptable) in the Philippines.
ADVERTISEMENT - CONTINUE READING BELOW
SWEEP's novel approach to waste education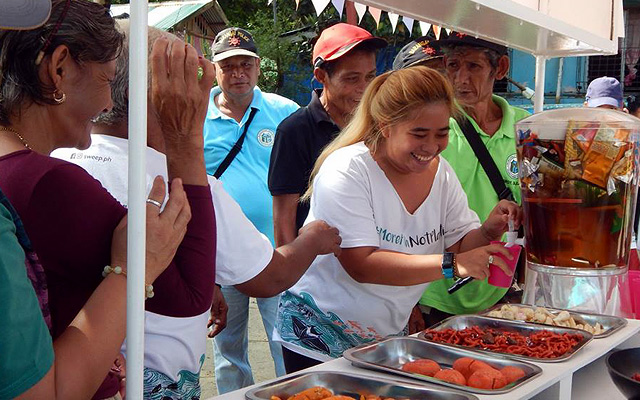 Believe it or not, environmentalists are still having a hard time getting people to realize that the plastic pollution problem is real. Sea Waste Education to Eradicate Plastic, aptly shortened as SWEEP, hopes to solve this by setting up the Fishbolan, a fishball food cart that is actually a mobile museum showing the extent and effects of plastic waste on our environment, food and water supply, and health. They are deployed in public spaces in coastal communities around Negros Island. It makes learning about this environmental issue less intimidating since food carts are a common sight in town plazas. Imagine seeing plastic microparticles in your favorite fishball or kwek-kwek or finding out that the gulaman you're drinking came from water sources polluted with plastic. This initiative by SWEEP is the result of a design-thinking workshop attended by local government officials and community members from Negros.
ADVERTISEMENT - CONTINUE READING BELOW
How you can help: Learn more about sea waste and our plastic problem through SWEEP's projects. Education is key.
Legislated plastic-free places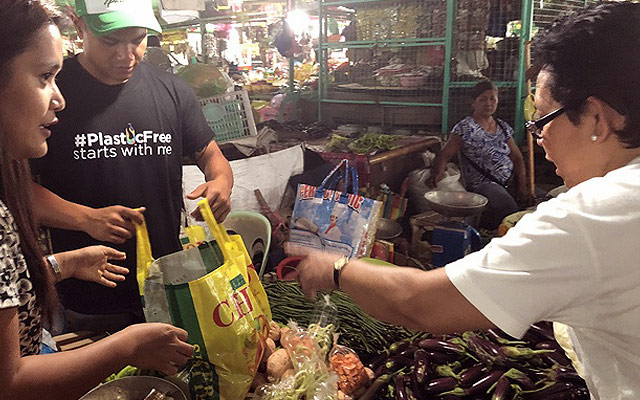 Other cities and municipalities in the country have taken the initiative to impose regulations on single-use plastic before we all drown in our own pile of garbage. Most of Metro Manila cities already have ordinances in place that ban sando bags in the supermarket or plastic straws in fast-food restaurants. Outside the Metro, more local government units are following suit. San Fernando City, La Union penalizes anyone who uses extra plastic when bagging wet goods in the public market while El Nido in Palawan prohibits bringing any kind of plastic to the islands especially on boat tours.
ADVERTISEMENT - CONTINUE READING BELOW
How you can help: Follow the plastic ban (even when there's none). You can also be vigilant when you see people littering.
Clean Beach, a café-slash-zero-waste advocate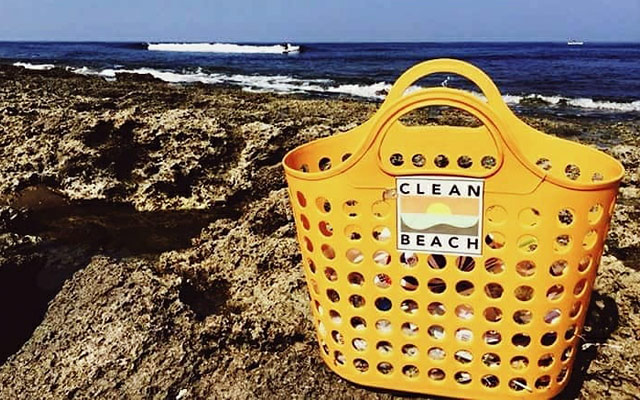 Aside from serving locally sourced single-origin coffee, Clean Beach also encourages an eco-friendly and sustainable way of life by reducing consumption of single-use plastic in its shop and instilling among customers the habit of cleaning up after themselves. They also initiate beach cleanups, host workshops and seminars on sustainability and environmental preservation, and encourage customers to pick up plastic waste along the beach by giving away free iced tea to every person who returns with a bag full of trash. It was co-founded by Camille Pilar, who started Banned from the Beach—an Instagram account that compiles photos of trash spotted on our beaches.
ADVERTISEMENT - CONTINUE READING BELOW
How you can help: Make it a habit to pick up trash wherever you are—whether you're surfing in the middle of the ocean, diving under the sea, or just lazing around the beach.
Your guide to thriving in
this
strange new world.
Share this story with your friends!
---
Help us make Spot.ph better!
Take the short survey
More Videos You Can Watch
Load More Stories