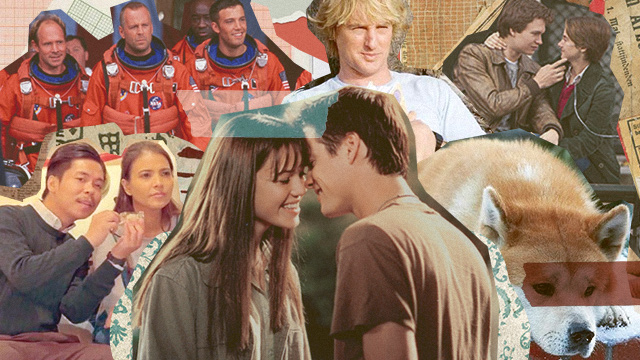 (SPOT.ph) Are you currently a shell of the person you used to be? In need of a real-good crying session to let out whatever it is you've been carrying? Well, we aren't therapists—but we do have the next best thing: movies that are sure to be worth every tear (unlike your ex, just saying). We asked our readers for their favorite movies to cry to and you guys gave us the best of the best, or we should probably say, the saddest of the saddest.
ADVERTISEMENT - CONTINUE READING BELOW
We round up 10 of the most popular answers, from animated classics to no-fail dramas and more. So the next time you're in need of some emotional catharsis, check out this list to see what you can watch!
Prep the tissues for these 10 saddest movies to watch:
Your Name (2016)

This time-travelling, folkloric Japanese tale—matched with some of the most beautiful animation style ever—is enough to melt even the coldest hearts out there. Kimi no Na Wa, the film's OG title, gives you a lot of reasons to start welling up throughout the movie, but that sudden mood swing during what should have been the happiest reunion moment just pushes you into full breakdown territory. You know which scene we're talking about. 
The Notebook (2004)

CONTINUE READING BELOW
Recommended Videos
Where do we even begin with this movie? If popular media were to be believed, The Notebook has become the bane of every TV boyfriend out there—but this is real life and we just know you watch this movie every time you need a reason to believe things will eventually work out okay. We feel you. Also, come on, that rain scene just gets us every damn time. 
Grave of the Fireflies (1988)

Studio Ghibli films have this strange way of being both fantastical and incredibly real, with this classic taking both those elements to the maximum. Tracking two young siblings picking their way through the carnage of World War II, it sits at the top of the list of movies so traumatic yet so important that you need to watch it at least once in your life—just be warned. This is not the type of film you watch for when you want to be sad and just need some sort of release, this is the one to watch when you need to realign your principles or something along those lines.
ADVERTISEMENT - CONTINUE READING BELOW
A Walk to Remember (2002)

Leave it to Nicholas Sparks to have everyone sobbing. Every teenager in the 2000's ultimate dream was to find a guy like Landon (Shane West) to help them put on fake tattoos or a girl like Jamie (because, well, Mandy Moore) thanks to this touching film on mortality, love, acceptance, and all the important lessons this film taught us. Anyone else tear up a bit remembering their unscripted on-stage kiss knowing they wouldn't get their happily ever after?
The Fault in Our Stars (2014)

ADVERTISEMENT - CONTINUE READING BELOW
If the early aughts gave us A Walk to Remember, kids of the 2010's had The Fault in Our Stars. John Green's equally tearjerking book came to life via Shailene Woodley and Ansel Elgort playing the star-crossed lovers Hazel Grace and Augustus Waters, respectively, on the big screen. The movie had everyone asking each other "Okay?" to which we reply mid-sob, "Yeah, nope, definitely not, but thanks for asking."
Hachi: A Dog's Tale (2009)

We put the American version starring Richard Gere on this list, but we know the classic 1987 OG Japanese one, Hachiko Monogatari, is just, if not more, heartbreaking. It's impossible you don't already know the tale of Hachiko, the real-life Akita who spent more than 10 years waiting for his deceased owner to come back in early 20th-century Japan. We're already crying just writing this down so you know the movie's going to be worse—we mean, so much better for your crying session.
ADVERTISEMENT - CONTINUE READING BELOW
Marley & Me (2008)

Don't be fooled by the feel-good looks of an Owen Wilson, Jennifer Aniston, and a golden lab trio—this movie is a comedy-drama that's real heavy on the drama. What is it with dogs and their incredible ability to make us feel? Marley & Me takes you through the huge ups and downs of life and love, with the boisterous and wonderful Marley at the center. We already know you know how this film ends, but that makes it no less painful.
Armageddon (1998)

ADVERTISEMENT - CONTINUE READING BELOW
Spotters threw it all the way back to this '90s sci-fi thriller—and we totally understand why. Armageddon had it all. Sure, the science may not have made complete sense but damn, did it make up for it with high-stakes, adrenaline-filled scenes, an almost obscenely attractive couple courtesy of Ben Affleck and Liv Tyler, and an ending that forever changed the game for the trope of familial sacrifices. Could you imagine pulling a Harry Stamper move?
Kita Kita (2017)

As if this list could exist without a Pinoy tearjerker. Philippine cinema has more than its fair share of stories that hit hard—but this is arguably the latest movie that had audiences full on breaking down in theaters when the indie finally screened locally. The sweetly laid out story takes you on a smooth ride with the unexpectedly natural pairing of Alessandra de Rossi and Empoy Marquez—then promptly, yet somehow justly, hits you like a truck. We still love it, though. 
ADVERTISEMENT - CONTINUE READING BELOW
Up (2009)

We totally think Miley Cyrus was inspired by the first few minutes of Up when she sang "Nothing breaks like a heart." Pixar has since released a slew of deeply emotional works since 2009—and yet nothings seems to match up to the perfectly executed love story of Carl and Ellie. Best part? There are new tidbits to discover about their story with every rewatch of the montage. Carl's transforming from a grumpy old man to having a new reason to continue living is a redemption arc that isn't to be missed either. We know Ellie would be proud. 
Hey, Spotters! Check us out on Viber to join our Community and subscribe to our Chatbot.
Share this story with your friends!
---
Help us make Spot.ph better!
Take the short survey
Load More Stories