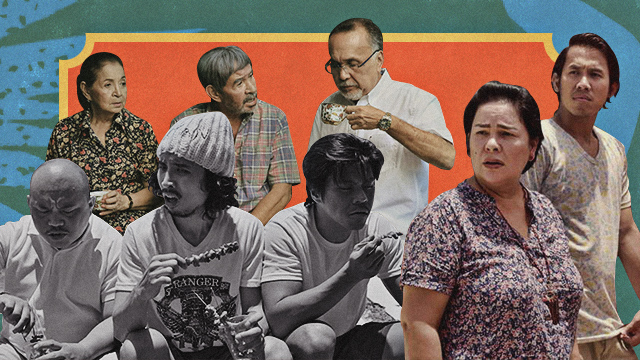 (SPOT.ph) Pinoy cinema is very much alive—and thriving not just in the mainstream, but underground as well. These past few years have seen a surge of appreciation for independent-made works, from critically acclaimed Lav Diaz oeuvres to under-the-radar hits like Glenn Barit's Cleaners. Whether you're a certified aficionado or not sure which movies to start with, we round up some of the best Pinoy indie hits you can stream on what is arguably today's most popular platform: Netflix.
ADVERTISEMENT - CONTINUE READING BELOW
Also read:
10 Pinoy Indie Romance Films You Can Stream Now
ICYMI: These Four Must-Watch Pinoy Indie Films Are Now On Netflix
10 Must-Watch Historical Filipino Films
Dive into the world of the local underground cinema with these 10 Pinoy indie films on Netflix:
Rakenrol (2011)
The gist: Odie (Jason Abalos) has had a long-time crush on friend Irene (Glaiza de Castro) for ages now and so he makes up an entire band with her, Hapipaks, in an effort to get closer.
Why you should watch: This coming-of-age film is pretty much Quark Henares' (of the old NU 107 radio station) unpolished ode to the local underground music scene in the 2000s—and who wouldn't want a slice of that feel-good nostalgia?
 Apocalypse Child (2015)
The gist: The lives of quiet folk in a sleepy Baler town—particularly that of Ford (Sid Lucero), the supposed sire of director Francis Ford Coppola—are upended by the return of an old friend and now congressman.
Why you should watch: Slow, steady, and deeply intimate, this much-lauded indie directed by Maria Cornejo is the type of movie that feeds into your emotions.
Patay Na Si Hesus (2016)
The gist: Single mom Iyay (Jaclyn Jose) takes her three more or less fully grown kids on a wild road trip to their estranged father's funeral. Along the way, they cross paths with a crazy nun, unexpectedly caring tambays, and more general bewilderment—plus some deep reflections.
Why you should watch: This is more than just a dark comedy; there's a certain poignancy that cuts through this hilarious Visayan film that is definitely worth the watch.
Pamilya Ordinaryo (2016)
The gist: Two teenagers barely making a living on the streets face the truest horror of having their one-month-old child disappear.
Why you should watch: It is all in the title. Eduardo Roy Jr's Pamilya Ordinaryo is a straight and tense look at the lives of a majority of Pinoys. It is hard to watch as the two teens, Jane (Hasmine Kilip) and Aries (Ronwaldo Martin), are failed by the system in every possible way—and even harder to understand that this is how most people live now.
ADVERTISEMENT - CONTINUE READING BELOW
Kalel, 15 (2020)
The gist: Kalel (Elijah Canlas) is a 15-year-old born with the exact opposite of a silver spoon in his mouth. The secret son of a priest and a difficult mother (played by Jaclyn Jose), the boy goes on a mad descent after he is diagnosed HIV positive.
Why you should watch: This acclaimed black-and-white film by Jun Lana will lead you on an erratic ride through the life of a kid forced to grow up immediately. 
Iska (2019)
The gist: Iska (Ruby Ruiz) is someone who works at the photocopying stall in Palma Hall. The elderly grandmother does everything that is expected of her, including taking the brunt of caring for her autistic grandchild and apathetic husband.
Why you should watch: Life is full of background characters. In this tragicomedy, we dive into the life of someone we wouldn't normally pay attention to—and find out whether being everything that's expected (Read: loving, hard-working, and well-intentioned) is enough to guarantee a happy ending.
ADVERTISEMENT - CONTINUE READING BELOW
Babae at ang Baril (2020)
The gist: A department store saleslady serendipitously finds a gun in her hands, leading her to go on a borderline deranged rampage against anyone who has ever done her wrong—and as a woman, that is a very long list to go through.
Why you should watch: Janine Guiterrez had everyone hooked as the vindictive saleslady then this acclaimed Rae Red film dropped—but it is more than just a revenge story. The story traces the path of systemic abuse women face everyday and gives a voice to a necessary topic. Aside from the very satisfying vicarious revenge, which we just can't not mention.
Ang Pangarap Kong Holdap (2018)
The gist: The son of a notorious and well-known thief tries to make it big with his own ragtag crew—only he unwittingly recruits an undercover cop.
Why you should watch: This comedy-heist film was a huge hit with the crowd when it was first released in theaters, all thanks to an awesome blend of truly Pinoy humor (think tongue-in-cheek with pilosopo mixed in), excellent comedic acting courtesy of Pepe Herrera, Jerald Napoles, and Jelson Bay as the lead inepts, and an honest-to-goodness compelling story at its heart. We truly wanted these "bad guys" to succeed.
ADVERTISEMENT - CONTINUE READING BELOW
Lola Igna (2019)
The gist: An old woman's peaceful wait for death is upended by her relatives wanting to turn her incredibly advanced years into a literal tourist attraction—and the entrance of someone claiming to be the son of an estranged granddaughter.
Why you should watch: Pamilya Ordinaryo's Eduardo Roy Jr. once again presents life unfiltered—but with a lighter touch in Lola Igna. Angie Ferro is a delight to watch as the ornery Lola Igna. You're sure to learn a thing or two about how to stay alive, not just in terms of the number of years, with this one.
Kung Paano Hinintay ang Dapithapon (2018)
The gist: While most stories center around the main events of life, this one happens after the fact. An elderly unmarried couple, Tere (Perla Bautista) and Celso (Menggie Cobarrubias), are living their last years out quietly. That is until Tere's estranged husband, Bene (Dante Rivero) comes calling. Enter a quiet look at what happens when the old must finally face the consequences of their younger selves' actions.
ADVERTISEMENT - CONTINUE READING BELOW
Why you should watch: "Kaya kitang harapin kasi hindi na kita mahal." We felt that.
Hey, Spotters! Check us out on Viber to join our Community and subscribe to our Chatbot.
Your guide to thriving in
this
strange new world.
Share this story with your friends!
---
Help us make Spot.ph better!
Take the short survey
More Videos You Can Watch
Load More Stories