Best of Manila: 50 Great Restaurants of 2018
Our list of the most noteworthy food destinations of 2018.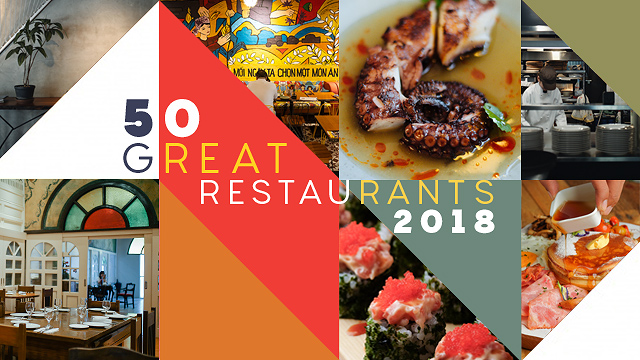 (SPOT.ph) As it's been in the past few years, the Metro Manila food scene in 2018 saw plenty of sleek concepts sitting comfortably alongside more casual homegrown eateries. Whichever side of the spectrum they fall on, there's one thing they have in common: the ambition to deliver an experience that's meant to keep you coming back. We've rounded up the most remarkable local food destinations of 2018. Is your favorite on the list?
Restaurants are listed alphabetically. This list has been limited to restaurants that opened between December 2017 and December 2018.
Also read:
Best of Manila: 50 Great Restaurants of 2017
Best of Manila: 50 Great Restaurants of 2016
% Arabica
G/F W City Center, 7th Avenue corner 30th Street, Bonifacio Global City
Contact: 821-6744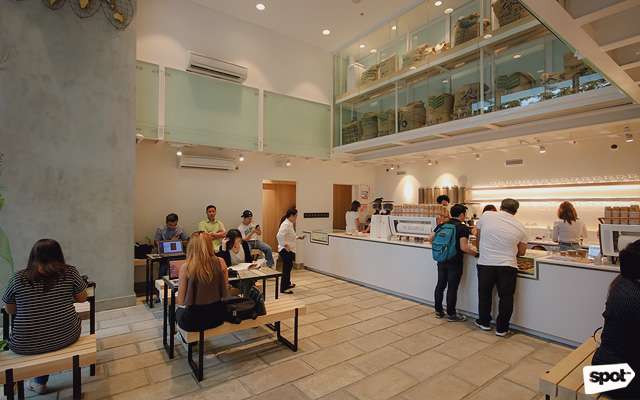 ADVERTISEMENT - CONTINUE READING BELOW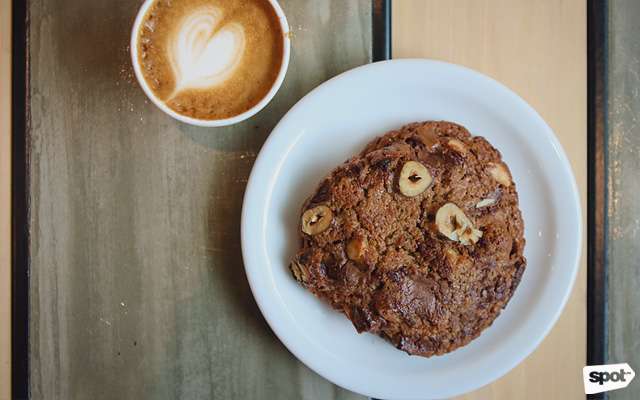 For espresso-based drinks that'll keep you up all day, head over to % Arabica in BGC. This brightly lit café from Japan is known for their minimalist décor and menu, which puts the spotlight on coffee done with precision—like most things Japanese. Their best-selling Spanish Latte is a delicate blend of espresso, milk, and a dash of condensed milk to add a hint of sweetness without sacrificing that rich coffee taste. They've got pastries and sandwiches, too, like the Choco Nut Cookie, with a crunchy crust and chewy chocolate center, best eaten warm.
Must-tries: Spanish Latte, Choco Nut Cookie
205
C2 U/G High Street Central, Bonifacio Global City
Contact: 0917-858-1942, 759-4827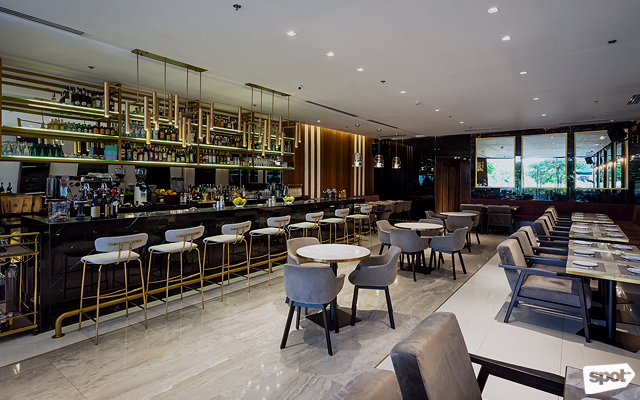 ADVERTISEMENT - CONTINUE READING BELOW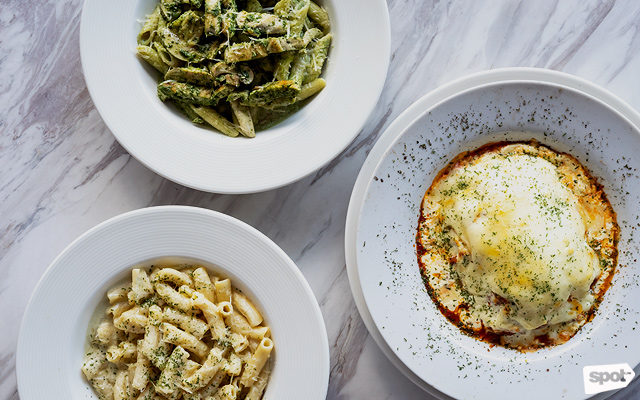 When a hotel lounge and a well-designed coffee shop decide that they want to have a baby, 205 is apparently what emerges. However, the would-be price tag is mercifully left out of that gene pool. You can, against your conservative great aunt's advice, keep things both casual and classy—this place is proof. Their mac and cheese isn't called The Best Damn Mac & Cheese for nothing; it's a beautiful combination of all the things you love about the Americanized pasta dish. Bonus points for custom cocktails at P350!
Must-tries: The Best Damn Mac & Cheese, Breakfast Pizza
BCN
Unit G10, Bolanos Street, Legazpi Village, Makati City
Contact: 0966-331-1352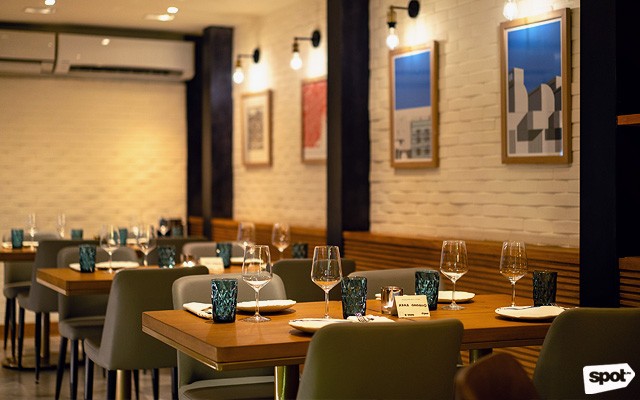 ADVERTISEMENT - CONTINUE READING BELOW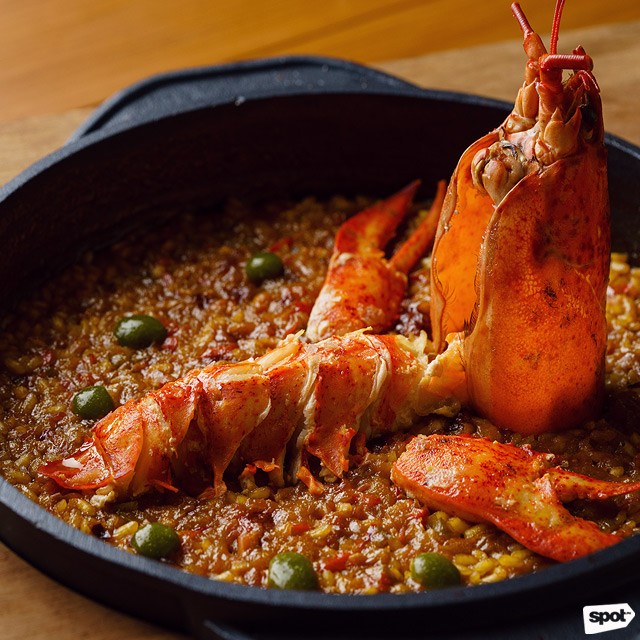 With several Spanish restaurants under their belt, it's safe to say that Bistronomia (formerly La Lola Group) has the cuisine down pat. One of their new concepts for 2018 was BCN, the group's homage to their home city, Barcelona. At BCN, expect Spanish fare that's hard to find anywhere else, like Arroces a La Leña or rice dishes baked in a charcoal oven—the Arroz de Bogavante a La Parrilla is a standout. It's almost impossible to look away from an entire grilled lobster that sits atop this cast iron pan of rice. Another impressive dish is the Foie Mi Cuit Con Calabaza y Yogurt, which features an impressive symphony of savory-rich, tart, and an almost heady sweetness in a single bite.
Must-tries: Arroz de Bogavante a La Parrilla, Foie Mi Cuit Con Calabaza y Yogurt
Borough
UG/F C2 Bonifacio High Street Central, 7th Avenue, Bonifacio Global City
Contact: 0927-222-8099
ADVERTISEMENT - CONTINUE READING BELOW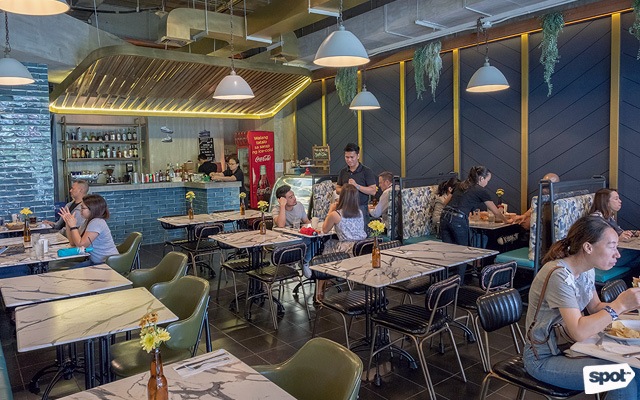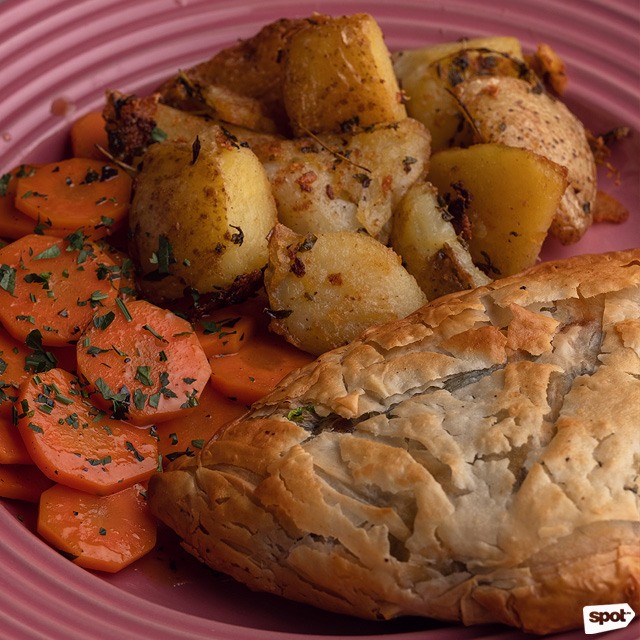 From a moody, pub-like atmosphere, Borough has evolved into a more polished restaurant inspired by New York City's trendy vibe and cuisine. Along with the makeover, Chef Cuit Kaufman introduced new dishes to the menu, while maintaining old favorites. Don't worry, the grilled cheese sandwich is still there, but a definite must-try is the Apple Cranberry Stuffed Pork Chops: the inch-thick, bone-in pork chop is served with a side of mashed potatoes and cranberry-apple brioche stuffing. It's like having a celebratory meal any time of the year. 
ADVERTISEMENT - CONTINUE READING BELOW
Must-tries: Grilled Cheese and Tomato Soup, Apple Cranberry Stuffed Pork Chops, Mom's Milk and Cookies
Café Ysabel
175 M. Paterno Street, Barangay Pasadena, San Juan City
Contact: 725-5089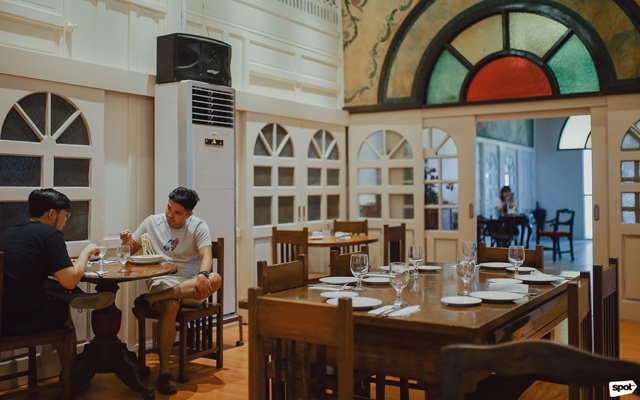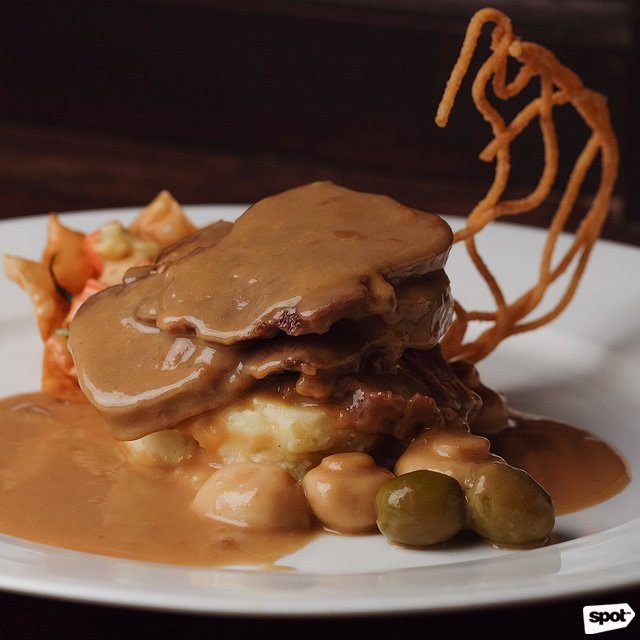 Café Ysabel is no stranger to this kind of restaurant round-up, especially with 36 years under their belt, but they still deserve a spot on 2018's list for a successful relaunch. It seemed almost impossible for this legendary restaurant to stay closed for long—when they first announced that they were closing back in December 2016, they were met with loud protests and nostalgic sadness as the memories and stories flooded in. In May, Café Ysabel finally reopened in a new ancestral home a stone's throw away from their old location, keeping some of their old paintings, fixtures, and vintage charm. The menu is still the same, but if Café Ysabel has proven anything in the decades that they've been open, it's that they're never ones to fear change.
ADVERTISEMENT - CONTINUE READING BELOW
Must-tries: Spaghetti With Angry Sauce, Strawberry Shortcake
Caffeined by Artesania
910 Arnaiz Avenue, Makati City
Contact: 0908-890-9593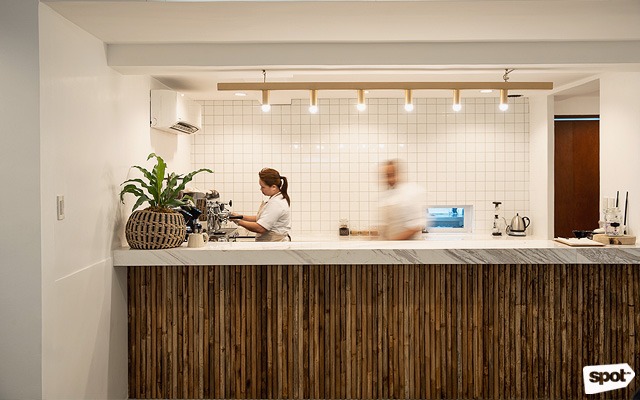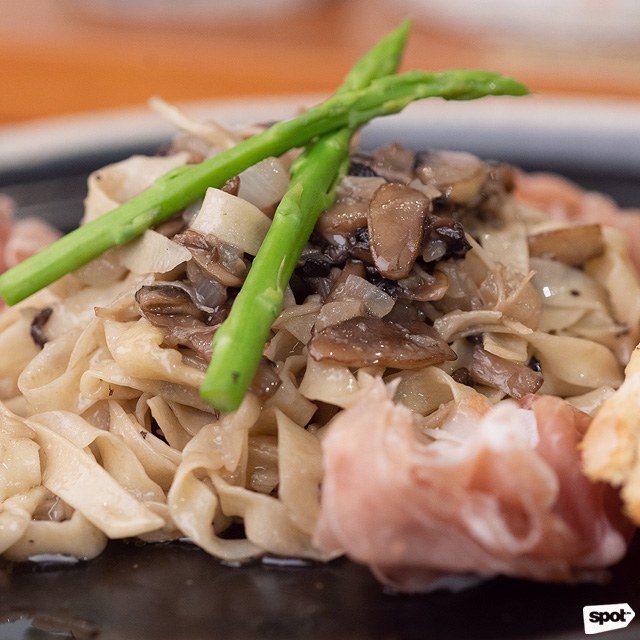 Who would think that you'd find a cozy café inside a furniture showroom, of all places? Here, coffee-shop campers can have a bite or two alongside the furniture pieces and art on display. While taking a break from shopping, you can savor the homey ambience of the café, along with the food. Caffeined's spacious kitchen cooks up mouthwatering starters and mains, with one notable dish being the oil-based Mushroom Truffle Pasta, which is made with fresh tagliatelle, enoki and button mushrooms, prosciutto, and asparagus. It's not the usual cream-based dish, making it a light but tasty meal.
ADVERTISEMENT - CONTINUE READING BELOW
Must-tries: Mushroom Truffle Pasta, Seafood Aglio Olio, Miso Glazed Salmon
Camp Curry
Ayala Triangle Gardens, Paseo de Roxas Street corner Ayala Avenue, Makati City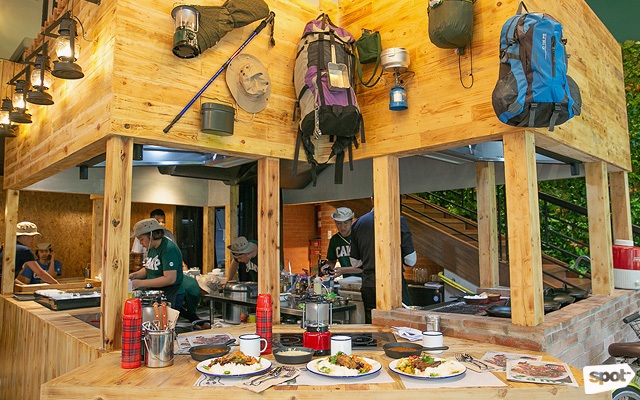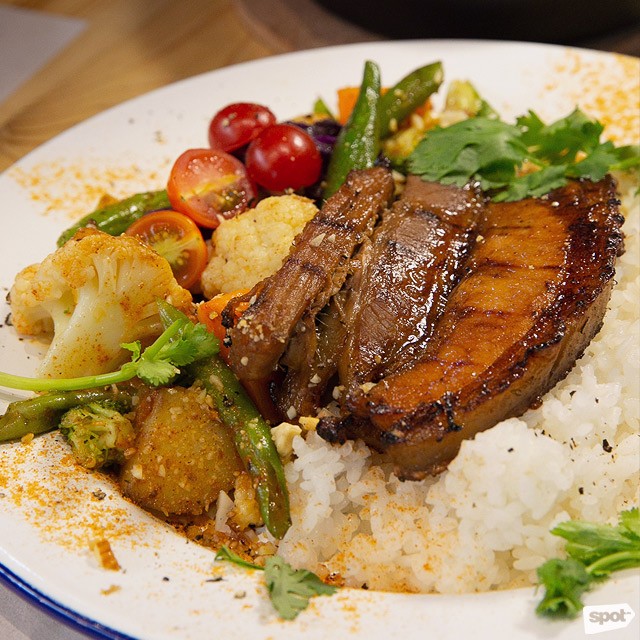 Very rarely do we encounter an "order literally anything" sort of restaurant, but here we are. Chef Takashi Sato and the team behind Camp Curry are committed to their outdoorsy aesthetic, but even more so to the versatility and quality of the food they serve. Not even their utensils are half-assed—they're at least vaguely (adorably) shovel-shaped. If you're wondering what to get, the BBQ Chicken & Chunky Vegetables is a go-to for many, with juicy chicken meat complemented by crunchy, cooked-just-right veggies, while the Red Bisque Curry sauce is a hot dish you wouldn't soon forget.
ADVERTISEMENT - CONTINUE READING BELOW
Must-tries: Pork Belly with Chunky Vegetables, Red Bisque Curry, BBQ Chicken & Chunky Vegetables
Chuck's Deli
4636 J. Molina Street, Poblacion, Makati City
Contact: 0917-620-1047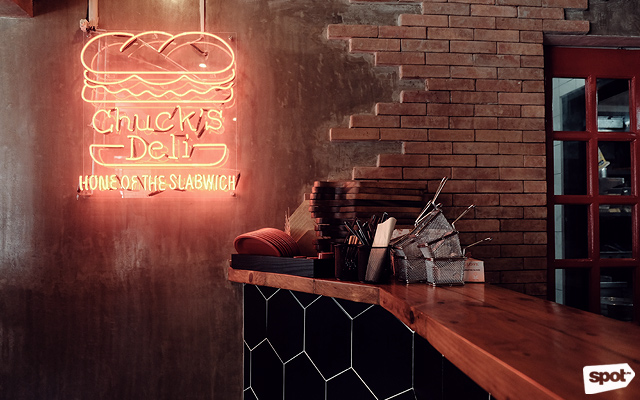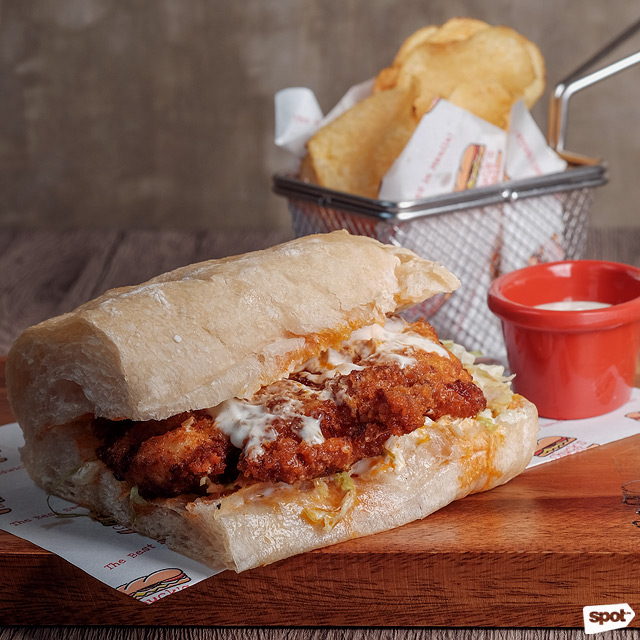 While Chuck's Deli had a pretty loyal following when they closed in 2011, the seven-year break was exactly what the shop needed to give themselves a much-needed refresh. They've scaled down their operations to just one branch in Poblacion, opting for an edgier, industrial-inspired aesthetic that was the right fit for the cool district. The sandwiches are the same chunky creations that regulars fell in love with, but they've done away with the hotdogs and burgers to focus on what they did best. The Buffy is still a crowd favorite—there's really no way to resist a sandwich stuffed with thick chunks of buffalo sauce-covered crispy chicken. The Faking Duck is back, too, and its Peking duck-esque hoisin sauce-coated roast-pork slices are the only trick we'd happily fall for every time. So, yes, Chuck's Deli is still the same, with a few tweaks here and there. One of our favorite additions? Their milkshakes, which now come topped with toasted marshmallow fluff.
ADVERTISEMENT - CONTINUE READING BELOW
Must-tries: The Buffy, The Faking Duck
Cicchetti
8/F MDI Corporate Center, 10th Avenue corner 39th Street, Bonifacio Global City
Contact: 987-4756, 0917-321-4756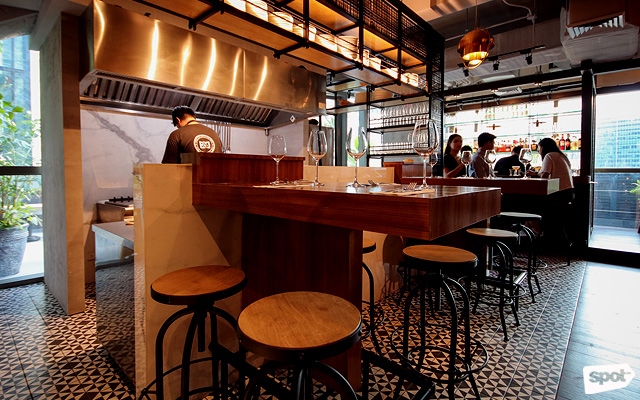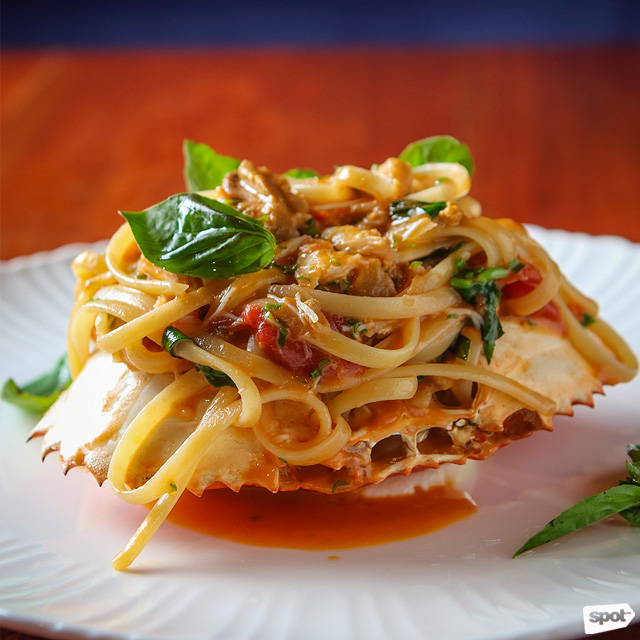 Tucked away on the eighth floor of a high-rise office and commercial space in BGC is Cicchetti. Chef Alec Santos, who spent time in the kitchen of Michelin-starred Carbone in New York, is known for straightforward cooking that delivers comforting flavors, so it's no surprise he's helming the kitchen of this new Italian restaurant. But apart from the usual pasta-and-pizza roster, Cicchetti focuses on small bites similar to Spanish tapas, otherwise called cicchetti, as the restaurant's name suggests. Start by ordering the Carne Cruda, or savory Italian steak tartare laid on crunchy buttered crostini—we're sure you'd end up finishing the whole plate to yourself.
ADVERTISEMENT - CONTINUE READING BELOW
Must-tries: Carne Cruda, Crab and Ricci
Da Gianni
Westgate Hub Alabang, Alabang, Muntinlupa City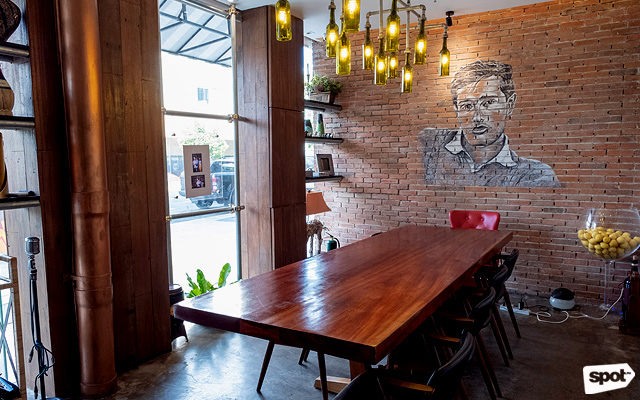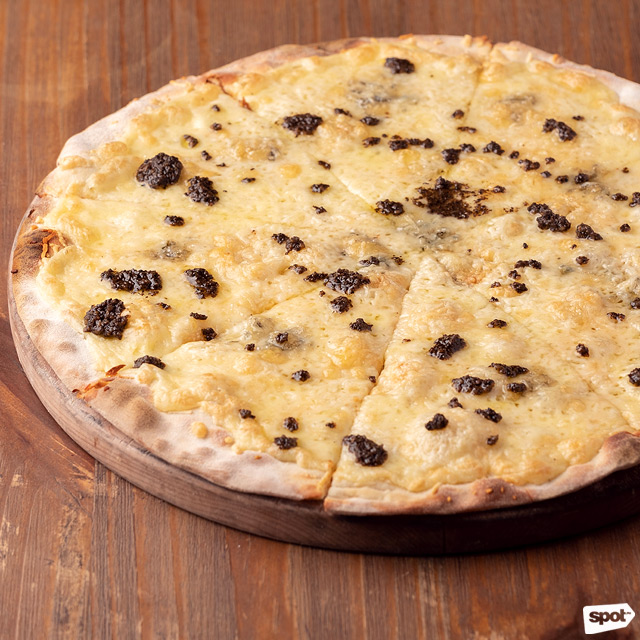 A perfect middle ground for Italian tradition and Filipino culinary intuition (you know most of us have it), Da Gianni is, on its own, a heartwarming tale of a dear old fellow who never forgot his roots. The menu—not the restaurant—is pretty cheesy, and in the best way. Take, for example, their Quattro Formaggi, a delectable thin-crust pizza topped with gorgonzola, pecorino, mozzarella, and provolone. And did we mention the generous dollops of grated truffle? We've said it before and we'll say it again: It may be in Alabang, but it's worth the drive (for North folks, that is).
ADVERTISEMENT - CONTINUE READING BELOW
Must-tries: Formaggio Tomino, Quattro Formaggi
Ebi10
Tambai Alley, 5779 Felipe Street, Poblacion, Makati City
Contact: 956-7816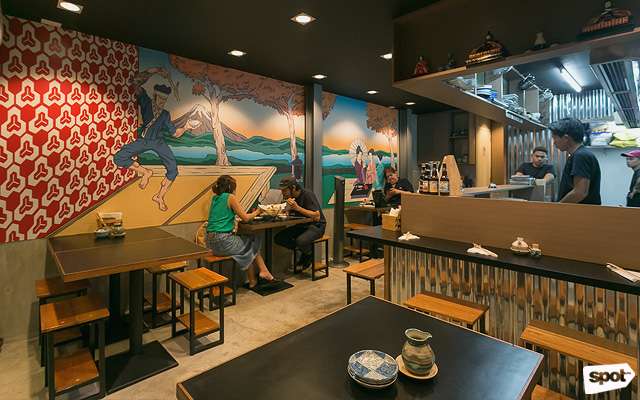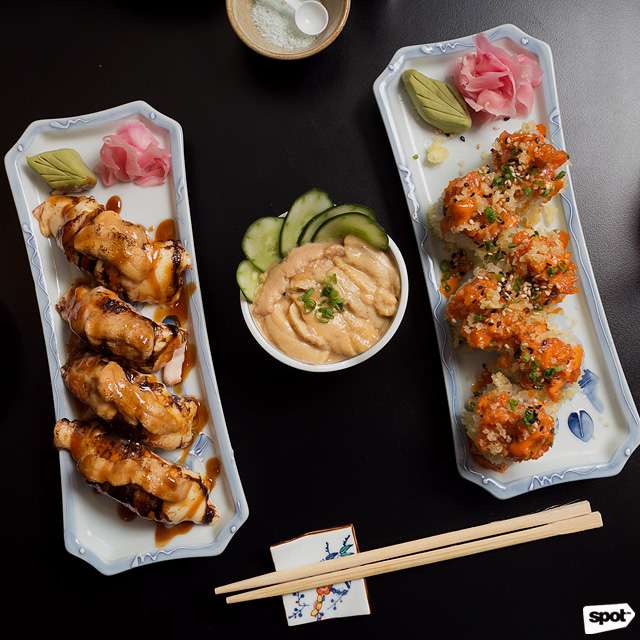 Stroll around Poblacion and you might chance upon a narrow pathway that will lead you to one of the newest additions at Tambai Alley—Ebi 10. Inspired by the tempura bars in Osaka, this hole-in-the-wall has an open kitchen behind the bar-like counter and a colorful, comic-style mural that livens up the small space. See how they do tempura the right way and sample its light and crisp coating, or customize your own tempura basket by ordering any flavor by the piece. Complete your meal with other Japanese favorites like sashimi, fried rice, and stir-fried noodles.
ADVERTISEMENT - CONTINUE READING BELOW
Must-tries: Jumbo Shrimp, Ebi 10 Chahan, Bacon Yakisoba
Elbert's Sandwich Shop
Level R2, Power Plant Mall, Rockwell, Makati City
Contact: 621-6751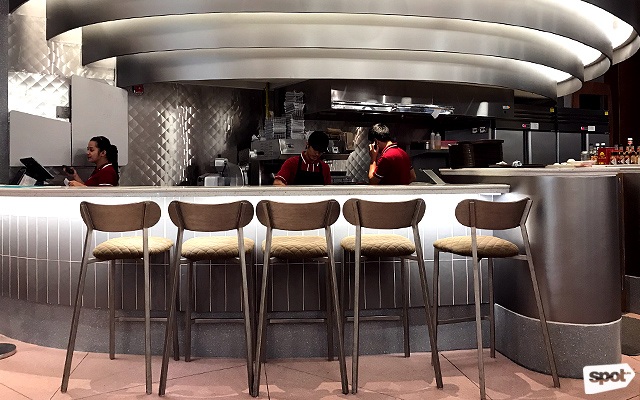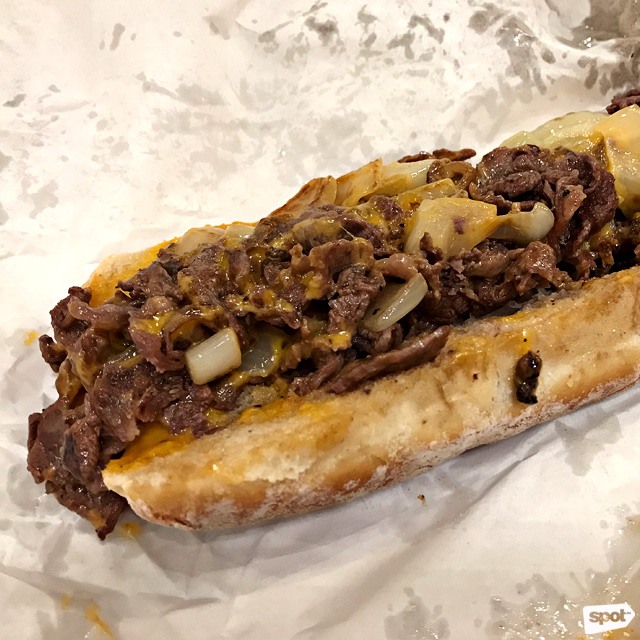 Alabang regulars know them as "Elbert's Sandwiches," but even with a new name, Elbert's Sandwich Shop still serves up the same amazing cheesesteak sandwiches that we could argue are some of the best in Manila. The move to Power Plant Mall is actually a return to their roots—their first shop, Elbert's Cheesesteak Sandwiches, used to be located here, too—and their menu has been pared down to just the classics with a few twists. Though, once you have their Cheddar Cheesesteak with its generously buttered rolls, tender steak strips, grilled onions, and loads of melted cheese, it's impossible to think of anything else. If you do feel the need to shop around though, have the House Burger, which is as classic as it can get with a messily juicy beef patty sandwiched between two toasted buns with fresh tomatoes, lettuce, and grilled onions.
ADVERTISEMENT - CONTINUE READING BELOW
Must-tries: Cheddar Cheesesteak, House Burger
Essential Goodness, For The Pilgrims
13/F of Lub d Hostel, Makati Avenue, Poblacion, Makati City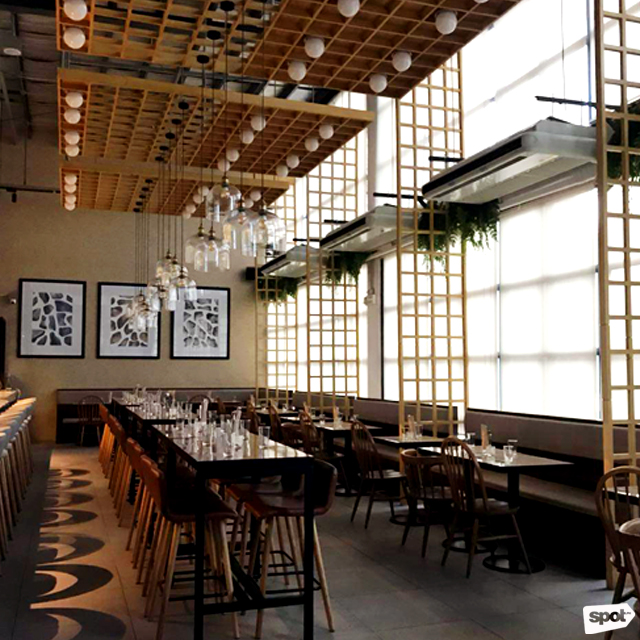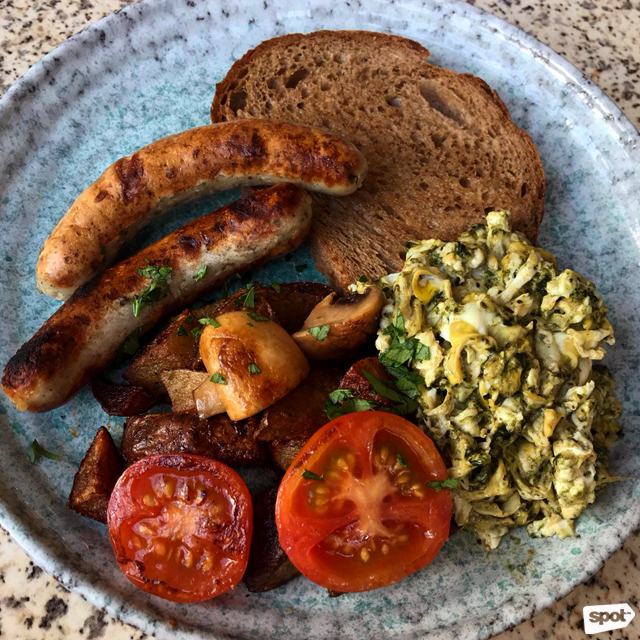 From the same brains behind now-defunct Hey Handsome comes what might be one of the chilliest new spots in Poblacion. Sure, their name is a mouthful and a tad too hard to remember, but this breakfast nook's no-frills brunch dishes will leave you thinking about it for days to come. Essential Goodness, For The Pilgrims opens as early as 6 a.m. to feed the hungry breakfast crowd, and closes late for people who wish to do a little pre-game drinking at its al-fresco bar while taking in the glistening view of the Makati skyline. They've got all the, well, essentials—from a classic peanut butter and jelly sandwich, to homey -silogs and even Western-style steak and fries. The place gets full fast so it's better to reserve a table in advance!
ADVERTISEMENT - CONTINUE READING BELOW
Must-tries: Essential Breakfast, House Peanut & Jelly Toasted Sandwich, Wagyu Grilled Steak and Fries
Extra Virgin
G/F Milano Residences, Century City, Makati City
Contact: 0956-948-2635, 0921-529-2245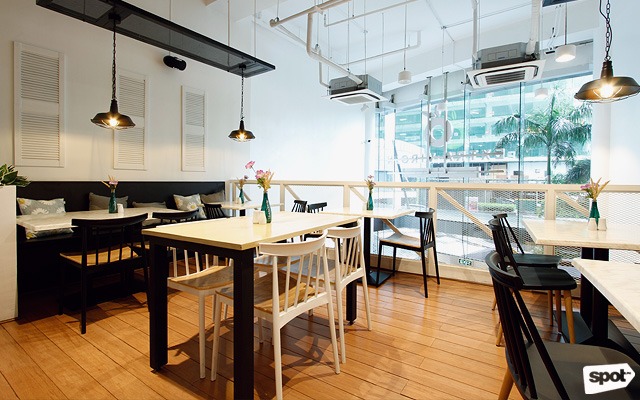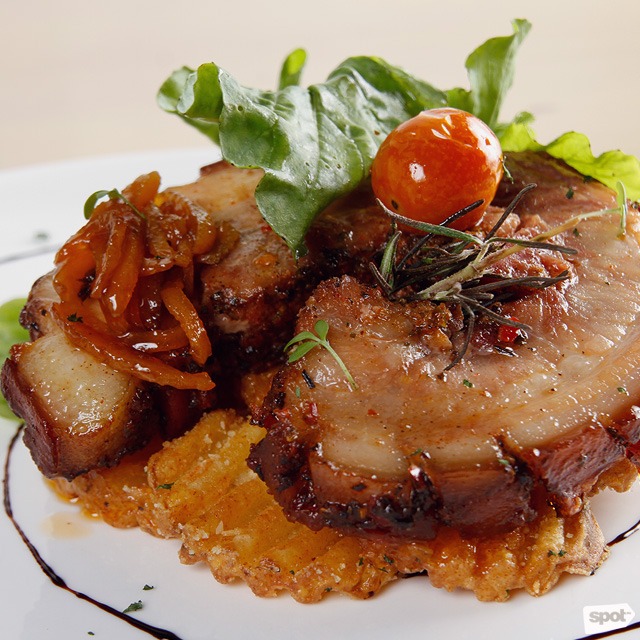 It's really just easier (and, dare we say, more productive) to head on over to Extra Virgin than to try and say "I love olive oil" 10 times fast. Who even does that? In any case, it's a hub of culture; Chef Mark Buhain puts his French techniques to the test on Italian food, resulting in comforting food that's plated like you aren't meant to eat it. Case in point: Their Countryside Porchetta—crunchy roasted pork belly atop golden-brown baked potatoes. Don't forget to order the Cannoli, a pleasant revival from the chef's previous and now-defunct restaurant on Shaw Boulevard, Cantina Sicilianita.
ADVERTISEMENT - CONTINUE READING BELOW
Must-tries: Countryside Porchetta, Cannoli
Flossom Kitchen + Café
G/F Flossom Place, N. Averilla Street, San Juan City
Contact: 356-6900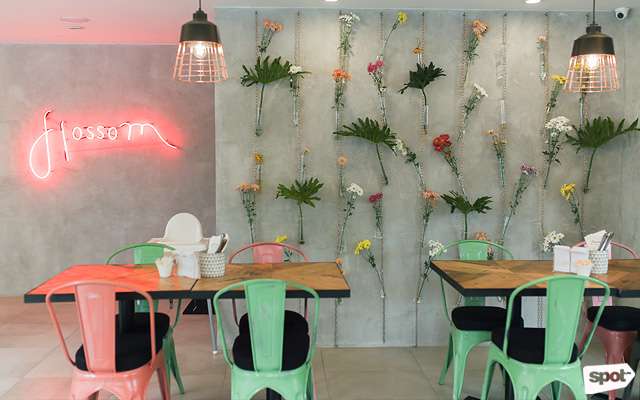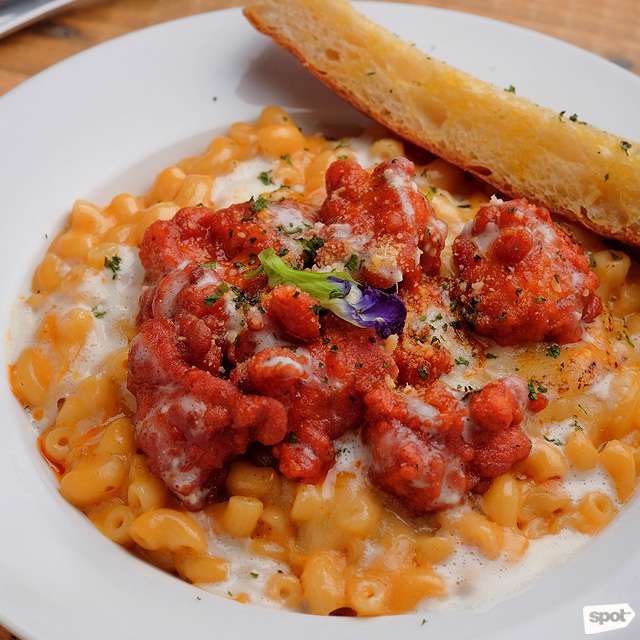 It's hard to imagine an airy, relaxed space in Metro Manila, but that's what Flossom Kitchen + Café provides. This is not a place where you can just stop by and be out the door in less than an hour; this is where you spend x hours thinking about how #blessed you are. Classic dishes are given a personal twist by those who run the show, none of which we can reasonably contest—just like the Buffalo Mac & Cheese, with spicy-tangy Buffalo chicken tenders laying on a bed of gooey, cheesy, and saucy macaroni. 
ADVERTISEMENT - CONTINUE READING BELOW
Must-tries: Ube Champorado, Buffalo Mac & Cheese
Gaja
8445 Kalayaan Avenue, Makati City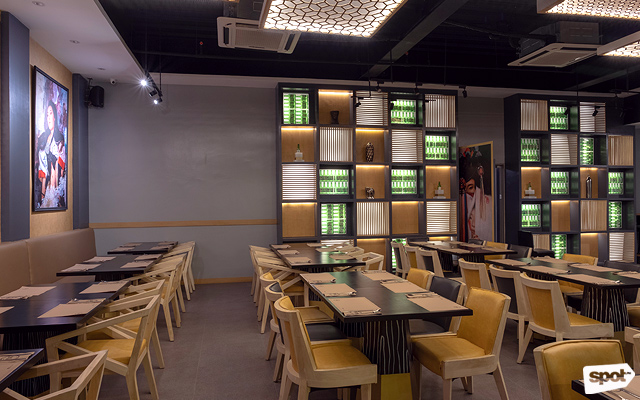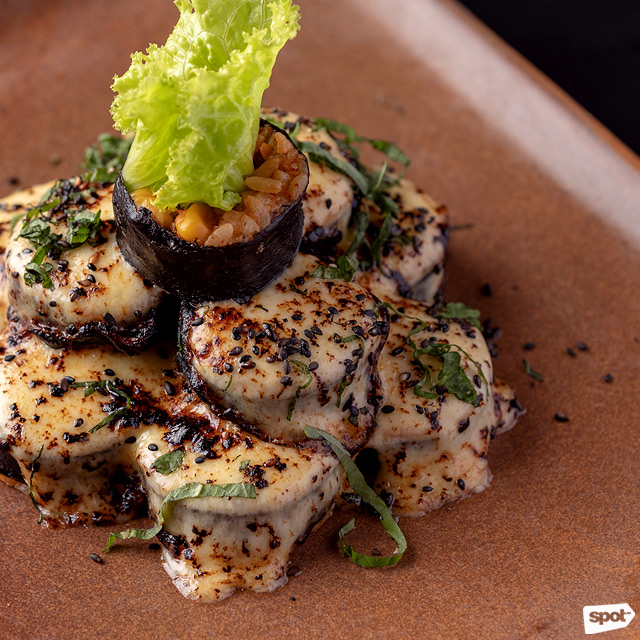 All things Korean may sound like cultural overkill at this point, but Gaja takes the little we know of our neighbor and turns that on its own head. The classic Korean flavors are ever-present, but the techniques and methods are modern; this is also reflected in the restaurant's art. This might not be the place for traditionalists or purists, but this is definitely where you'd go if you're looking for a familiar yet heightened experience. For first timers, the Kimbap Aburi is a no-brainer—with all that gooey cheese covering their hand-rolled kimbap, who can resist?
ADVERTISEMENT - CONTINUE READING BELOW
Must-tries: Kimbap Aburi, Osam
Gallery by Chele
5/F CLIPP Center, 11th Street corner 39th Street, Bonifacio Global City
Contact: 218-3895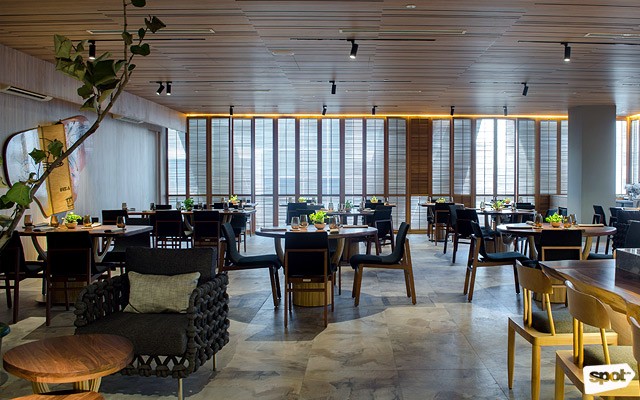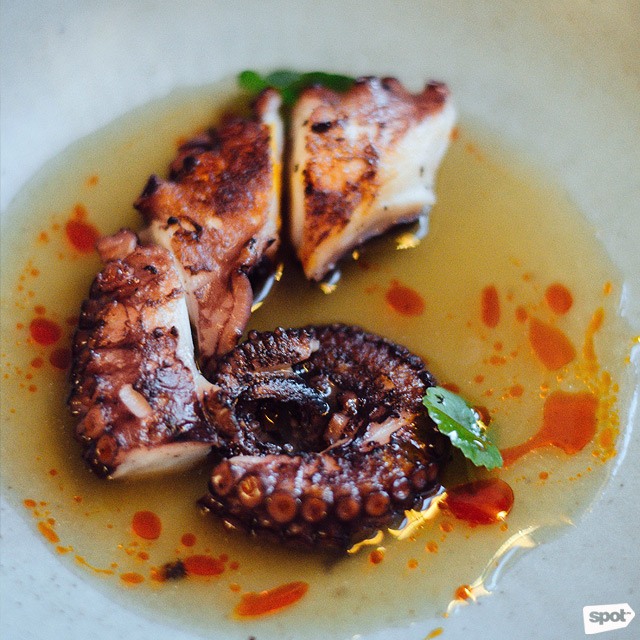 It was a shock when Gallery VASK announced that it was closing its doors early in 2018. The restaurant by Chef Chele Gonzalez was a favorite among many of Manila's most discerning diners, and it was on the list of Asia's 50 Best Restaurants in 2017. In May, it reincarnated as Gallery by Chele—younger, hipper, with a cocktail bar to boot—and bid goodbye to its modern Spanish menu. The restaurant offers a variety of tasting courses and à-la-carte dishes that champions locally sourced ingredients. The Pulpo Inasal is one dish you shouldn't miss for its fork-tender grilled octopus slathered in a familiar inasal marinade.
ADVERTISEMENT - CONTINUE READING BELOW
Must-tries: Pulpo Inasal, Tomato Mochi, Tiger's Milk
Half Saints
62 Sergeant Esguerra Avenue, Diliman, Quezon City
Contact: 0935-933-0512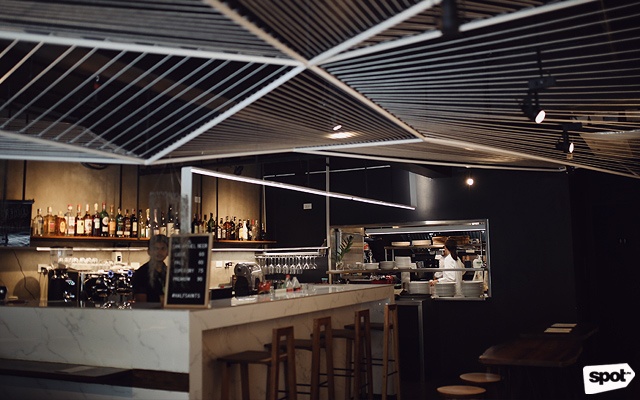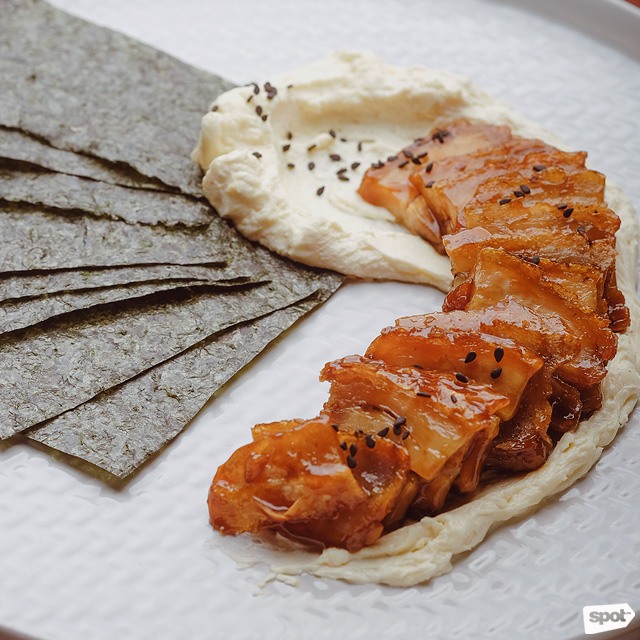 One of the best-looking cafés to open this year, Half Saints is the brainchild of an all-female group—hence, the femininity-inspired art installation of intricately woven ropes that serves as the focal point of the minimalist coffee shop's design. The rest of Half Saints is just as well thought-out, with a menu inspired by owner Christine Roque's rich personal history, which includes studying for a Masters degree in Costa Rica aside from her frequent travels as a journalist. For a taste of these multi-cultural influences, have the Chicharron Teriyaki, which combines her love for Japan and her Tarlac roots in one explosive dish. No visit is complete without having their Puff Pizza—puff pastry as pizza crust is a buttery revelation that may just turn you into a crust lover.
ADVERTISEMENT - CONTINUE READING BELOW
Must-tries: Chicharron Teriyaki, Shiitake, Goat Cheese, and Balsamic Vinegar Puff Pizza
Hawker Chan
G/F Entertainment Mall, SM Mall of Asia Complex, Pasay City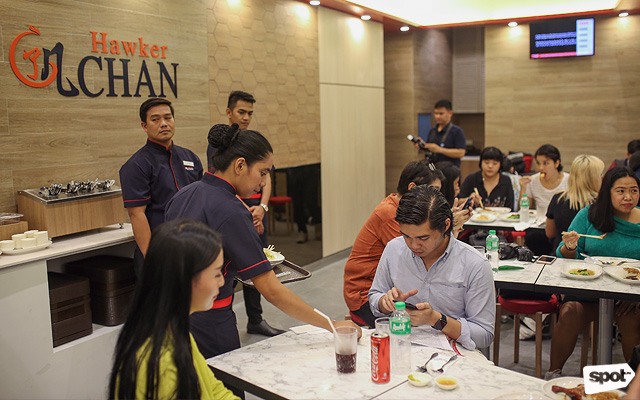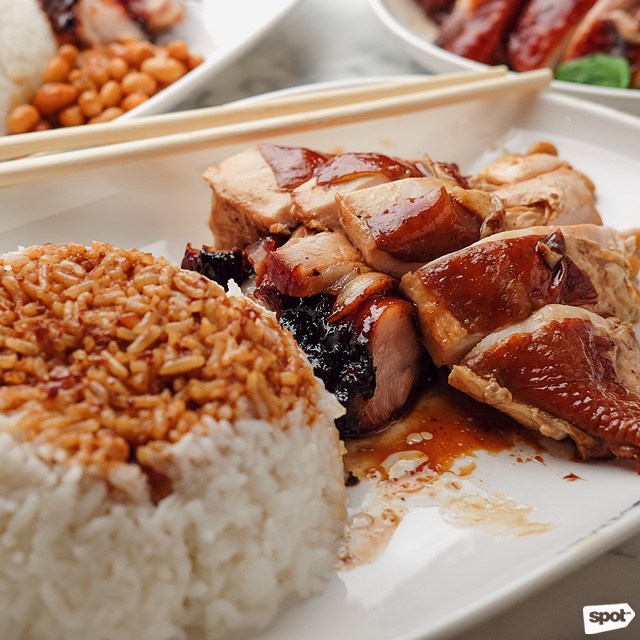 Curiosity will make you want to line up for the much-raved about chicken rice at Hawker Chan, the most affordable Michelin-starred restaurant in the world. From a simple hawker stall in Singapore, it has now branched out across Asia and Australia, making their famous Soya Sauce Chicken a quick go-to for fans. The branch at SM MOA is simple and casual, and although their cuisine may seem such, it's tastier than it looks. Whether you get the chicken with rice or noodles, you'll fall in love with the sweet-savory glaze coating the glistening chicken skin atop its tender meat. Looking to spice it up? Add some sambal sauce to give it another layer of flavor.
ADVERTISEMENT - CONTINUE READING BELOW
Must-tries: Soya Sauce Chicken with Rice, Soya Sauce Chicken with Noodles, Char Siu
Katherine's Café
G/F Ayala Malls Vertis North, Bagong Pag-Asa, Quezon City
Contact: 0917-776-0928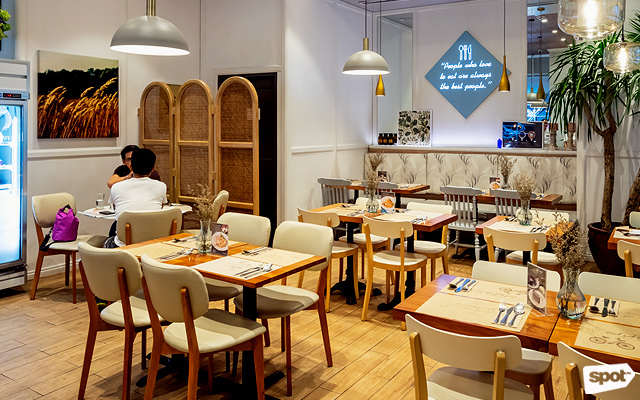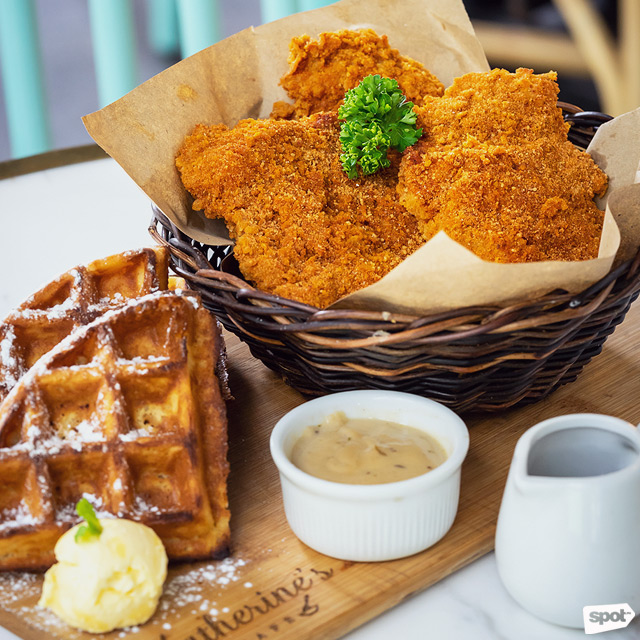 Find the comforts of home at Katherine's Café, a cheery concept that doesn't hold back on the interiors or food. Take in their bright and contemporary décor with indoor plants as you browse through the comprehensive 40-page menu that is basically a collection of family recipes. The café has something for every indecisive diner, but a sure hit would be the Waffle and Chicken, where the cereal- and oats-crusted chicken has a hint of sweet barbecue and is served with golden-brown waffles that come with whipped butter and maple syrup.
ADVERTISEMENT - CONTINUE READING BELOW
Must-tries: Waffle and Chicken, Seafood Pot Pie, Banana Chocolate Pudding
Kermit Manila
4636 Molina Street, Poblacion, Makati City
Contact: 0917-625-6773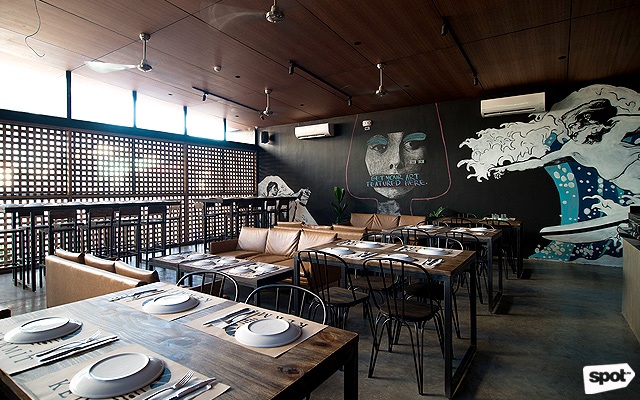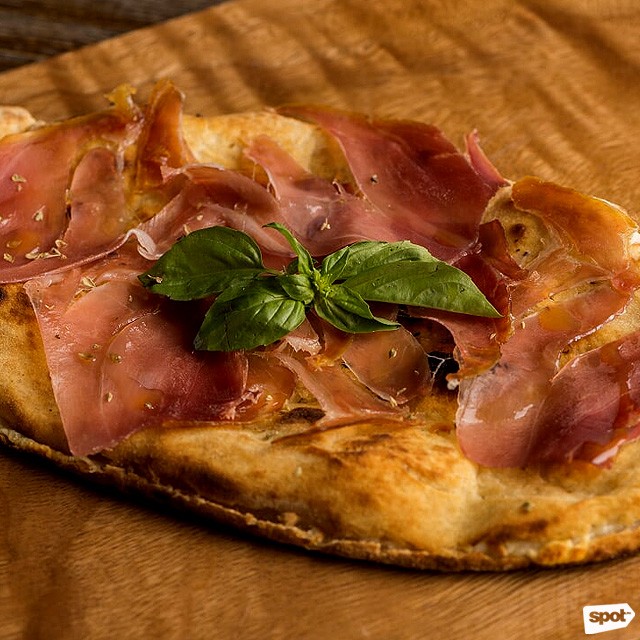 It was on every foodie's bucket list to try Siargao's cult-favorite pizza (or as Condé Nast Traveler declared, "what might be the pizza in the country"), especially with limited flights to the island. But it seems that fate was on everybody's side when Kermit Manila finally decided to open in the Metro—in hip Poblacion no less. Now you don't need to travel far to try their famous brick-oven pizza, which you can also opt to customize. You'll love the Cloud 9 Pizza, with a chewy crust and the saltiness of Parma ham balanced by earthy mushroom and creamy gorgonzola.
ADVERTISEMENT - CONTINUE READING BELOW
Must-tries: Cloud 9 Pizza, Sabang Calzone
Loco Manuk
5072 SGC Building, P. Burgos corner B. Valdez Street, Poblacion, Makati City
Contact: 0977-795-5661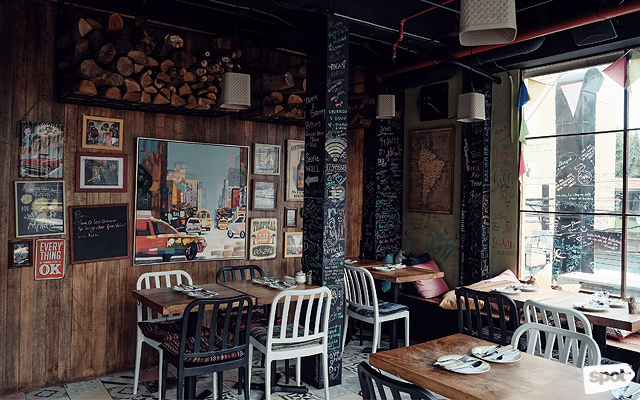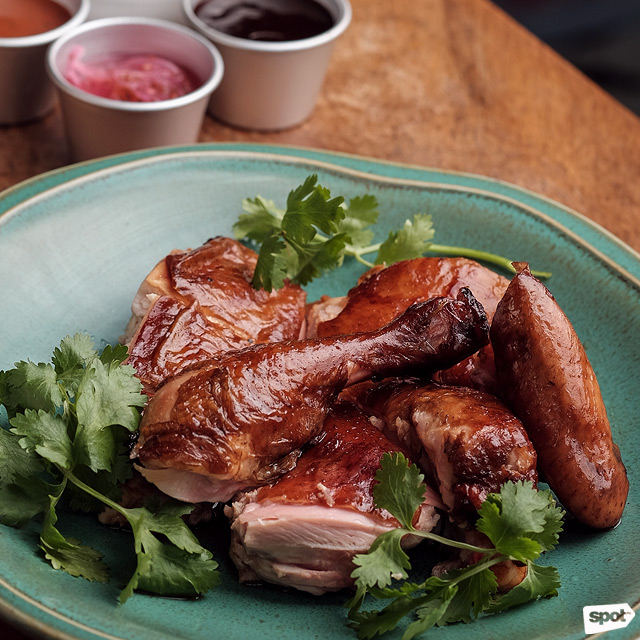 Loco Manuk is one of those restaurants that seem like Instagram bait—every corner of their second-floor dining area is decorated in murals, posters, and knickknacks that are sure to get any IG junkie snapping away. But they do it better than everyone else by following through with genuinely good food. Lots of work goes into their signature Wood Roasted Chicken, which gets its mildly fruity and smokey notes from a 50-50 blend of kaimito and mahogany wood. The rest of the dishes on the menu are fun and tasty takes on Peruvian and Asian cuisine: The BBQ Spareribs is fall-off-the-bone tender, which contrasts wonderfully with the toasted sweet-spicy caramel crust.
ADVERTISEMENT - CONTINUE READING BELOW
Must-tries: Wood Roasted Chicken; BBQ Spareribs, Szechuan Caramel & Fried Garlic
Kam's Roast
3/F SM Mega Fashion Hall, Ortigas, Mandaluyong City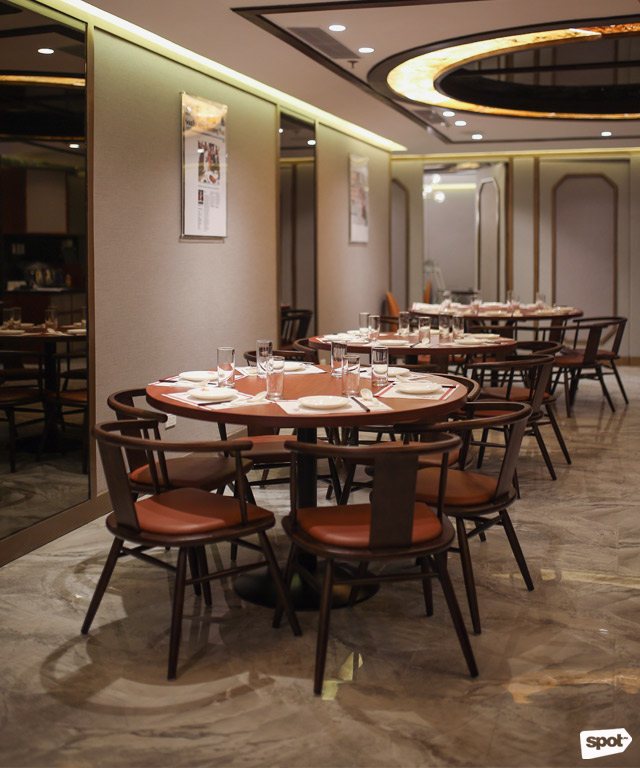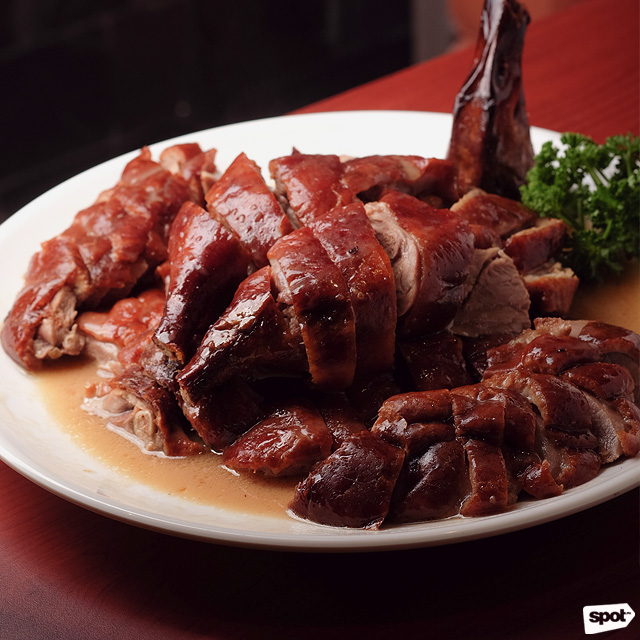 Many were understandably up in arms upon finding out that Kam's Roast wasn't serving their signature Roast Goose in Manila after all. Still, give the Hong Kong-born restaurant a chance, and you'll discover what we've already declared the best roast duck in Manila—and we've tried lots. The duck is succulent and meaty without overwhelming the palate, and the sauce adds a subtle nutty-sweetness to round out all the flavors. Kam's Roast also has excellent Toro Char Siu, or roasted pork in thick slivers and a strong smokey flavor that pairs well with rice. You won't be thinking of goose anytime soon.
ADVERTISEMENT - CONTINUE READING BELOW
Must-tries: Roast Duck, Toro Char Siu
Las Casas Manila
Las Casas Filipinas de Acuzar, 134 Roosevelt Avenue, Quezon City
Contact: 0917-711-3714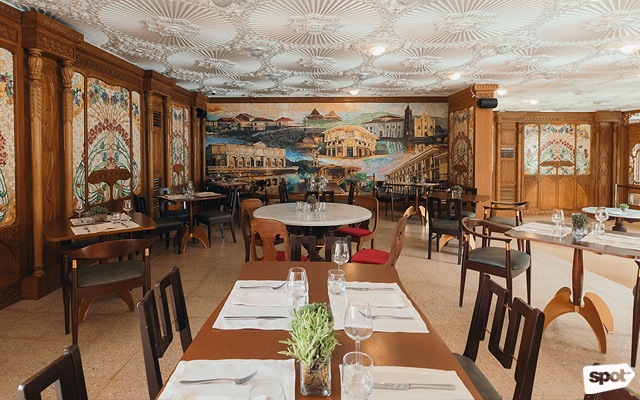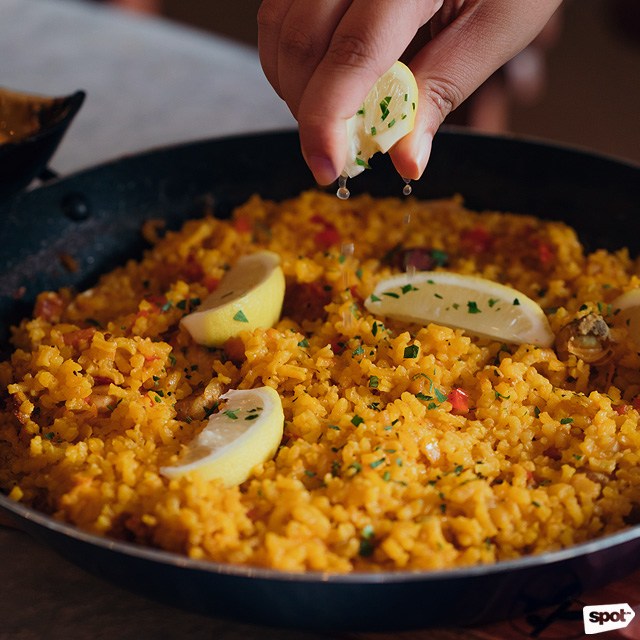 Think Art Deco meets the way you visualized the scenes of Noli Me Tangere as you read it in high school—that's Las Casas Manila. With that ambitious (but well-executed) aesthetic comes service to match, along with richly hued and flavored food. Quezon City is somehow, simultaneously, the last and yet the most likely place for a dining experience like this. Long story short, Chef Margarita Forés does it again! Tip: Don't even think about skipping the Beef Tenderloin Salpicao and all its savory-rich goodness.
ADVERTISEMENT - CONTINUE READING BELOW
Must-tries: Beef Tenderloin Salpicao, Chuletas de Cordero
M Bakery
G/F One Bonifacio High Street Mall, 5th Avenue, Bonifacio Global City
Contact: 847-9829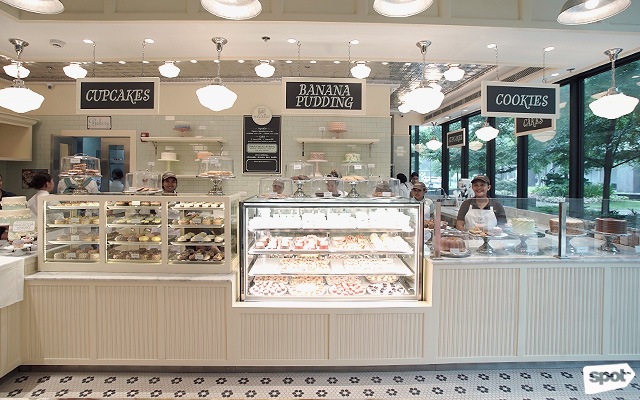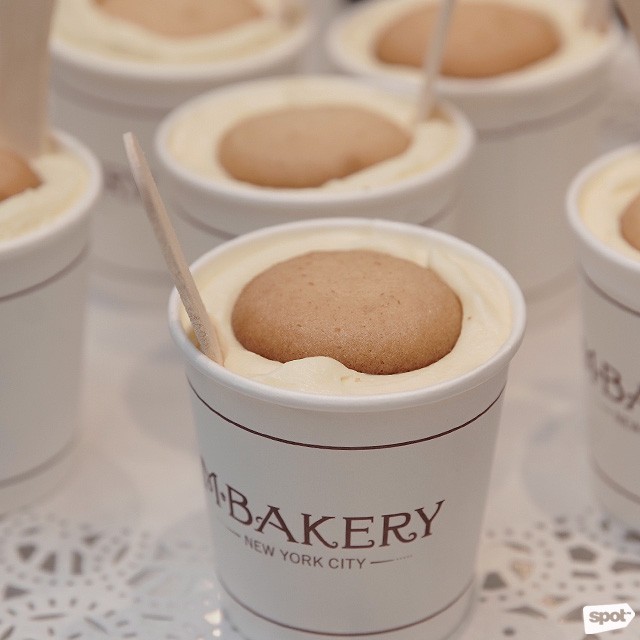 If you're familiar with the cupcake craze, chances are you know about New York's Magnolia Bakery (made popular by Sex and the City). It finally opened an outpost here in the Metro with a brand-new name called M Bakery. Dessert lovers will delight in their pretty pastel cupcakes with their signature swirls, but don't miss the classic bestseller: The Banana Pudding, a luscious combination of rich vanilla pudding, banana chunks, and wafers. You're likely to finish a whole tub after just having one spoonful of this creamy goodness.
ADVERTISEMENT - CONTINUE READING BELOW
Must-tries: Banana Pudding, Vanilla Cupcake with Vanilla Buttercream, Key Lime Pie
Mai Wei Fang
G/F Adriatico Wing, Robinson's Place Manila, Ermita, Manila City
Contact: 562-2786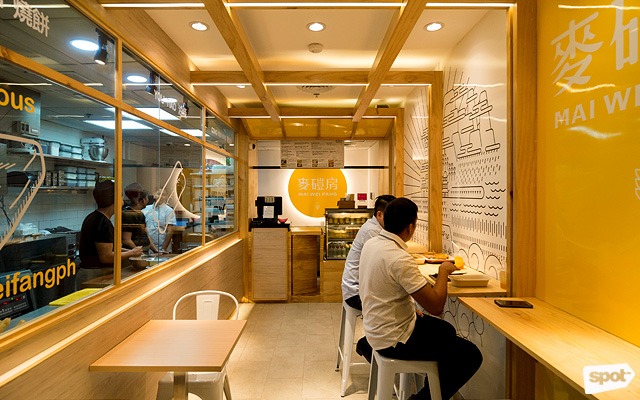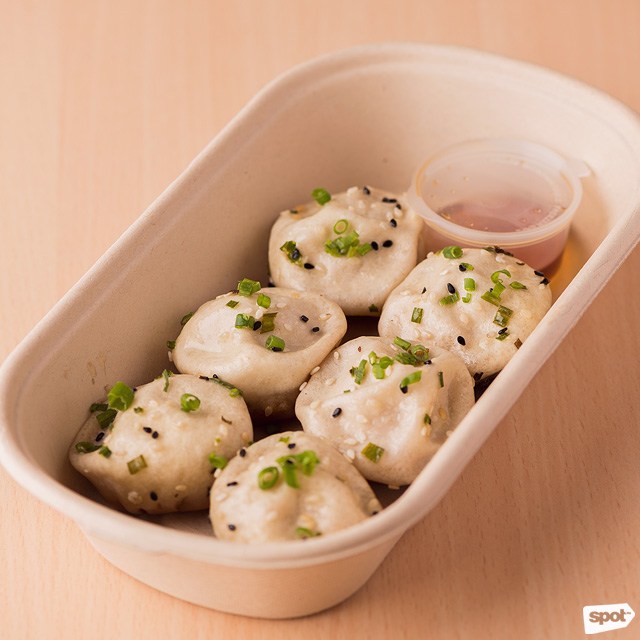 While we still, and will always, love xiao long bao, there are other dumplings that deserve attention, too. At Mai Wei Fang, they shine the spotlight on Pan-Fried Soup Dumpling, a staple of Northern Chinese cuisine. Owner David Lim went on a months-long tour of Northeast China and compiled recipes by chefs to create the perfect dumpling, and the results are worth it. Their soup dumpling has a delightfully crisp skin that bursts to reveal a delicately pork-flavored broth that keeps you reaching for more. There's also the Shao Bing or Chinese-style flatbread, crisp on the outside and lightly salted, making it a great base for sandwiches like the Shao Bing Chicken and Egg Sandwich with crunchy fried chicken.
ADVERTISEMENT - CONTINUE READING BELOW
Must-tries: Pan-Fried Soup Dumpling, Shao Bing
Manam Café
3/F SM Mega Fashion Hall, SM Megamall, Ortigas, Mandaluyong City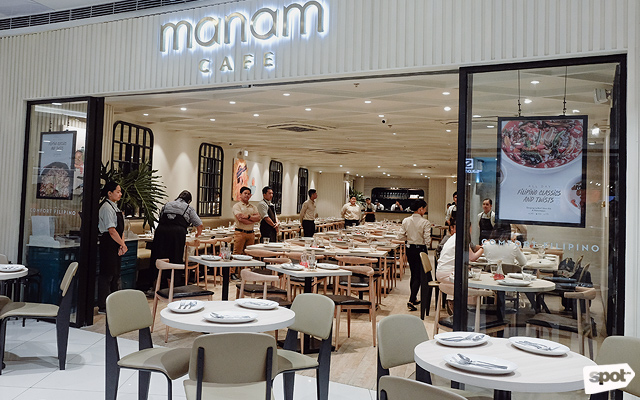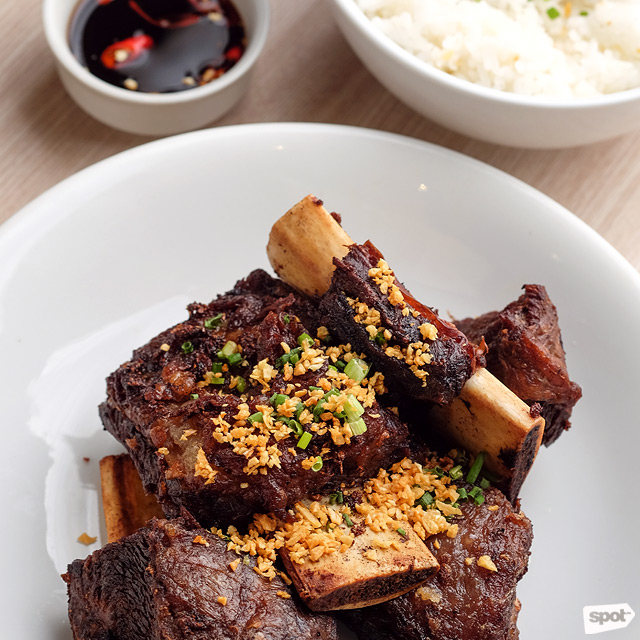 There is simply no way you can just walk past any branch of Manam, in any form. If that's something you're able to do, you've got more willpower than we do, at any rate. This branch sets its sights set on a younger crowd compared to the original Manam, though, of course, the food's still amazing across the board. A must-try is the Crispy Beef Tadyang—gloriously crisp and beefy and perfect with steaming hot garlic rice. Put simply, Manam Café has deigned to grace SM Megamall with its presence, and we will be forever grateful.
ADVERTISEMENT - CONTINUE READING BELOW
Must-tries: Tsokolate Sticky Roll, Crispy Beef Tadyang
Más Tapas and Cocktail Bar
18 Missouri Street, North East Greenhills, San Juan City
Contact: 0945-430-6269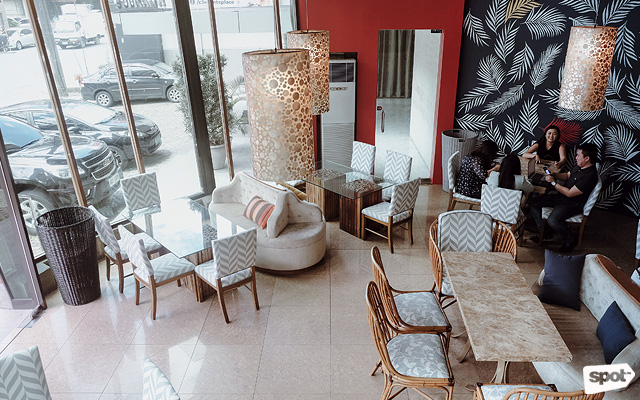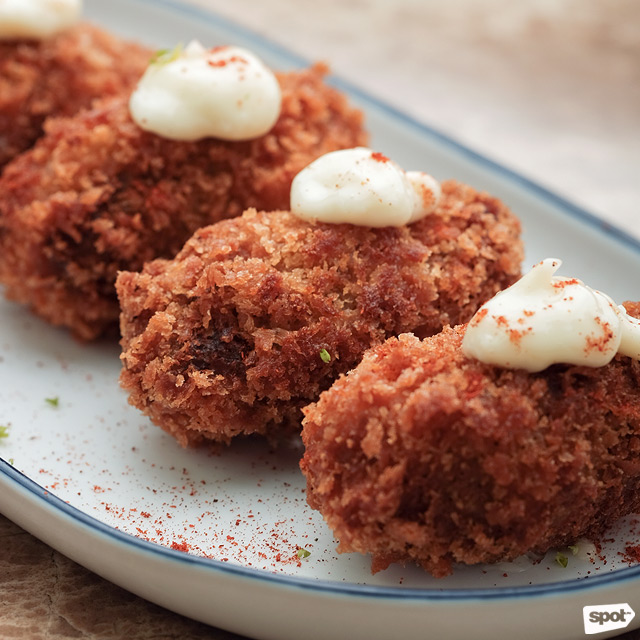 With the vibe of a chill living room in Miami's Little Havana, Más Tapas and Cocktail Bar combines the best of cool interiors and unforgettable tapas to create one of your soon-to-be favorites in the Greenhills area, if it isn't already. It's both a comfortable place to finish off your week and a really good venue if you want your business outing to go well. Of course Más works—this isn't the owners' first rodeo. You'll be hollering "More! More!" after sampling the restaurant's Croquettas Bombas, deep-fried potato balls with irresistible garlicky aioli.
ADVERTISEMENT - CONTINUE READING BELOW
Must-tries: Croquettas Bombas, Paella Mixta
NoKal
8464 Kalayaan Avenue, Poblacion, Makati City
Contact: 0917-318-1385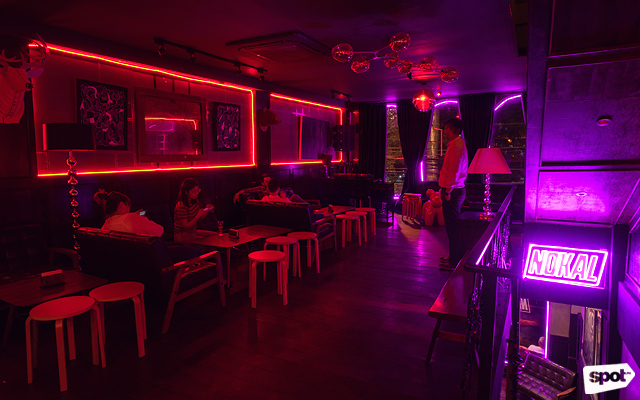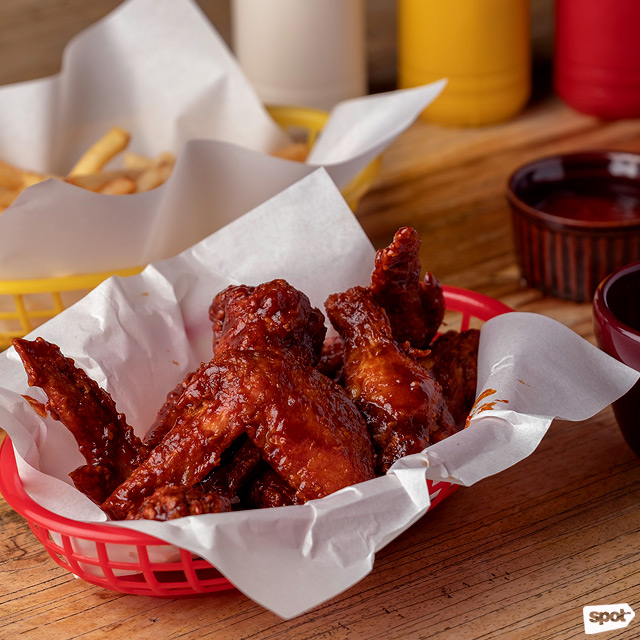 Operating a single-floor restaurant is no easy feat; what more three floors? But NoKal manages somehow, and even goes as far as to give each of their three floors different themes, all tied together by their connection to New York. NoKal is a bar with roaring parties especially on weekends, but their food is no slouch. Developed by Chef Raul Fores, the menu is full of New York diner staples but elevated quite a bit. You're sure to get addicted to their Hot Wings—patterned after Southern Hot Wings, Chef Raul uses butter instead of chicken fat plus a mix of paprika, Sriracha, and Tabasco to give off just the right amount of tingling heat without burning off your taste buds.
ADVERTISEMENT - CONTINUE READING BELOW
Must-tries: Hot Wings, Mom's Spaghetti and Meatballs
Noor
Forbeswood Heights, Forbes Town, Burgos Circle, Taguig City
Contact: 0956-156-3426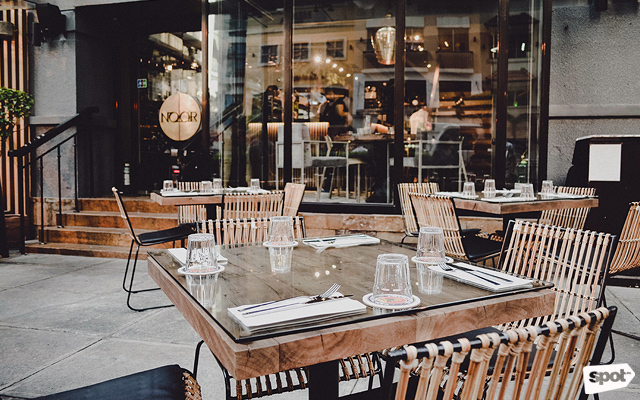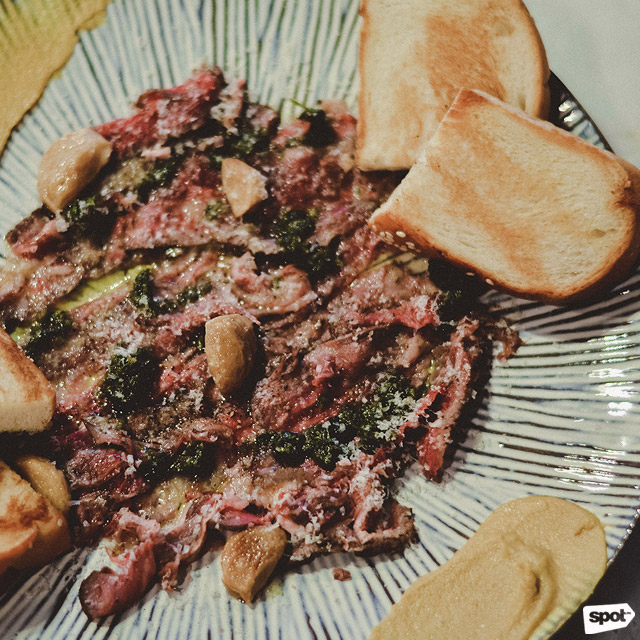 We all have a basic familiarity with Mediterranean cuisine, but it's not often you get a little bit of Tel Aviv in Manila. The laid-back vibe at Noor promises you a good time, but Chef Or Hakmimi's enthusiasm for all things gastronomic promises you the best time. Watch for it—this guy loves his vegetables, and you might find yourself (gasp) actually ordering a salad of your own free will. But if you insist, their succulent Roast Beef Carpaccio is likewise worth every damn centavo.
ADVERTISEMENT - CONTINUE READING BELOW
Must-tries: Deep-Fried Cauliflower, Roast Beef Carpaccio
Ohayo Maki and Ramen Bar
30 Granada Avenue, Villa Ortigas II, Barangay Valencia, Quezon City
Contact: 280-9657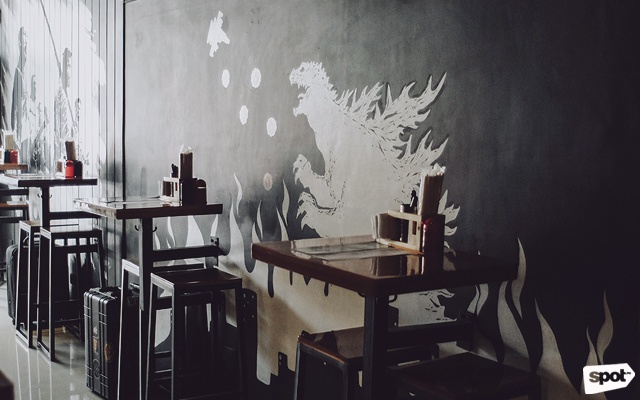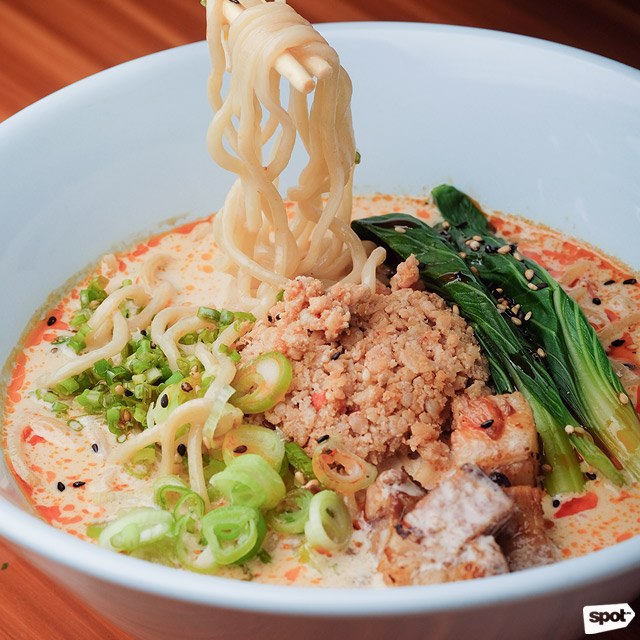 As an unassuming, almost-hidden joint on an oft-overlooked street, Ohayo Maki and Ramen Bar is, like the most treasures, easy to miss. Step inside the pretty tight space—the second floor offers more seats and privacy—and you'll be rewarded with a menu that covers almost every Japanese staple, from appetizers to dessert. We say go straight for the ramen; it isn't in their name for nothing. The Tantanmen easily has one of the richest and most flavorful ramen broths you can find in the Metro, thanks to a base of pork bits and chicken skin that's simmered for over 24 hours. Instead of chashu or barbecued pork slices, Chef Jorge Mendez uses small but generously succulent chunks of pork belly that melt in your mouth.
ADVERTISEMENT - CONTINUE READING BELOW
Must-tries: Tantanmen, Ebi Black Maki
Ooma Sushi Bar
136 Paseo Heights, Leviste Street, Salcedo Village, Makati City
Contact: 0916-826-3603, 814-3795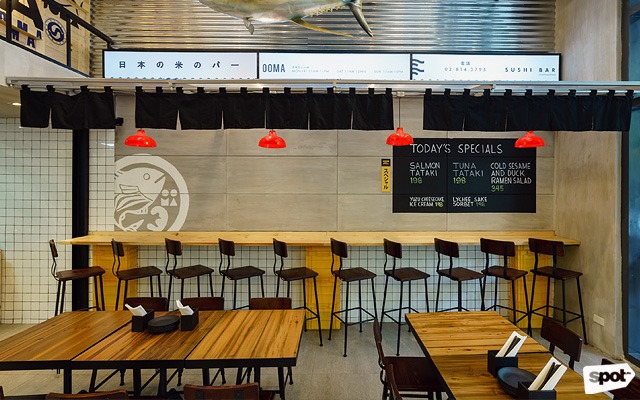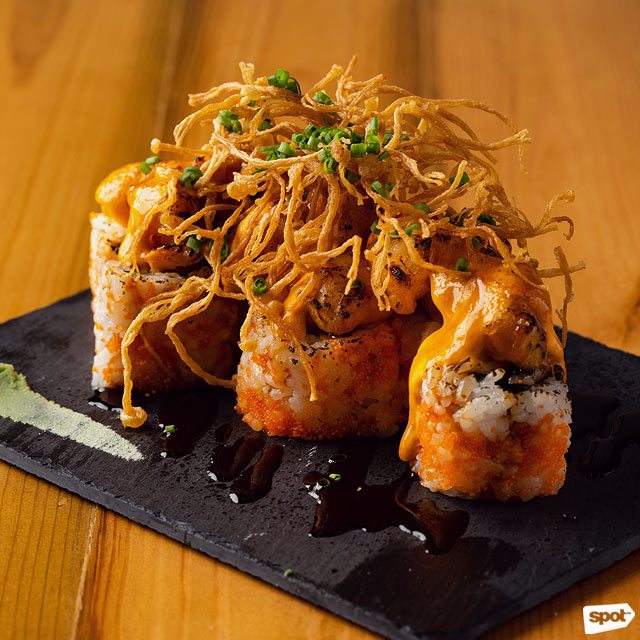 With Ooma's reputation for playful, out-of-the-box takes on Japanese staples, there was really no question that their sushi-centric spin-off, Ooma Sushi Bar, would be any different. They take sushi and aburi to new, creative heights with renditions like Kimchi Prawn and Enoki Aburi Maki, a showstopper piled high with crispy-fried prawns, cream cheese, and kimchi aioli, among lots of other sweet-salty-spicy stuff. The Spicy Tuna Taco-Maki is more restrained in comparison but packs a punch as well with fresh and tender tuna tartare, a togarashi-scallion dressing, and wasabi aioli for additional heat.
ADVERTISEMENT - CONTINUE READING BELOW
Must-tries: Kimchi Prawn and Enoki Aburi Maki, Spicy Tuna Taco-Maki
Panaderya Toyo
The Alley at Karrivin, 2316 Chino Roces Avenue, Makati City
Contact: 0917-720-8630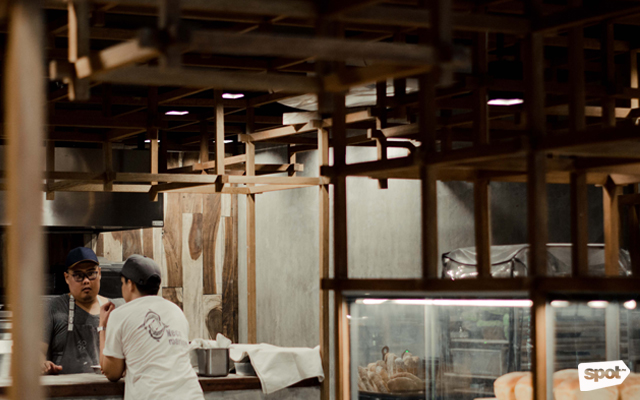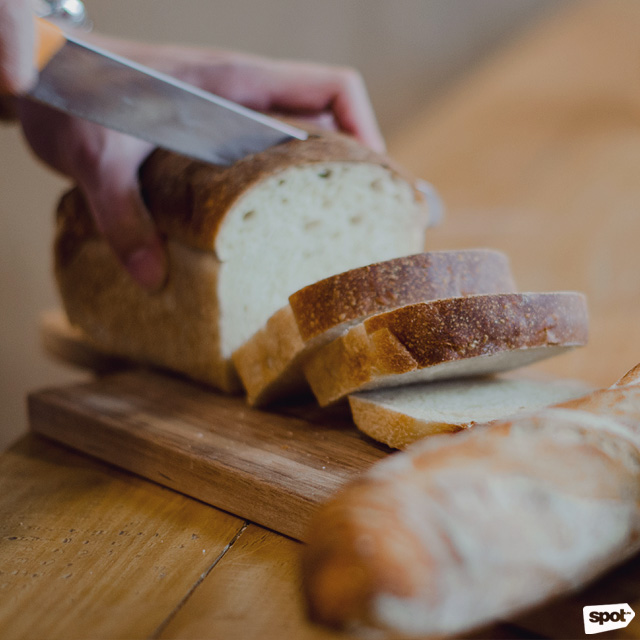 If you love Toyo Eatery's tocino bread, the great news is you don't need to dine there to have it, thanks to Panaderya Toyo. The bakery at Karrivin's Alley is the playground of chefs Jordy Navarra and Richie Manapat for all things bread—from Filipino staples like pan de sal and bicho-bicho, to sourdough and "Tasty." They've also got coffee and a few gourmet bread spreads for when you're looking for a filling afternoon snack. Pro tip: Go there early because their breads sell out fast!
ADVERTISEMENT - CONTINUE READING BELOW
Must-tries: Pan De Sal, Bicho-Bicho, Tocino Bread
PizzaExpress
G/F Uptown Mall, Uptown Bonifacio
Contact: 791-4385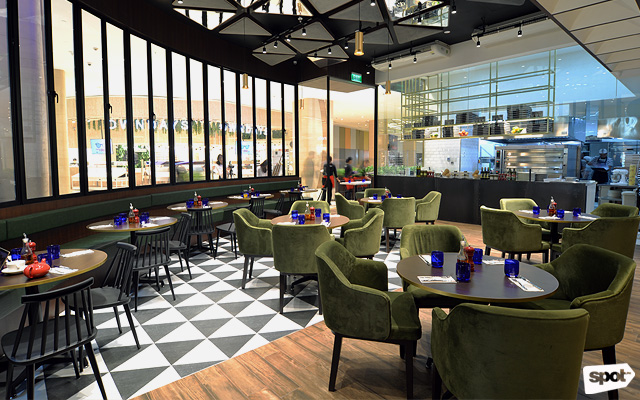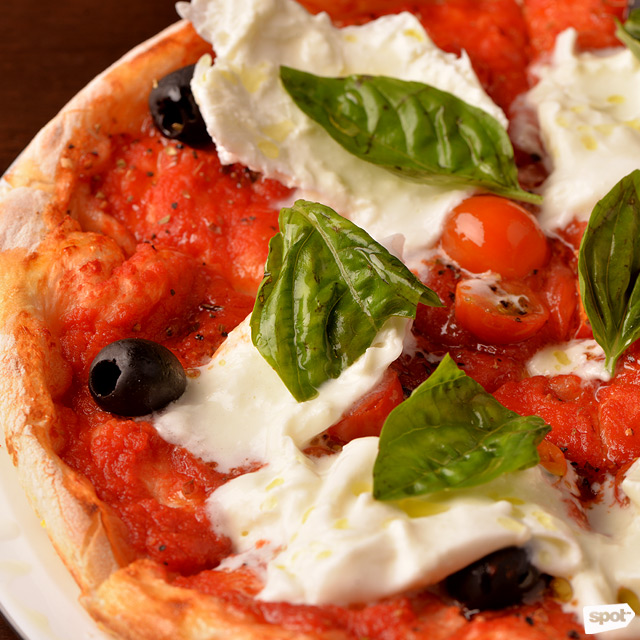 Raise your hand if you ever thought a slice of London's Soho would ever make its way here—no takers? Didn't think so. Thankfully, the stars aligned for us to be proven wrong. This 50-odd-year-old chain is not only committed to customer satisfaction, but also to sourcing locally; PizzaExpress seems to have no problem keeping their platters vibrant and just gorgeous overall. The best-selling Lava pizza is both a feast for the eyes and the tummy, with generous chunks of milky burrata cheese decorating each slice.
ADVERTISEMENT - CONTINUE READING BELOW
Must-tries: Le Rose, Mozzarella Tomato Salad, Lava Pizza
Poison
The Alley, Karrivin Plaza, 2316 Chino Roces Extension, Makati City
Contact: 752-0357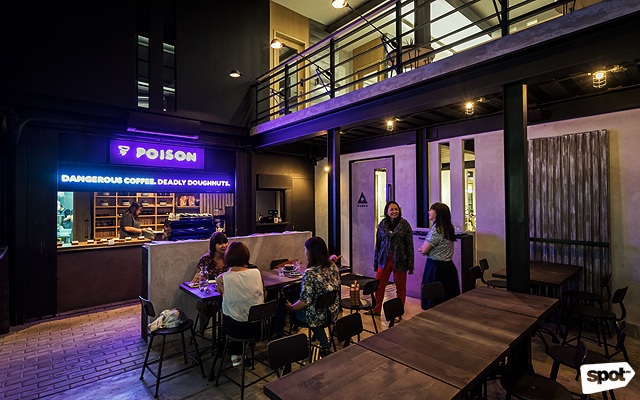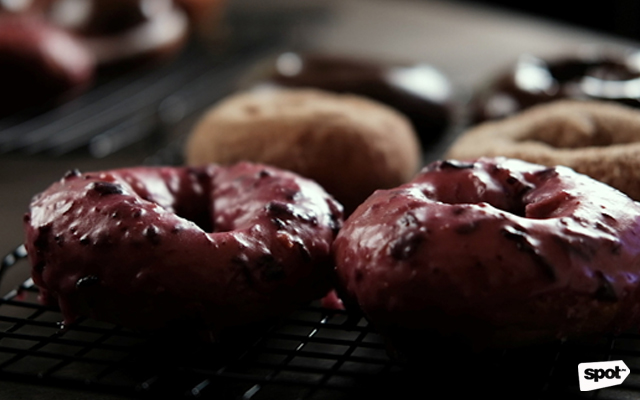 It's obvious in their name—Poison isn't your usual cheery and bright doughnut shop. Their dim interiors might even make you feel slightly frightened if not for the scent of their freshly baked doughnuts luring you in. Created by culinary tandem chefs Miko Aspiras and Kristine Lotilla, Poison specializes in offbeat combinations and gourmet flavors. The Salted Dark Chocolate is dangerously addictive and blanketed in rich Valrhona chocolate. For the adventurous, don't leave without getting their Garam Masala, or doughnut coated in sugar mixed with the famous Indian spice.
ADVERTISEMENT - CONTINUE READING BELOW
Must-tries: Salted Dark Chocolate, Garam Masala
Propaganda Bistro
2/F Greenbelt 5, Ayala Center, Makati City
Contact: 576-1908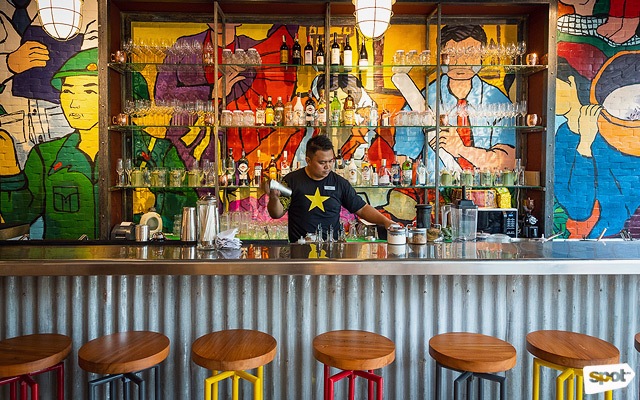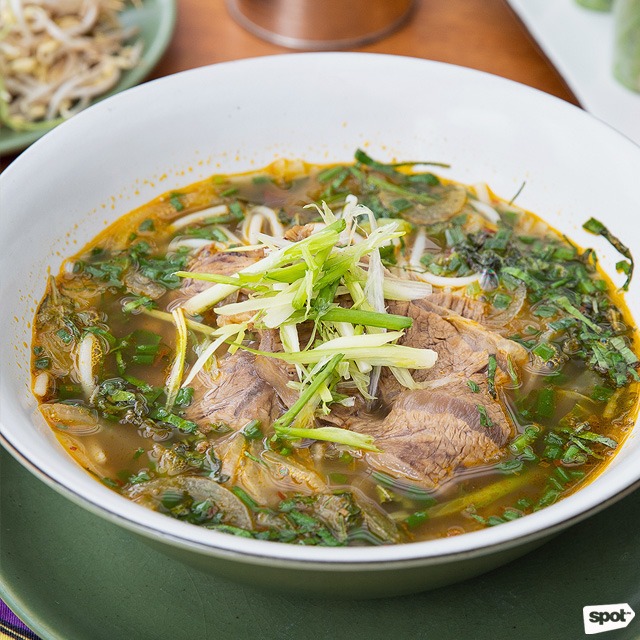 When most people think "Vietnamese food," their minds often automatically go to banh mi and pho. Not that that's a bad thing, but Vietnamese cuisine has so much more going for it, and there's no better place to finally have your crash course in the cuisine than at colorful Propaganda Bistro. Bold, colorful murals that take inspiration from Vietnam's rich tradition of propaganda art prepare you for equally vibrant food. While the banh mi and pho here are excellent, switch things up and have the Hué Rice Noodle Soup With Beef, Fresh Greens, and Bean Sprouts, a light soup that's heavy on punchy flavors, notably the spicy zest of lemongrass. If you really can't skip the banh mi, have the Meatball Banh Mi, which is still a novel take on the classic.
ADVERTISEMENT - CONTINUE READING BELOW
Must-tries: Meatball Banh Mi, Hué Rice Noodle Soup With Beef, Fresh Greens, and Bean Sprouts
Rico's Lechon
5th Avenue corner 26th Street, Fort Strip, Bonifacio Global City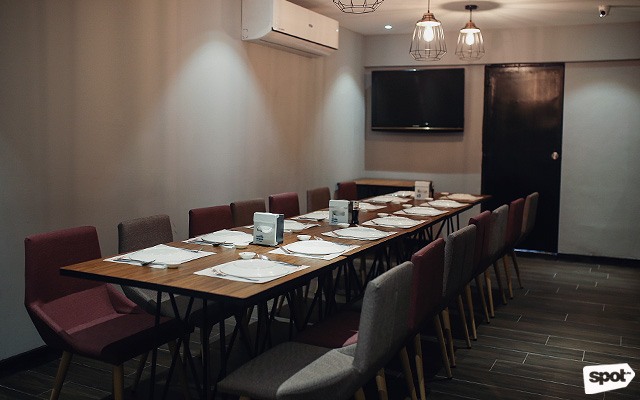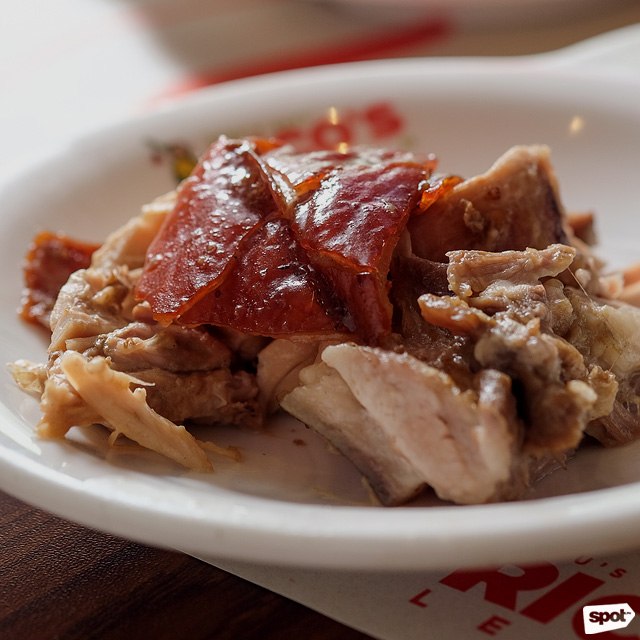 It's a touchy subject, much like barbecue in the American Deep South—why can't we all just get along?! Especially when Rico's Lechon has come all this way, as though in a gesture of pork-related peace? But the roasted pig's a given; the whole menu is just about slathered with comforting local dishes of all iterations. The star of the show is their Spicy Lechon, marinated and seasoned with different herbs and—what else—bird's eye chilies to give it that extra hot kick.
ADVERTISEMENT - CONTINUE READING BELOW
Must-tries: Spicy Lechon, Seafood Kare-Kare, Sizzling Lechon Sisig
Roti Shop
Level P1, Power Plant Mall, Rockwell, Makati City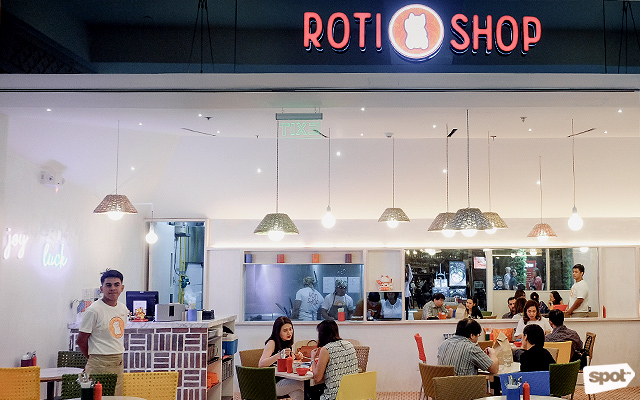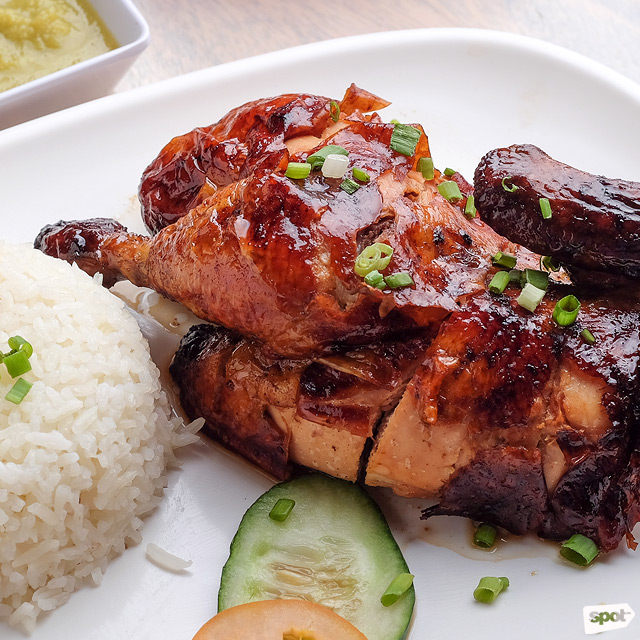 Vibrant, cheery Roti Shop will take you to the hawker centers of Singapore, and it isn't just the aesthetic—though the rattan chairs and general laid-back vibe help. Their roti, as one would expect from their name, is excellent—buttery and flaky but also sturdy enough to hold their dips, like the Chicken Curry made extra flavorful by a splash of fish sauce. But a hidden gem on the menu is the Hainanese Roasted Chicken Rice: imagine Hainanese chicken but with a crisper, slightly smokier exterior.
ADVERTISEMENT - CONTINUE READING BELOW
Must-tries: Roti Prata Special With Chicken Curry, Hainanese Roasted Chicken Rice
Same Same
6B San Rafael Street, Kapitolyo, Pasig City
Contact: 0917-765-6353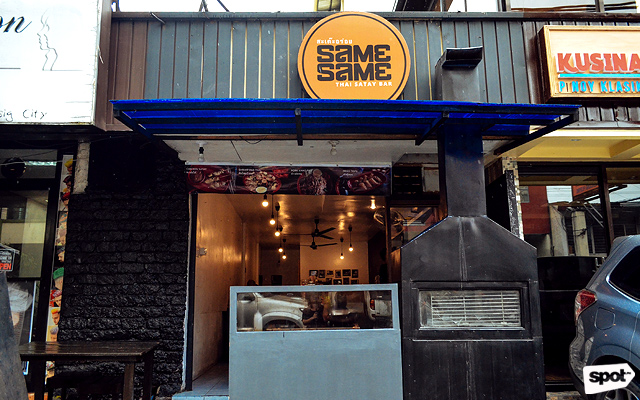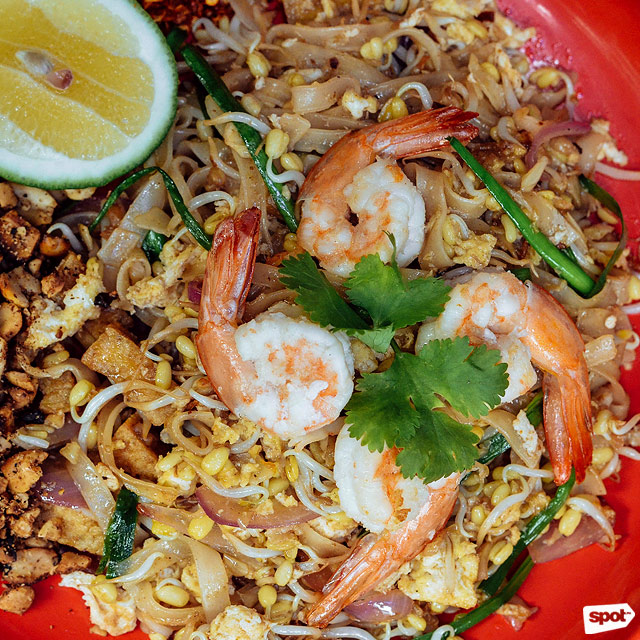 As if Kapitolyo weren't already dotted with Thai restaurants left and right, here comes Same Same with its unassuming looks. But don't judge a book by its cover, they say—what sets this hole-in-the-wall apart from the others is their authentic street-style appeal, the aroma of their freshly grilled barbecues grabbing your attention all the way from the end of San Rafael Street. Thanks to owner GJ Coleco's two-month sabbatical to Thailand, he's got a trove of Thai home-style recipes. Try the Pork Satay, with perfectly grilled and tender-fork meat highlighted by the earthy taste of peanuts and cumin and refreshing coriander. 
ADVERTISEMENT - CONTINUE READING BELOW
Must-tries: Pork Satay, Pad Thai, Pad See Ew
Savage
G/F The Plaza, Arya Residences, McKinley Parkway, Bonifacio Global City
Contact: 0915-333-9546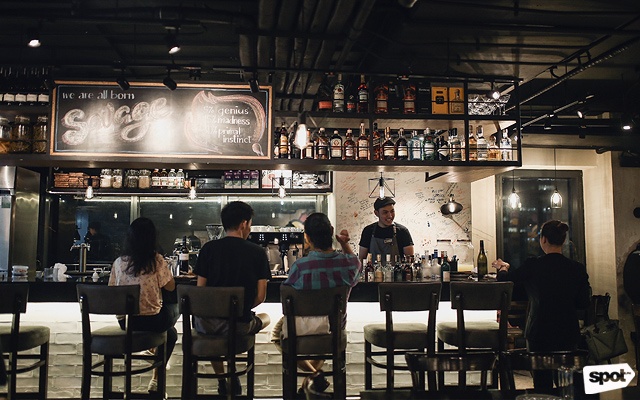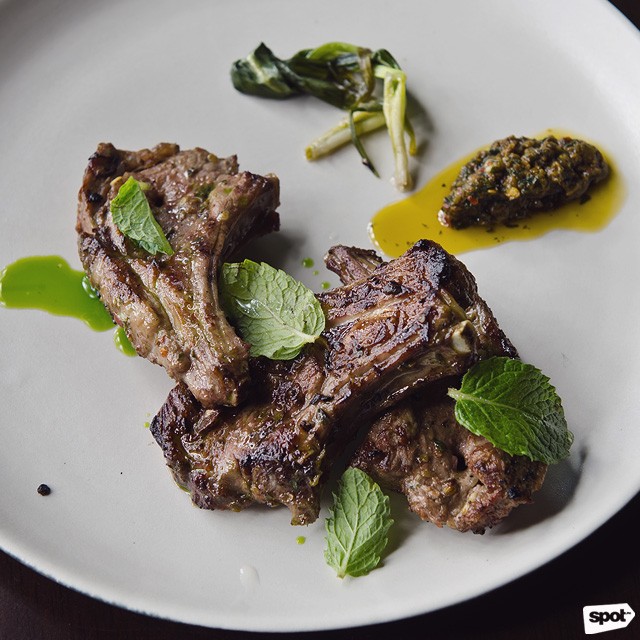 It's all about pre-industrial cuisine at Savage. At this restaurant, Chef Josh Boutwood strips down his cooking to the bare essentials and prepares his food through a customized grill that uses charcoal made from coconut husks and oak wood. You'll taste the difference in dishes like the Lamb Chops, Mint & Malt, where the tender chops are in the limelight, with mint chimichurri in the sidelines. With Savage's industrial-inspired interiors featuring concrete walls and floors and exposed ceilings, it's easy to unleash your inner carnivore here.
ADVERTISEMENT - CONTINUE READING BELOW
Must-tries: Lamb Chops, Mint & Malt; Flank, Ash, Pickled Ramp; Barramundi, Arugula, Preserved Lemon & Olives
Shawa Wama
Level P1, Power Plant Mall, Rockwell, Makati City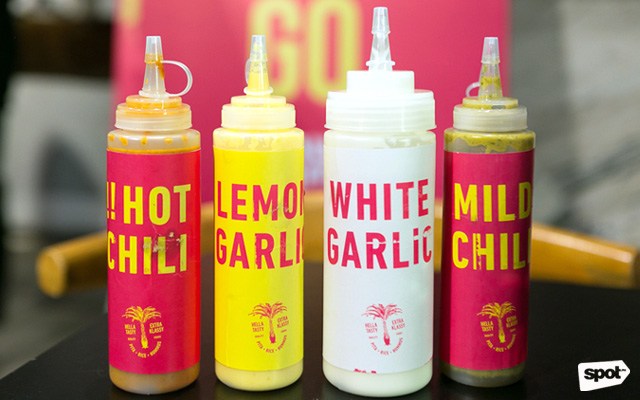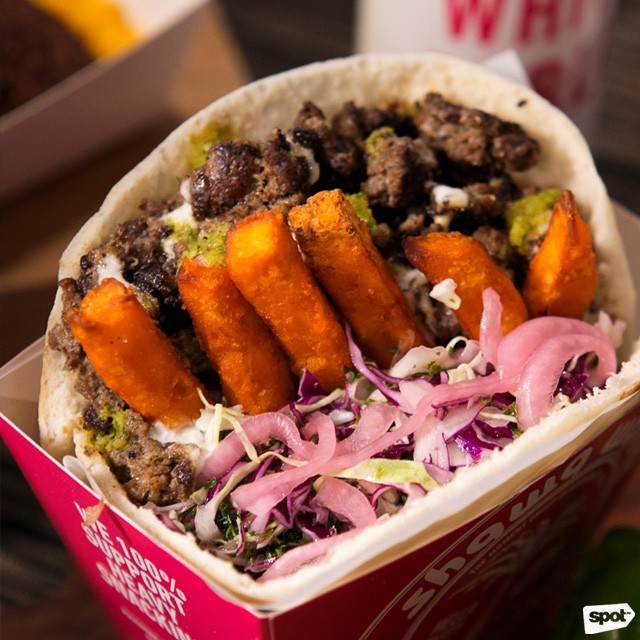 With The Moment Group's solid roster of restaurants, expectations were high for their first take-out counter, Shawa Wama. Should we even be surprised that they did not disappoint? Their first grab-and-go concept focuses on Middle-Eastern food, making the flavors of the already bold cuisine even bolder. The straightforward menu is divided into three: Over Rice, Over Hummus, or Pita Pockets, plus different kinds of protein. Go ahead and treat yourself to the Primo Beef, which stands out with its melt-in-your-mouth succulence whether you have it in a pita or over rice. With punchy flavors matched with a vibrant, youthful aesthetic, it's no wonder Shawa Wama is hard to forget.
ADVERTISEMENT - CONTINUE READING BELOW
Must-tries: Red Beet Falafels, Primo Beef
Sidechick
The Alley at Karrivin Plaza, 2316 Chino Roces Avenue Extension, Makati City
Contact: 0995-463-4032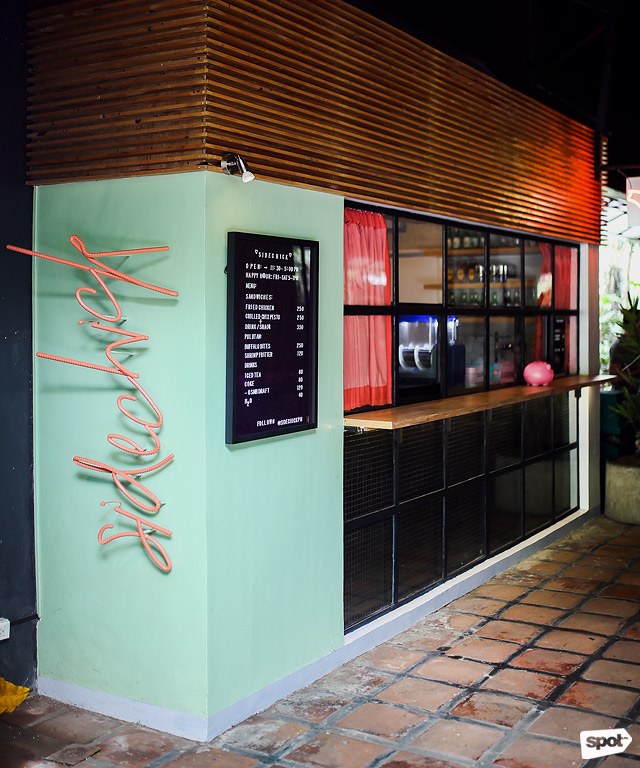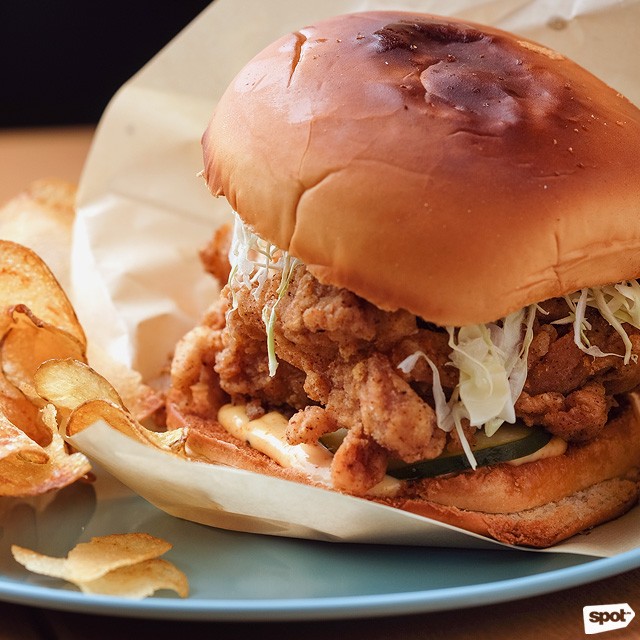 This provocatively named stall at The Alley At Karrivin is proof that great things come in small packages. Though they only have the aforementioned booth plus a few seats and tables for lingering customers, it's impossible to ignore Sidechick. There's the name, for one, and the pastel-colored booth with aesthetically pleasing neon signs. The menu is short but hits all the right notes: The Fried Chicken Sandwich features a thick chicken-thigh fillet that's dry-dredged instead of soaked in a wet batter to keep it crisp and juicy instead of chewy and batter-y, and an enjoyable heat from a secret mix of spices which is tempered by cool, tangy coleslaw. If you're not in the mood for fried food, have the Grilled Chix Pesto which packs quite the flavor punch with the winning combination of grilled chicken topped with mozzarella and a savory pesto sauce, plus a whole roasted pimiento pepper, all sandwiched between ciabatta bread by Panaderya Toyo.
ADVERTISEMENT - CONTINUE READING BELOW
Must-tries: Fried Chicken Sandwich, Grilled Chix Pesto
Sup? Chow
Unit 203, 2/F Antel Corporate Center, 121 Valero Street, Salcedo Village, Makati City
Contact: 310-1072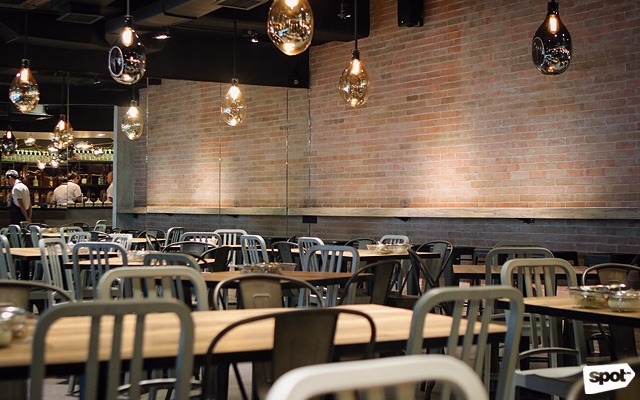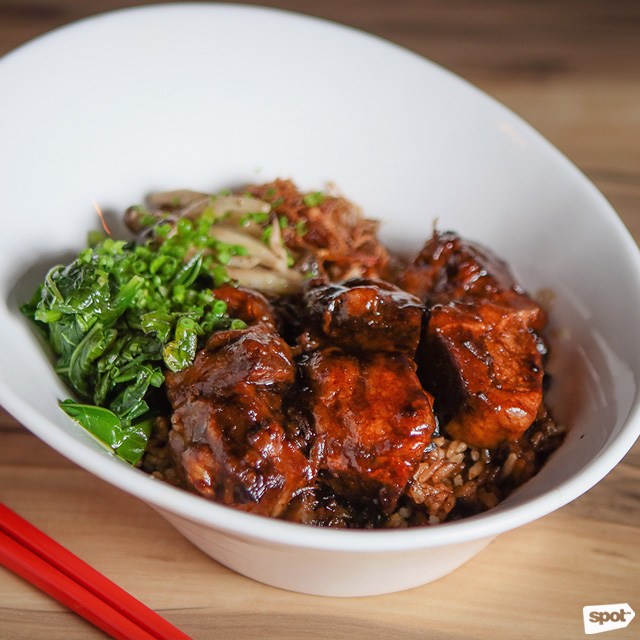 At Sup? Chow, Chef Francis Lim (of Nav Thai and Tipple & Slaw fame) goes back to his Chinese roots as inspiration for this restaurant's gastronomic fare. Like the interiors, which are modern and refined, the food is cooked and presented in a sophisticated way. You'll find familiar flavors in their beautifully presented dishes, one of which is the Mapo Tofu Wontons, a spicy tofu dish served street-taco style, but with fried wonton wrappers instead of corn tortilla. 
ADVERTISEMENT - CONTINUE READING BELOW
Must-tries: Mapo Tofu Wontons, Truffle Braised Beef, Birthday Misua
The Fat Seed Café + Roastery
G/F UP Town Center, Katipunan Avenue, Quezon City
Contact: 936-2113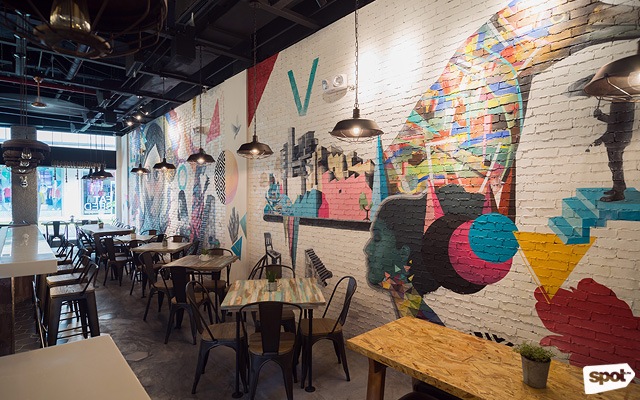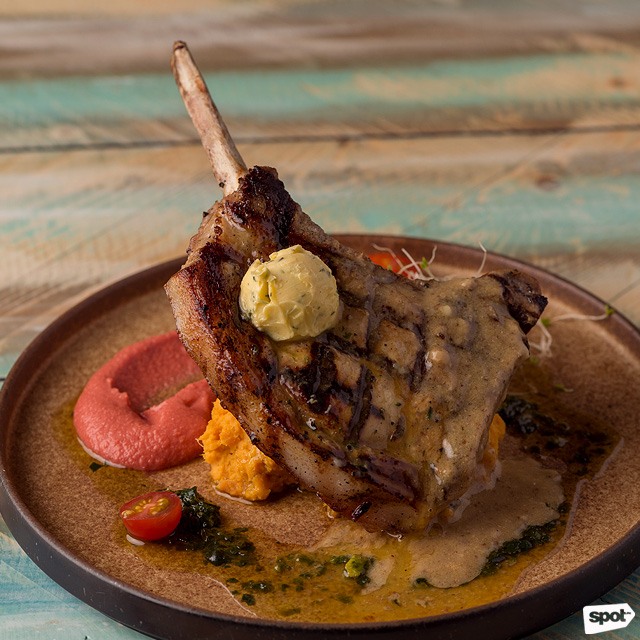 We'll consider this a family business—partners in life and in crime put their heads together and made this little café with a not-so-little list of regulars. The Fat Seed Café + Roastery has indeed sprouted into something formidable in an almost unbelievably short period of time, and their menu and their reach continue to grow. Moreover, it just feels so easy to be there; to simply sit and eat and be your truest, best self. If you're feeling extra hungry, the Fat Seed Signature Porkchop is a heart-stopping, hefty dish of bone-in porkchop with herb butter and a drizzle of umami miso sauce that'll make you lick your plate clean.
ADVERTISEMENT - CONTINUE READING BELOW
Must-tries: Fat Seed Signature Porkchop, Tartufo Pasta
The Grid
Level R2, Power Plant Mall, Rockwell, Makati City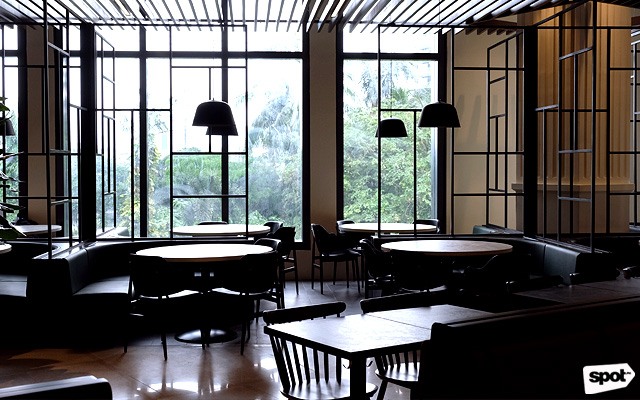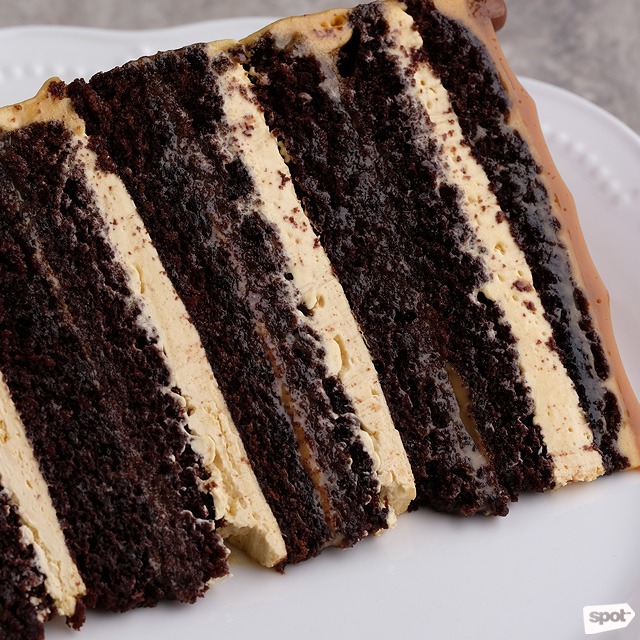 You'll find a good mix of weekend-market treats and restaurant eats at Power Plant Mall's food hall, The Grid. Although it might be difficult to distinguish one stall from the other with the place's uniform look, foodies just have to look a little bit closer to choose from the food hall's wide array of cuisines and dishes. No need to wait for the weekend to enjoy the cult-favorite lobster rolls from Bun Appetit, with buttered buns overflowing with fresh and sweet lobster. Or you can try La Chinesca's best-selling Tuna Tostada. Save room for sweets and be on the lookout for Workshop by Chefs Miko Aspiras and Kristine Lotilla. Their Manchego Cheesecake is to die for.
ADVERTISEMENT - CONTINUE READING BELOW
Must-tries: Bun Appetit's Lobster Roll, Las Flores' Burrata Caponata, The Workshop's 17-Layer Chocolate and Salted Caramel Cake and Manchego Cheesecake, La Chinesca's Tuna Tostada
Tongara Ramen
Lamp Quarters, Gil Fernando Street, Marikina City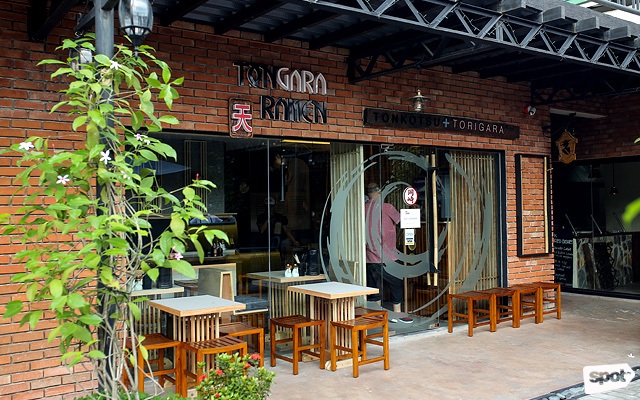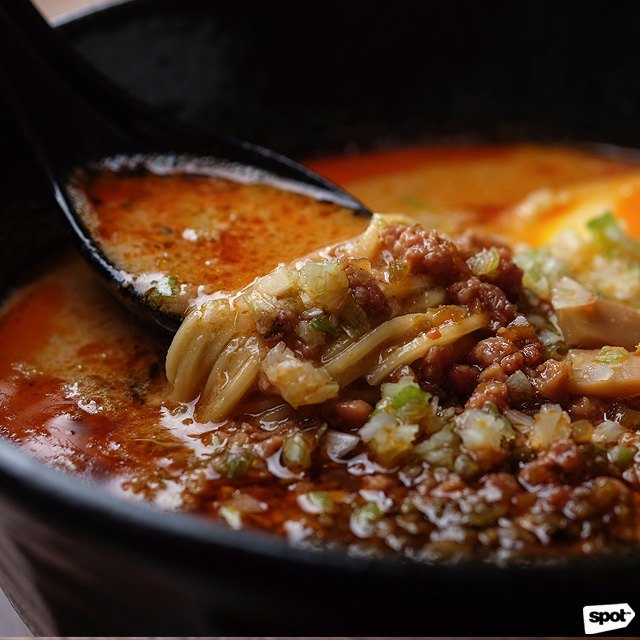 More ramen, we know, but hear us out! Tongara Ramen is a lovely little open secret in the depths of Marikina, which, oddly enough, is still ambivalent in its status as another food capital. But this ramen restaurant is just one more thing that tips the scale in Marikina's favor. They're not here to start any fights—they're just trying to make good food, and they've succeeded. The main event is the eponymous Tongara Ramen, which flaunts a rich chicken and pork broth that blankets each noodle with its naturally sweet-savory flavor.
ADVERTISEMENT - CONTINUE READING BELOW
Must-tries: Tantanramen, Tongara Ramen
Tsuta
UG/F C3 Bonifacio High Street Central, 7th Avenue corner 30th Street, Bonifacio Global City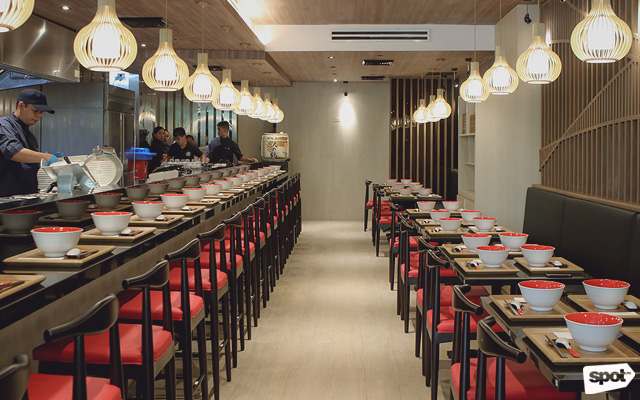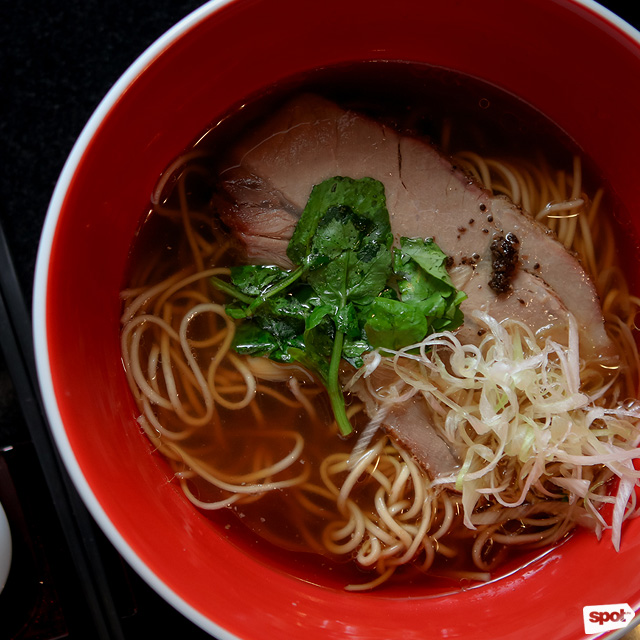 No one's gotten off the ramen ride yet, have they? No one's complaining. Least of all Tsuta, the first of its kind to earn a Michelin star. It maintains several Japanese traditions, if we're being honest, including keeping each branch relatively small and intimate; but it also switches things up by way of secret ingredients and customizable toppings. You'll love the Shoyu Soba bowl if you're a fan of all things umami, with chashu, bamboo shoots, leeks, and truffle mushrooms pureéd in truffle oil.
ADVERTISEMENT - CONTINUE READING BELOW
Must-tries: Shoyu Soba, Char Siu Ajitama
Vatos Urban Tacos
Net Park Building, 5th Avenue, Bonifacio Global City
Contact: 459-7009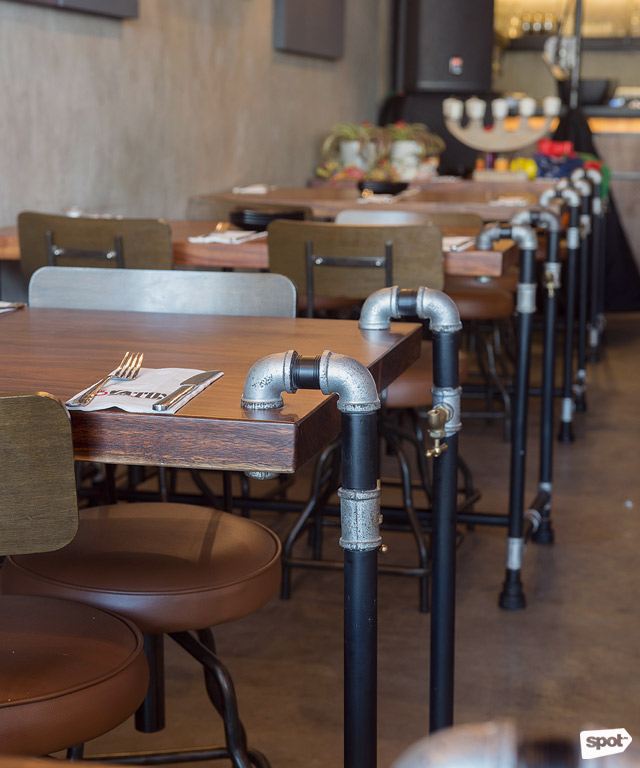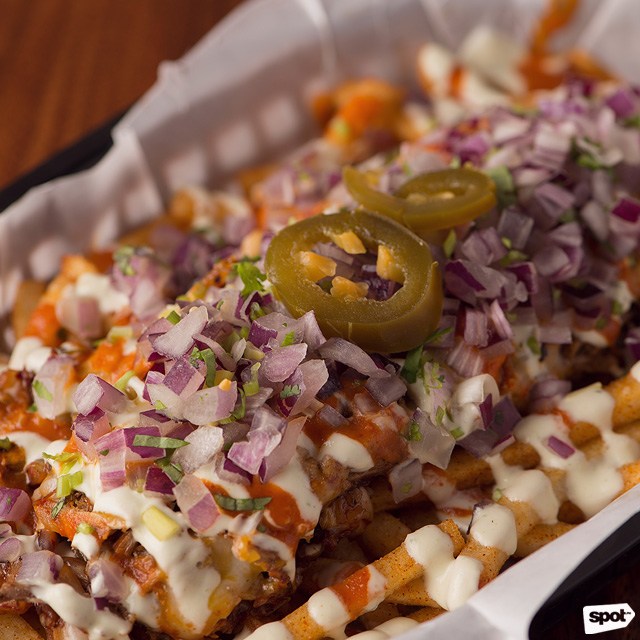 In a year that saw the rise of Korean-barbecue places and the continuing endurance of Mexican restaurants, a restaurant that combines both cuisines is still pretty novel. For Sid Kim, the owner of Vatos Urban Tacos, the fusion is only natural when you think of both cultures' penchant for grilled meat and wraps. Have their Korean Pork Belly tacos and you'll have to agree—the grilled pork belly is fatty and succulent which makes it the perfect contrast to the tangy pickled vegetables. It's like eating Korean barbecue wrapped in lettuce, except you switch out the vegetable for the sturdier tortilla. The Kimchi Carnitas Fries is also a popular item—Sid's tribute to gamja-tang or Korean pork stew with potatoes has French fries topped with shredded pork, kimchi, sour cream, cilantro, onions, and lots of melted cheese for a winning blend of sour, spicy, smoky, and sweet that makes relegating this to side-dish status almost a crime.
ADVERTISEMENT - CONTINUE READING BELOW
Must-tries: Korean Pork Belly Tacos, Kimchi Carnitas Fries
White Camp
62 Sgt. Esguerra Avenue corner Mother Ignacia Avenue, South Triangle, Quezon City
Contact: 0917-898-7793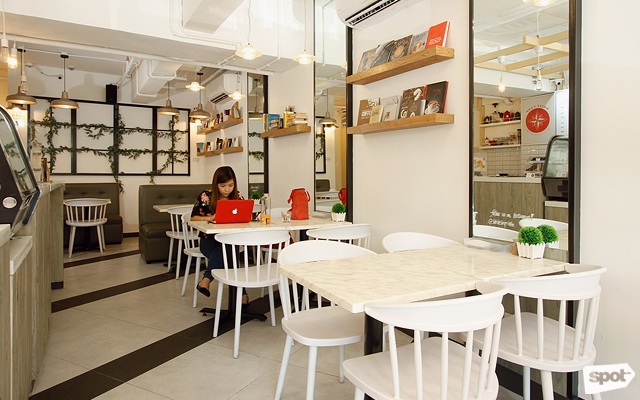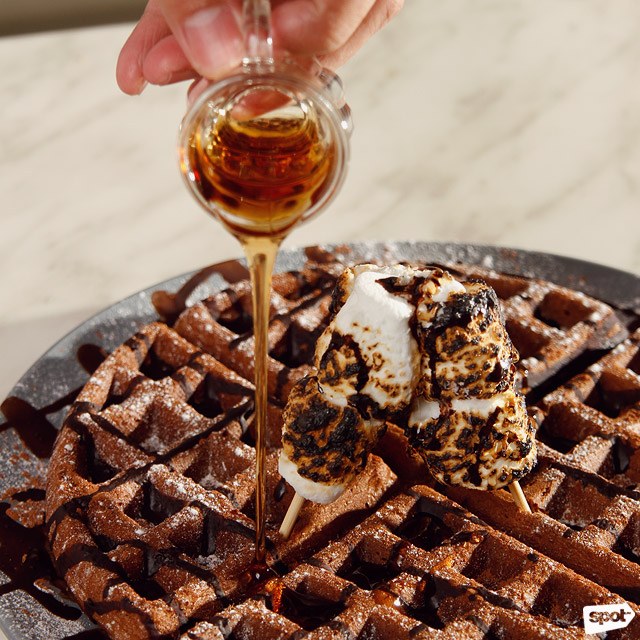 It's hard not to feel in a good mood when you hang out at White Camp. The café is a bright spot in Quezon City, with light-wood fixtures and an overall sunny vibe. Their food is sure to put a smile on your face, too. No visit is complete without having the Korean Fried Chicken, double-fried then glazed in a tangy-spicy sauce set atop kimchi fried rice. Their S'mores Waffle will satisfy even the most intense sweet tooth. Pair it with their Espresso Soda, a fizzy blend that's as bubbly as this coffeeshop.
ADVERTISEMENT - CONTINUE READING BELOW
Must-tries: Korean Fried Chicken, S'mores Waffle
YOI
5579 Fermina Street, Poblacion, Makati City
Contact: 0917-719-1881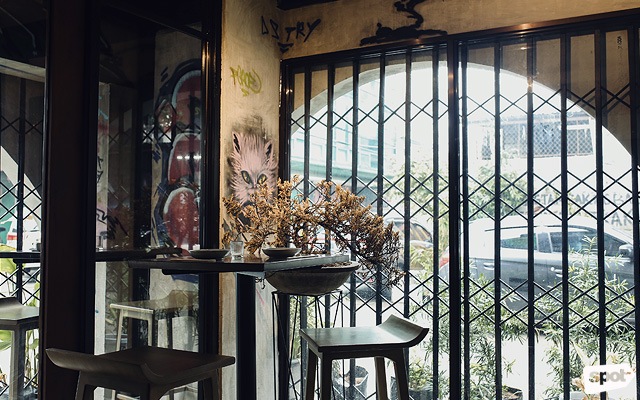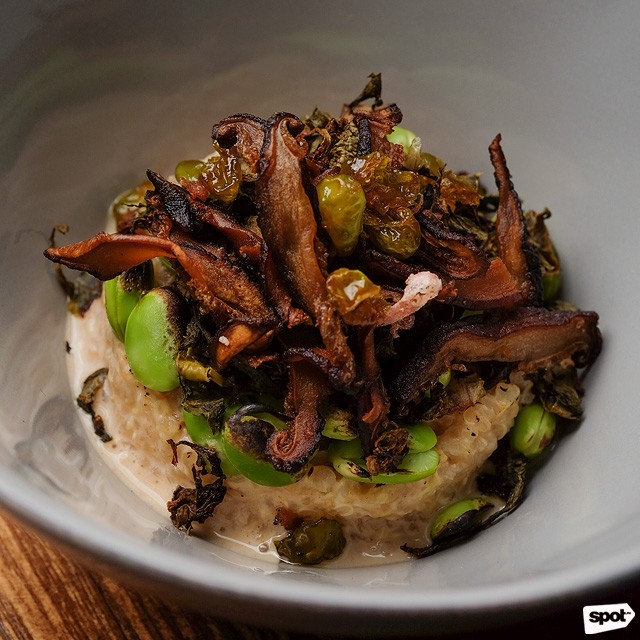 Where else in the Metro can you treat your taste buds to Nordic and Japanese cooking styles while indulging in artisanal sakes? This low-key joint right smack in the middle of trendy Poblacion is a good way to start a night of gustatory fun. You'll be impressed by YOI's fusion of Japanese-Scandinavian cuisine helmed by Noma-trained Chef Mikko Quimora and Chef Cris Villasor, as well as the restaurant's minimalist interiors, which let their modern culinary creations stand out. Start with the Kropkakka, a traditional Swedish dish made of deep-fried potato balls, with mussels accentuating the filling instead of the usual bacon, plus an interesting mix of black cherries and fermented beef compote. Vegans will also love the no-meat options available on YOI's well-curated menu.
ADVERTISEMENT - CONTINUE READING BELOW
Must-tries: Kropkakka, Tuna Tartare, Salmon
Will additional reporting by Nikka Sarthou-Lainez and Michiko Manalang.
Load More Stories