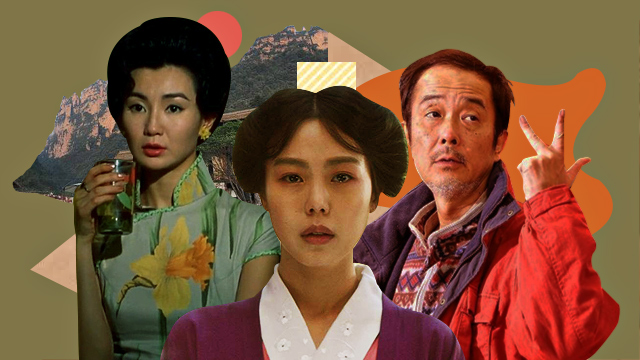 (SPOT.ph) For years, award-giving bodies (like the Academy Awards and the Golden Globes) and film festivals (like the Cannes Film Festival) have awarded their highest prizes and most accolades to Western films. It's not to say they aren't good or deserving, but it often leaves an entire region's films out of the selection pool: titles from Asian countries.
ADVERTISEMENT - CONTINUE READING BELOW
The 92nd Academy Awards sees nine entries vying for Best Picture: Taika Waititi's Nazi satire Jojo Rabbit, Noah Baumbach's Marriage Story and Martin Scorsese's The Irishman, both Netflix originals; Quentin Tarantino's Once Upon a Time in Hollywood, Greta Gerwig's Little Women, cinematography feat 1917 from director Sam Mendes, James Mangold's Ford v Ferrari, Todd Philipps' controversial Joker, and the lone Asian title: Bong Joon Ho's Parasite.
This is only the second time an Asian film has been nominated for the highest award at the Oscars, following Crouching Tiger, Hidden Dragon in 2000, and the South Korean entry sparked an interest in Asian cinema. We're pretty sure you've already seen your fair share of Filipino movies, but trust us when we say there's no shortage of beautiful and moving films from other Asian countries, too. If you've been meaning to get into Asian cinema, we list down 10 you don't want to miss.
Here are 10 critically acclaimed Asian films you need to see:
Raise the Red Lantern (1991)
This Chinese film directed by Zhang Yimou stars Gong Li as teenager Songlian, the third concubine of a wealthy man whose face is never clearly shown. As she adjusts to life and the traditions in the palatial estate, she must weave through the politics of the household's concubines. She eventually grows to accept the setup to some degree, but the house and its secrets tell her otherwise. The film won a Silver Lion at the Venice Film Festival in 1991, and bagged a BAFTA Award for Best Foreign Language Film in 1993.
Chungking Express (1994)
Set in Hong Kong, Chungking Express has two stories told one after the other: the first is about Taiwan-raised policeman He Qiwu (Takeshi Kaneshiro) who, while taking the time to get over his ex, encounters a mysterious woman (Brigitte Lin Ching-Hsia) whose underground drug operation goes awry. The second story then shifts to Faye (Faye Wong), a food stall staff who falls for another cop (Tony Leung Chiu-Wai), who was also recently heartbroken. Aside from giving a glimpse of Hong Kong's less-explored streets, it's a peek at the vibrant lives of ordinary citizens. The Wong Kar-wai film went on to win Best Picture, Best Director, Best Actor, and Best Editing at the 1995 Hong Kong Film Awards, the country's equivalent of the Academy Awards.
ADVERTISEMENT - CONTINUE READING BELOW
In the Mood for Love (2000)
The year is 1962 and journalist Chow Mo-wan (Tony Leung Chiu-Wai) has just become neighbors with Su Li-zhen (Maggie Cheung), a secretary. Both are married, and as both their spouses spend more time at work, they spend most of their days alone. As time passes, the two realize that their spouses are having an affair with one another. Mo-wan and Li-zhen find solace in each other's company, with their own feelings for each other hanging in the air with no resolution. The Wong Kar-wai film was later nominated for a Palme d'Or in 2000, the highest award given at the Cannes Film Festival. Although it didn't win, it went on to nab the Technical Grand Prize, while Leung Chiu-wai won Best Actor. 
Lagaan (2001)
Set in 1893 India under British occupation, Lagaan stars Aamir Khan as Bhuvan, a farmer in the small village of Champaner. The small town's tyrannical commanding officer Captain Russell (Paul Blackthorne) has imposed land tax (or lagaan) on the villagers. Angered and believing it unfair, Bhuvan enlists the help of fellow farmers and villagers to oppose the tax. Russel offers an unconventional way to settle the matter: through a game of cricket. If Bhuvan's camp can win against Russell in a sport that was at that time completely foreign to India, the tax would be repealed for the next three years. If they lose, they'd have to pay three times as much. Determined to win, Bhuvan assembles a team to conquer the British sport. This film from Ashutosh Gowariker was nominated for an Oscar for Best Foreign Language Film in 2002. Back in India, the film went on to win all eight nominations at the 2002 National Film Awards, the Indian equivalent of the Academy Awards.
ADVERTISEMENT - CONTINUE READING BELOW
Monsoon Wedding (2001)
Weddings are a grand affair and Indian tradition calls for extended family—no matter how far—to come home when a relative is to be wed. Lalit (Naseeruddin Shah) and wife Pimmi Verma (Lillete Dubey) have arranged for their daughter Aditi (Vasundhara Das) to marry Hemant Rai (Parvin Dabas), a man she has only known for a few weeks. Not only does Lalit have to borrow money for an extravagant wedding, he and his family must also deal with the emotional baggage and drama brought about by extended family. The Mira Nair-directed film won the Golden Lion at the 2001 Venice Film Festival and the BAFTA Award for Best Foreign Language Film. It was also nominated for a Golden Globe Award for Best Foreign Language Film.
Spirited Away (2001)
This Studio Ghibli animated film follows 10-year-old Chihiro (Rumi Hiiragi) as she stumbles upon an amusement park, which later turns out to be a resort for supernatural creatures who want to catch a break. After her parents (Takashi Naito and Yasuko Sawaguchi) are transformed into pigs, she must find a way to free them and herself.
ADVERTISEMENT - CONTINUE READING BELOW
There are plenty of Japanese animated films worth mentioning (Your Name, Weathering With You, and Five Centimeters Per Second come to mind), but Spirited Away is in a league of its own. It has gone on to win awards usually reserved for live-action feature films. Directed by Hayao Miyazaki, the 2001 film is the only hand-drawn foreign language film to win Best Animated Feature at the 2003 Academy Awards. It also won the Golden Bear at the 2002 Berlin International Film Festival, and is the highest grossing film in Japan. Ever. Until today!
Oldboy (2003)
This South Korean film by director Park Chan Wook follows Oh Dae Su (Choi Min Shik), a cruel man who has wronged others, and pays the price by being held captive in a room for 13 years. After his escape, he wastes no time trying to find his daughter and discovering the identity of his captor to give them what he believes they deserve. Exploring themes of revenge, cruelty, and violence, it won several awards in 2004: the Grand Prix at the Cannes Film Festival, the BIFA Award for Best Foreign Independent Film, and Grand Bell Awards for Best Director, Best Editing, Best Music, and Best Lighting.
ADVERTISEMENT - CONTINUE READING BELOW
The Lunchbox (2013)
Young and lonely wife Ila (Nimrat Kaur) is willing to try anything to bring romance back into her marriage and attract the attention of her distant husband (Nakul Vaid), including cooking lunch for him daily. India's highly efficient lunch delivery service (the dabbawalas) allows her to prepare hot meals for him, except a rare mix-up lands her food in front of the widowed Saajan Fernandes (Irrfan Khan). She writes a note to him the next day about the mistake, but the two begin to send letters to one another, and grow closer with every meal delivered. Aside from being a commercial success in India, this film from Ritesh Batra won the Grand Rail d'Or at the 2013 Cannes Film Festival.
The Handmaiden (2016)
Director Park Chan Wook directs yet another award-winning film: The Handmaiden. A story told in three parts, the film is based on Fingersmith by Sarah Waters and takes place in Japanese-occupied Korea. Korean con-man Count Fujiwara (Ha Jung Woo) plans to seduce heiress Lady Hideko (Kim Min Hee)—currently living with her Uncle Kouzuki (Cho Jin Woong)—to get her inheritance. The Count enlists the help of poor girl Sook Hee (Kim Tae Ri), who becomes the mysterious woman's personal carer. Filled with shocking twists and surprising turns, the erotic psycho-thriller will leave you wondering who's controlling who.
ADVERTISEMENT - CONTINUE READING BELOW
It was nominated for the Palme d'Or at the 2016 Cannes Film Festival, then went on to bag the BAFTA Award for Best Foreign Language Film and the Blue Dragon Film Award for Best New Actress and Best Leading Actress in 2018.
Shoplifters (2018)
An impoverished group of individuals live together in Tokyo and do everything they can to get by. Each member of the household has their own shady way of acquiring money, with injured man Osamu (Lily Franky) and young boy Shota (Kairi Jo) providing for the group by shoplifting. They take a lonely girl (Miyu Sasaki) under their wing one night, and this sets off a chain of events that changes their lives forever. The film is written and directed by Hirokazu Kore-eda, and won the Palme d'Or at Cannes Film Festival 2018. That same year, it was nominated for a Golden Globe for Best Foreign Language Film, along with Best Foreign Language Film at the Academy Awards.
ADVERTISEMENT - CONTINUE READING BELOW
Share this story with your friends!
---
Help us make Spot.ph better!
Take the short survey
More Videos You Can Watch
Load More Stories