Marvel, Star Wars + More: The 10 Most Exciting Disney Movies to Put on Your Must-See List
Mark your calendars for these huge releases!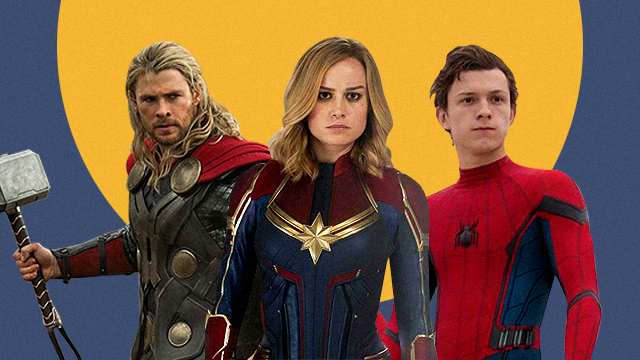 (SPOT.ph) The multimedia juggernaut also known as Disney sure knows how to keep us on our toes. Their recent massive drop during the 2020 Investor Day had everyone in a frenzy with a slew of new movies, sequels, original series, and so many more that, TBH, we just couldn't keep up. If you missed it, we took the liberty of rounding up a couple of titles that have us incredibly excited. While we've been waiting on Black Widow for a really long time now, there's a slew of other noteworthy titles to put on your list as well. From huge animated projects, remakes, and, of course, Star Wars and Marvel content, check them out below. Now quick, light a prayer circle for Disney+ to hurry on over to the PH.
Also read: 
10 Huge Movies We Can't Wait to See When the 2020 Craziness Ends
The Teaser for Disney's Raya Is Here and Wait...Are Those Arnis Sticks?
Marvel Fans, Get Ready: The Doctor Strange Sequel + More New Movies Are Coming
The Real Buzz Lightyear Is Apparently Chris Evans
ADVERTISEMENT - CONTINUE READING BELOW
Ready the popcorn for these 10 huge Disney Films 2021-2022:
Raya and the Last Dragon
Release date: U.S. theaters in March 2021
Finally, a huge Disney animated film that takes its cue from Southeast Asian culture. Raya and the Last Dragon first had Pinoys #shookt when the teaser had the heroine, Raya, brandishing arnis sticks, so we can't wait to see what other Filipino influences we can spot! Evil forces attack in the fantasy world of Kumandra, and so Raya must go on a quest to find the last legendary dragon. The movie is slated to drop in U.S. theaters in March 2021; no word yet on how Southeast Asia will get a slice of the action but we're confident this movie will open here, too! 
CONTINUE READING BELOW
Recommended Videos
Why you should watch it: Did you not see those arnis sticks—in a Disney movie?
Encanto
Release date: Fall of 2021
ADVERTISEMENT - CONTINUE READING BELOW
Oh yes, there are two huge Disney animation originals coming up! Encanto will be another set of firsts for the huge animation house: It will be the first to be set in Colombia and is the first Latinx Disney animated film. The fantastical story will follow a young girl whose family all has magical powers—except for her.
Why you should watch it: Emotions, art, and music are arguably the three pillars of what makes Disney's animations so powerful. And with Lin-Manuel Miranda on board, we're getting ready to feel all the feels.
Cruella
Release date: May 26, 2021—straight to Disney+
In the same vein as their live-action take on Maleficent, this movie will explore the origins of every dog lover's childhood nightmare, Cruella de Vil. And who has Disney tapped to portray the unmistakable black-and-white villain? Emma Stone! Just check out that punk rock teaser picture of Stone as Cruella.
ADVERTISEMENT - CONTINUE READING BELOW
Why you should watch it: Details have been sparse but we're sure this film will take us on a wild journey through Cruella's life. We mean, have you never wondered how she got so fabulously evil? Disney+ best be arriving soon!
Lightyear
Release date: June 17, 2022
Another origin story take we can't wait to see would be Buzz Lightyear's! Nope, not the toy—sorry, we meant action figure—from theToy Story series but the actual astronaut he was based on in this animation's awesome universe. Lightyear follows the story of a young test pilot's journey to becoming a space here, the kind of epic story that would warrant an action figure! Plus, Chris Evans is set to voice the animated astronaut.
Why you should watch it: Who knew a Captain America and Toy Story crossover could get us so excited?
Spider-Man 3
ADVERTISEMENT - CONTINUE READING BELOW
Release date: December 2021
Sony and Disney have finally made friends! Better yet, we know you've seen those rumors floating around of all three web-heads—the OG Tobey Maguire, Andrew Garfield, and Tom Holland—coming together in an epic multiverse for this third movie. Plus, Benedict Cumberbatch's Doctor Strange has been confirmed to be part of the film, so a multiverse really doesn't seem too far-fetched.
Doctor Strange In the Multiverse of Madness
Release date: March 25, 2022
Details are incredibly sparse about the follow-up film to Doctor Strange (Benedict Cumberbatch). The first standalone movie dropped in 2016 and we've seen Doctor Strange kick ass in a slew of other Marvel Cinematic Universe flicks—but we can't wait to see what this next one will bring! Rachel McAdams has been confirmed to return as well; it will be directed by Sam Raimi.
Why you should watch it: This action adventure film will tie Doctor Strange to the WandaVision series and yup, the next Spider-Man film!
ADVERTISEMENT - CONTINUE READING BELOW
Thor: Love and Thunder
Release date: May 6, 2022
Anyone else getting strong '80s vibes from that logo? The fourth installment to the Thor saga will see Jane Foster (Natalie Portman) returning as, get this, the Goddess of Thunder! Christian Bale will also be joining the Marvel Cinematic Universe (MCU) as the villainous Gorr the God Butcher.
Why you should watch it: The Thor saga has been notorious for epic tone changes and this Taika Waititi-directed feature may just continue the humorous streak. Plus, we can't wait to see how Chris Hemsworth and Portman face off.
Black Panther 2
ADVERTISEMENT - CONTINUE READING BELOW
Release date: July 8, 2022
Following Chad Bosewick's passing in 20200, the epic Black Panther series will continue on by honoring his legacy. The hero will not be recast; instead, Disney has stated that the follow-up "will explore the world of Wakanda [and] the rich characters introduced in the first film."
Why you should watch it: The world of Wakanda has certainly captured everyone's attention and we're sure there's so much more of it to explore.
Captain Marvel 2
Release date: November 11, 2022
Carol Danvers is flying back in! Captain Marvel (Brie Larson) is set to return, with Ms Marvel (Iman Vellani) in tow. After her epic last-minute return in the Endgame final battle, we're sure you want to see more of this universe's headliner hero. The follow-up standalone film will take place in "the present day" which most likely means after Endgame. No other details yet; the plot is definitely under wraps!
ADVERTISEMENT - CONTINUE READING BELOW
Why you should watch it: Captain Marvel 2 will be directed by Nia DaCosta, who co-produced and co-wrote an upcoming version of the cult slasher film Candyman with Jordan Peele.
Star Wars: Rogue Squadron
Release date: 2023
Wonder Woman (2017) director Patty Jenkins did not have to do an epic teaser for the next big Star Wars film—but thank goodness she did. The little clip perfectly sets the tone of extreme excitement! Details are pretty scarce but what we do know is that she is set to make "the greatest fighter pilot movie of all time." The Rogue Squadron ties back to the rebel group Luke Skywalker joined during the Battle of Yavin in the first-ever Star Wars IV: A New Hope (1977). There are also whispers that the upcoming film may even have absolutely nothing to do with the dominant Star Wars storyline of the past four decades or so!
ADVERTISEMENT - CONTINUE READING BELOW
Why you should watch it: Like you need any more reasons.
Share this story with your friends!
---
Help us make Spot.ph better!
Take the short survey
Load More Stories