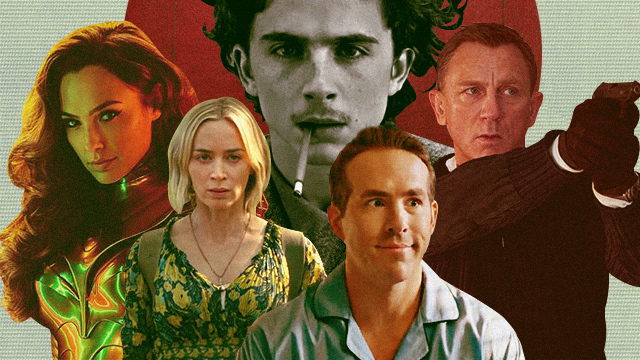 (SPOT.ph) The year 2020 has not been a great one (a huge understatement, we know). And while big-ticket movies being postponed has definitely been the least of our problems, it does offer one silver lining: We have more movies to be excited for then we can count. For this list, we round up some of the biggest titles that were meant to drop earlier in 2020 but have been pushed back—and when we can finally hope to watch them! Mark your calendars for these epic releases.
ADVERTISEMENT - CONTINUE READING BELOW
Also read:
10 Places We've Had to Say Goodbye To Because of 2020
Heads Up: These 2020 Concerts in Manila Have Been Canceled
Prep your popcorn for the 10 biggest blockbuster movies delayed by 2020:
Black Widow
Raise your hands if you've been waiting for a Natasha Romanoff (the badass Scarlett Johansson) movie since the Marvel Cinematic Universe began over a freaking decade ago. Well, Marvel fans may have to wait a little bit longer to see the Black Widow's origin story finally play out on the big screen as the film has been pushed back for a theatrical release mid-2021. The good news is that Disney appears to have zero plans of releasing it on streaming, so we're sure to get the full cinematic experience in a physical theater. The bad news is that this also means we will have to wait until indoor cinemas finally open again, and who knows when that'll happen.
ADVERTISEMENT - CONTINUE READING BELOW
Recommended Videos
Why you should watch it: As if Johannson wasn't enough of a hook, Florence Pugh joins the cast as Yelena Bolova, and there's also Rachel Weisz as Melina Vostokoff—which means this Marvel movie is sure to be packed with female-led narratives and yup, epic badassery.
A Quiet Place Part II
In case you want to add to the stress you've been feeling all throughout 2020 but this time in a way you might actually enjoy, then the sequel to the 2018 horror thriller A Quiet Place deserves a spot on your watch list. The Abbott family—minus one—continues to make their way through the post-apocalyptic Earth. Now that they're armed with a way to fight back against the monsters of the first movie, they discover there's much, much more out there that they should be afraid of. Can somebody please give Emily Blunt and her kids a break?  We'll find out how it all goes down on April 23, 2021.
ADVERTISEMENT - CONTINUE READING BELOW
Why you should watch it: John Krasinski and Emily Blunt are one of those rare Hollywood couples that make us believe in true love IRL, and with Krasinski back in the sequel via flashbacks, we can't wait to see how much deeper their tragic (onscreen!) love story goes.
Wonder Woman 1984
The very '80s, multi-hued posters featuring Gal Gadot in an amped-up Wonder Woman outfit had everybody #shookt when it first dropped. And with the release date pushed back multiple times—it was originally supposed to come out December 2019, then June 2020, then October 2, all of which obviously didn't happen. Warner Bros. folks are considering a summer 2021 release or dropping it on HBO Max in January, according to Variety. Fans have just become more and more impatient to finally see the now much-smarter and worldlier Diana take on some bad guys. Plus, Steve Trevor (Chris Pine) didn't actually die? What's that about?
ADVERTISEMENT - CONTINUE READING BELOW
Why you should watch it: Saturday Night Live alumna and Bridesmaids star Kristen Wiig joins the cast as a messed-up cheetah villain. How could you not be excited by the idea of Gadot and Wiig battling it out as two strong characters?
No Time to Die
Not even James Bond can escape the clutches of 2020. The 25th movie centering around the British MI6 agent and his action-filled escapades has been pushed back from April 2020 to the same month in 2021. This is also the fifth and last time Daniel Craig will be donning the identity of agent 007, who, in this movie has been retired for five years but is called back for one last mission that could, if unsuccessful, lead to the death of millions. The movie is set to have its worldwide theatrical release on April 2, 2021.
Why you should watch it: Aside from living high—vicariously—on Agent 007 and the coolness that drips from his every pore, this is the second ever Bond movie that has a female credited on its script: none other than Fleabag visionary, Phoebe Waller-Bridge. We can't wait to see what a difference her touch makes.
ADVERTISEMENT - CONTINUE READING BELOW
Dune
An electric blue-eyed Zendaya, an aristocratic space family, an entire planet made of drugs (we think), and huge-ass monstrous sand worms; yup, this 2020 remake of the cult classic 1984 movie is looking real exciting. Too bad we now have to wait until October 2021 to see it! The huge production was supposed to be released in U.S. theaters in December 2020 but was pushed back by Warner Bros.; Dune now takes up the slot that was supposed to be filled up by Robert Pattinson's The Batman.
Why you should watch it: Timothee Chalamet and his messy-on-purpose curls have been on a roll since Call Me By Your Name (2017). With him leading the huge star-studded ensemble cast on this big-budget sci-fi remake of a beloved classic, we can only hope for good, exciting things from this film.
Free Guy
Irreverent marketing master Ryan Reynolds has turned 2020 on its heels and turned the shithole that it has been into prime promotional material for his next film, Free Guy, where yup, the virtual RPG world it occupies is also where people compete to be the baddest guy alive (but a fun one!). Reynolds and team aren't sure either when the film will be released to U.S.  theaters but hey, our safest bet so far is December 2020.
ADVERTISEMENT - CONTINUE READING BELOW
Why you should watch it: Reynolds as a sentient non-playable character in an ultra-violent game. What's not to love?
Raya and the Last Dragon
Finally, Disney is coming out with a major animated film based on Southeast Asian culture! And not only is it the first of its kind narrative-wise, Raya and the Last Dragon has also continued studio work with around 400 animation artists working from home. The movie was originally meant to be released in November 2020 in U.S. theaters but has since been pushed back to March 12, 2021. No word yet on whether it will land on the Disney+ but fingers crossed we finally get the streaming platform service here in the Philippines before then!
Why you should watch it: Did you not see those arnis sticks in the first official teaser?
Soul
We were deprived of some good old emotionally cathartic animation from Pixar when Soul was moved to a Christmas Day release—on the still not-available-in-the-Philippines Disney+, that is. This movie was originally meant to be released in theaters in October. Still, it has been reported that the movie will get a theatrical release where the streaming platform is not available, so not all hope is gone.
ADVERTISEMENT - CONTINUE READING BELOW
Why you should watch it: Centering around a middle school music teacher who goes off to the "Great Before"—he might be dead, or nearing it, at least—this movie sounds a lot like a more grown up version of Inside Out.
Top Gun: Maverick
Tom Cruise returns as the spirit-filled Pete "Maverick" Mitchell—who has somehow not made it past the rank of Captain since we last saw him in the 1986 classic. Fans of the Top Gun movie have been waiting since July 2019 for the theatrical release, which was first delayed due to technical issues surrounding the sure to be epic flight sequences, and then that postponement was further pushed back because of the COVID-19 pandemic. The much-awaited sequel is now scheduled for theatrical release in July 2021.
Why you should watch it: Some good old nostalgia backed by a compelling story, Tom Cruise still kicking ass, cool Air Force action, oh, and have we mentioned the fountain of youth that is Tom Cruise?
ADVERTISEMENT - CONTINUE READING BELOW
The French Dispatch
It has been a while since we've been gifted some quality eye bleach courtesy of Wes Anderson. His latest film, The French Dispatch, is setting itself up to be some of his most Anderson-y work yet, filled to the brim with the usual suspects: Bill Murray, Owen Wilson, Tilda Swinton, Adrien Brody—and whoa, Timothée Chalamet and Saoirse Ronan (among many others)! The last slated release date for this film was in October but it has since been pushed back to some indefinite date in 2021.
Why you should watch it: Because you deserve something nice once in a while and Anderson's latest every-frame-a-painting work—with the added effect of Chalamet and those eyebrows—is a guaranteed ticket.
Share this story with your friends!
---
Help us make Spot.ph better!
Take the short survey
Load More Stories