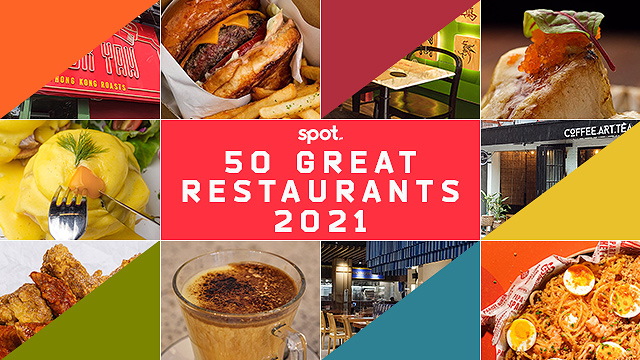 (SPOT.ph) We don't need to tell you what a rollercoaster 2021 has been—but alas, we've all made it to December, and ups and downs aside, the ride's been an especially tasty one. In many ways, 2021 has been generally similar to 2020 with the ongoing lockdowns amid a pandemic; at some points in the year, indoor dining—and even alfresco—was shut down again as the country bounced between community quarantine statuses for weeks or months or end. Still, there are sure signs of things looking much better for the local food industry, with many old restaurants doing better than they did in 2020 and new establishments opening in different parts of the city. Food delivery, of course, remains a staple—and with most of us staying home for safety reasons, delivery-only concepts are definitely here to stay.
ADVERTISEMENT - CONTINUE READING BELOW
We sought to mirror this transition stage (if you can call it that) for this year's edition of our annual list of 50 Great Restaurants, which is similar to our 2020 list in that we've changed up the criteria a tad from the years prior. Of course, the lineup includes standout new restaurants and cafés that deserve all the accolades. But we also included stellar delivery-exclusive ventures—from cloud kitchens to excellent home-based purveyors—whose topnotch eats prove that the lack of a physical dine-in space is no hindrance to being able to cook up great-tasting food. May this be our ode to the local dining scene for continuing to fight through the many challenges that it faces to this day—and for ultimately making the past year a truly sumptuous one.
*Restaurants are listed alphabetically. This list has been limited to restaurants, delivery-only spots, and food businesses that opened between November 2020 and November 2021, or existing brands that began as delivery-only businesses or that hail from other parts of the country outside Manila whose first physical outposts in Manila opened betwen these dates.
ADVERTISEMENT - CONTINUE READING BELOW
Recommended Videos
These are our top picks for the best restaurants in Manila and best online sellers of 2021:
Restaurants and Cafés
Baker J
Crimson Hotel, Entrata Urban Complex, Civic Drive, Filinvest City, Alabang, Muntinlupa City
Contact: 0998-595-3831
Facebook: www.facebook.com/bakerjmanila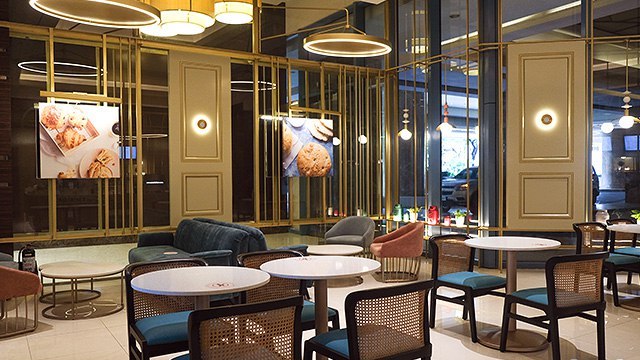 ADVERTISEMENT - CONTINUE READING BELOW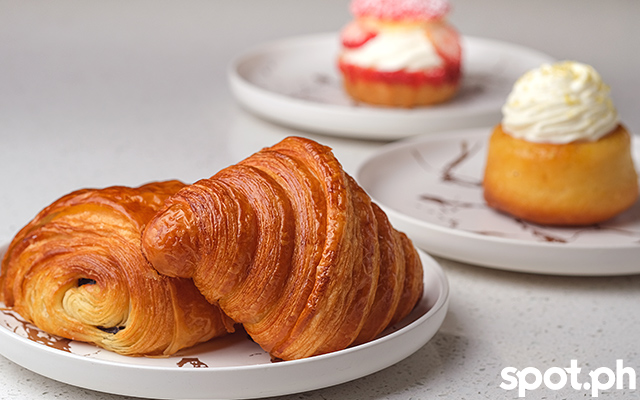 Flaky, moist, and with a distinct signature smell—all terrible qualities in a person, but great in a croissant—Baker J's delivery of traditional pastries and techniques can transport you to France for just a moment. In this sleek and shiny corner of the Crimson Hotel, gone are the rushed, barely enjoyed meals that rule our everyday lives. Instead, you're compelled to slow your roll and pick one up—preferably a Pain au Chocolait—and savor your food. Leisurely breakfasts are easy with dishes like The Complet and the classic Eggs Benedict.
ADVERTISEMENT - CONTINUE READING BELOW
Bon Appetit @ 1120 House
The Metropolitan Compound, Estrella Street corner Amapola Street, Makati City, Metro Manila
Instagram: www.instagram.com/bonappetit1120house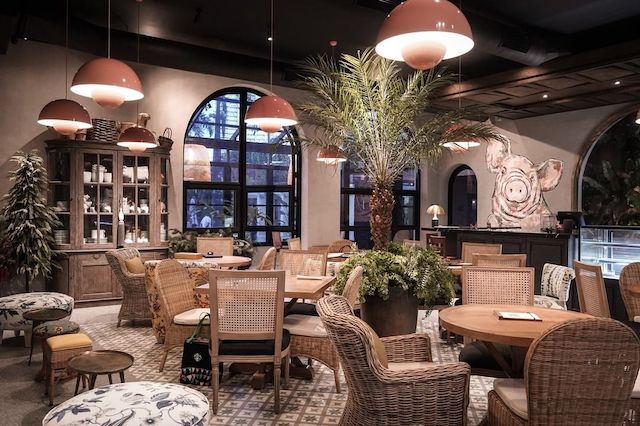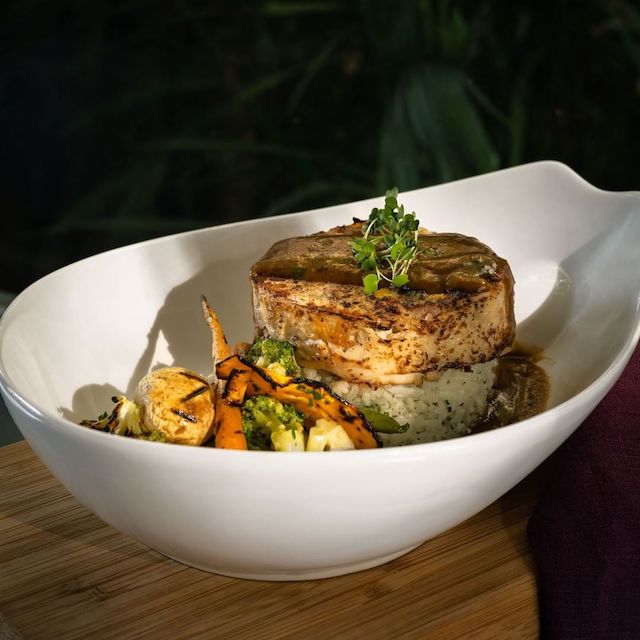 ADVERTISEMENT - CONTINUE READING BELOW
The worlds of food, lifestyle, and home come together at retail space 1120 House in Makati—and the food part of the equation is represented by their resident café, Bon Appetit. Expect classic bistro fare interpreted in fresh and novel ways, with dishes that bear a French-leaning backbone with the occasional hints of Filipino flair. Just some of their one-of-a-kind eats are the Filipine Crab Fat pasta with our own aligue; the Poulet Galantine which uses organic chicken, Spanish chorizo, homemade beef franks, organic eggs, and olives; and the Purple Yam French Toast that gets its nutty flavor from ube.
Butternut Bakery
L/2 South Main Mall, SM Mall of Asia, Mall of Asia Complex, Pasay City
Contact: 0917-126-7999
Facebook: www.facebook.com/butternutmnl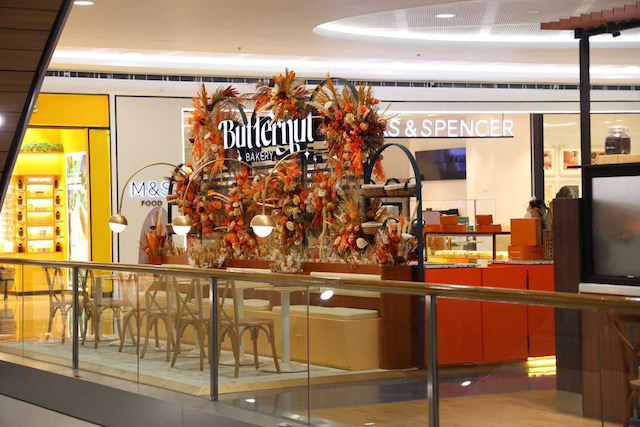 ADVERTISEMENT - CONTINUE READING BELOW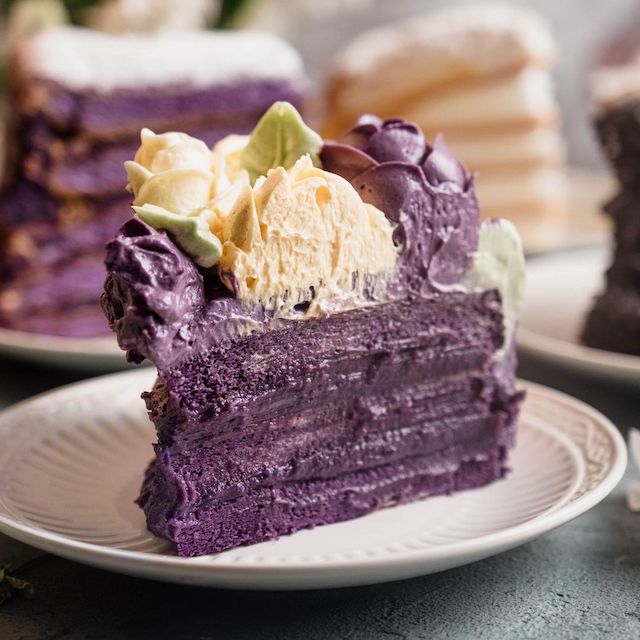 Butternut Bakery is a dessert shop with some truly drool-worthy versions of classic cakes, where they're elevated just a touch without losing their identity. Their take on brazo de mercedes—dubbed the 5 Layer OG Brazo de Mercedes—transforms the traditionally rolled-up cake into a layered treat with an especially pillowy meringue and not-too-sweet vanilla-yema filling; their Moistest Ever Carrot Cake also lives up to its name with its rich and tender carrot cake and silky cream cheese frosting. But what we're especially huge fans of is their Ube Chiffon with Ube Halaya Filling, what with its thick filling of real ube halaya and velvety smooth buttercream. Initially they only had takeout branches, but they recently opened their first location with a dine-in area at SM Mall of Asia; this branch is also home to a special coffee menu for cups of joe that you can sip on alongside your slice(s) of choice.
ADVERTISEMENT - CONTINUE READING BELOW
Coffee ArTea
5966 Fermina Street corner Alfonso Street, Barangay Poblacion, Makati City
Contact: 0977-077-7796
Facebook: www.facebook.com/coffeearteaph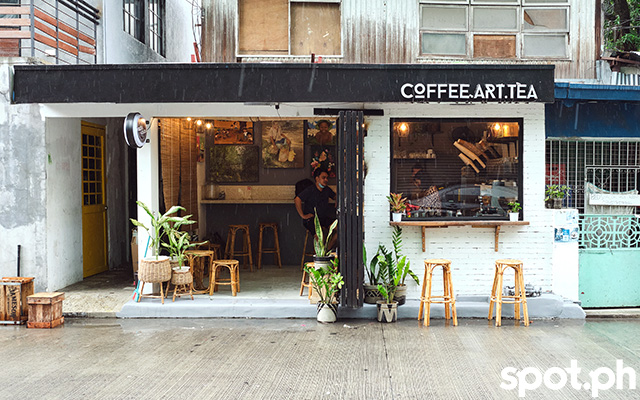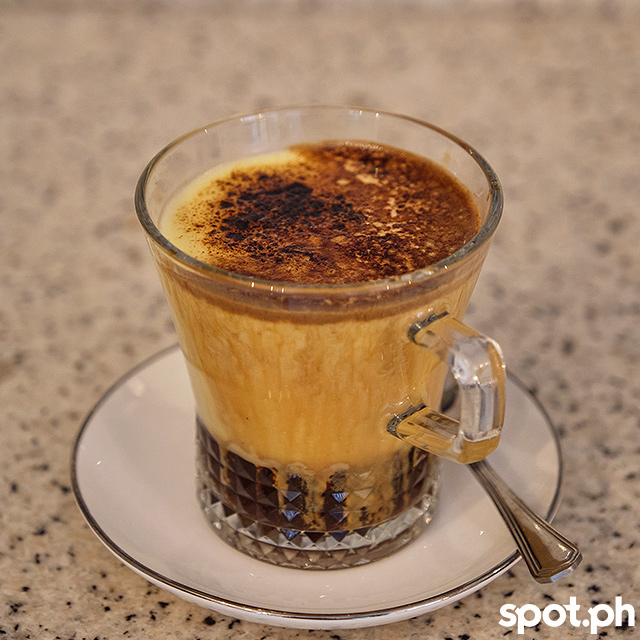 ADVERTISEMENT - CONTINUE READING BELOW
Good coffee? Check. Art? Check. A homey space tucked away in the heart of Poblacion? Yet another check from Coffee ArTea. The little café got its footing from bikers who discovered this hidden gem and started spreading the word—and now the space has become a place to promote local coffee beans and artists. You can take time looking through featured works from their partner artists while you wait for your handcrafted drink to arrive, and if ever you don't know what to pick, you can trust the staff will make a recommendation that won't disappoint. Our top pick, though, is the Leche Brulee Latte—a crowd favorite that was inspired by Vietnamese egg coffee, with a crackly burnt surface that makes way to a creamy coffee mix underneath.
Deo Gracias
12 11th Jamboree Street, Quezon City, Metro Manila
Contact: 0917-708-8727
Facebook: www.facebook.com/deogracias.ph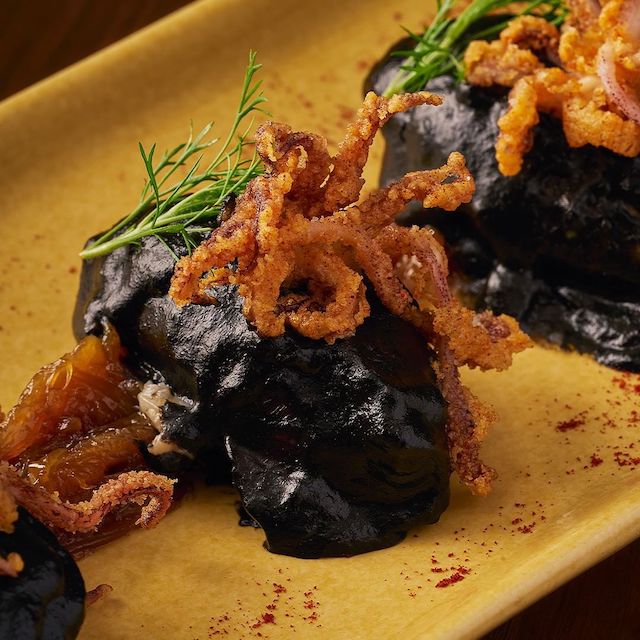 ADVERTISEMENT - CONTINUE READING BELOW
Situated in an ancestral home in Quezon City, Deo Gracias serves up topnotch Spanish fare by two acclaimed chefs—namely pastry chef and TV host Heny Sison, and Spanish chef Alex Del Hoyo Gómez. Spanish fare gets taken out for a contemporary spin here; think Tartar de Atun, or tuna tartare with guacamole ice cream and crisped-up strips of corn tortillas; and the Secreto Iberico y Papas Arrugas, or grilled Iberico pork paired with wrinkled potatoes and lent oomph by Deo Gracias' own red mojo sauce.
Diner 55
1-i Dr. Garcia Street corner Mother Ignacia Avenue, Barangay Paligsahan, Quezon City
Contact: 7256-4345, 0917-126-5913.
Facebook: www.facebook.com/Diner55PH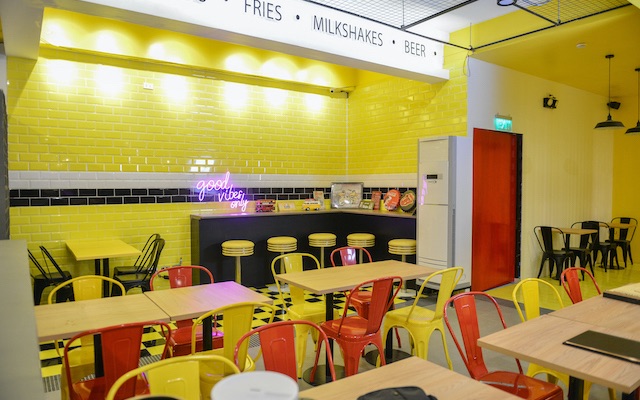 ADVERTISEMENT - CONTINUE READING BELOW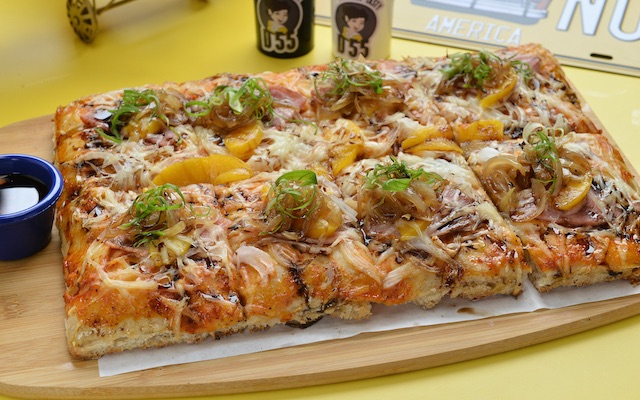 At first glance, Diner 55 may seem like any other retro-inspired restaurant—but a closer look at their menu, crafted up by Chef RJ Ungco of restaurants like Café Enye and Spatzle, will show you it's anything but. One highlight is their Yo! Fernando pizza, a take that's sure to give classic Hawaiian a run for its money. This unconventional, sweet-and-savory pie is topped with smoked ham, caramelized onions, mozzarella, and peach slices, all drizzled with a balsamic vinegar glaze. If you're not feeling that adventurous, you can't go wrong with their less polarizing dishes either. Sample the Ooh-Beh! Waffle and Chicken, a Filipino-inspired take on a brunch staple, or their 5-5 Burger, their version of the classic smashburger.
ADVERTISEMENT - CONTINUE READING BELOW
Dylan Patisserie
116 Jupiter Road, Makati City
Contact: 8777-2999
Facebook: www.facebook.com/dylanpastisserie.ph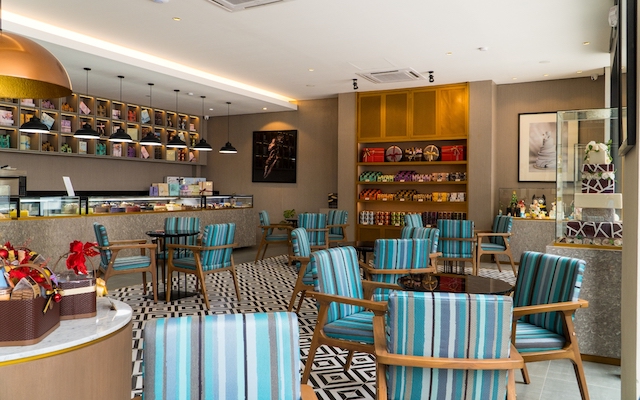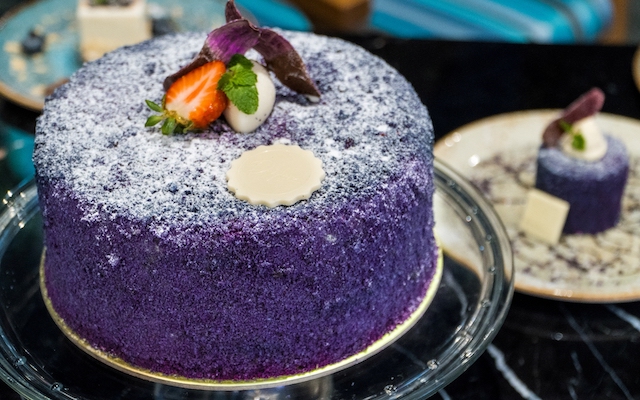 ADVERTISEMENT - CONTINUE READING BELOW
Come for the elegant European-style pastry-shop vibe, stay for the truly high-quality desserts at Dylan Patisserie. Nutella fans can't miss out on the De Hazelnut Praline, a smooth chocolate and hazelnut mousse combined with a soft biscuit sponge and crispy praline. They also have an unmissable take on classic ube cake! The Ube Dulce de Lecha is a rich ube sponge cake paired with dulce de leche cream. Their cookies, macarons, and chocolates deserve to be given a try too; in particular, the savory-sweet Parmesan Cheese Cookies makes for a novel pair to your afternoon cup of tea.
FFTG Cafe
58 13th Avenue, Cubao, Quezon City
Contact: 0906-337-3032
Facebook: www.facebook.com/FoodForTheGays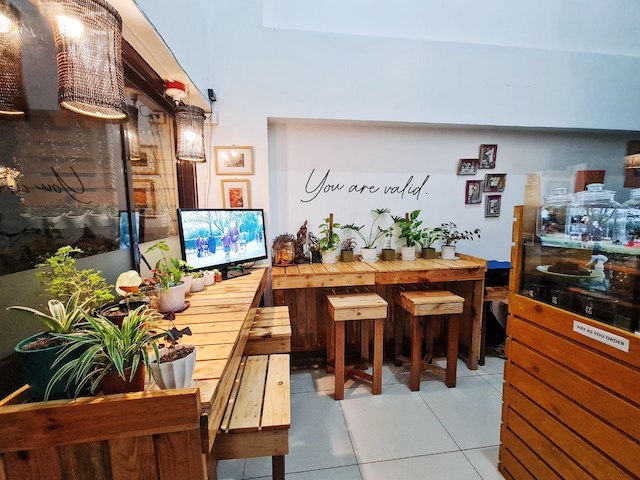 ADVERTISEMENT - CONTINUE READING BELOW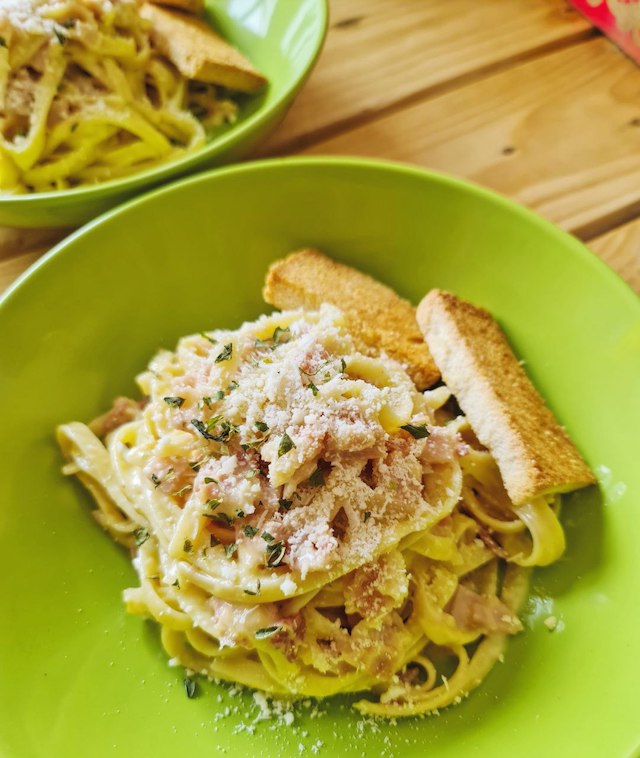 Earlier this 2021, FFTG Cafe—short for Food For The Gays—courageously opened with bold colors and comforting eats. The brand itself is a brainchild of LGBTQ+ advocate Nariese Giangan, who initially opened FFTG as an online venture with swoon-worthy baked goods and more, and sought to differentiate her food business from the rest during the pandemic by focusing on the LGBTQ+ community in the process. By February 2021, she and her partner went on to open FFTG's full-fledged café counterpart. The rainbow flag (and equally colorful fan favorite rainbow grilled cheese sandwich) are sure signs that absolutely everyone is welcome through FFTG's doors; it is a safe space to be who you are.
ADVERTISEMENT - CONTINUE READING BELOW
Fook Ya
Unit D 5666 Don Pedro Street, Poblacion, Makati City
Contact: 0927-045-8640, 7943-6685
Facebook: www.facebook.com/fookyahroasts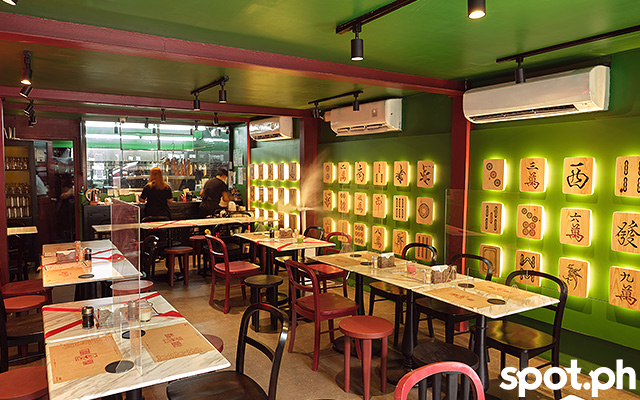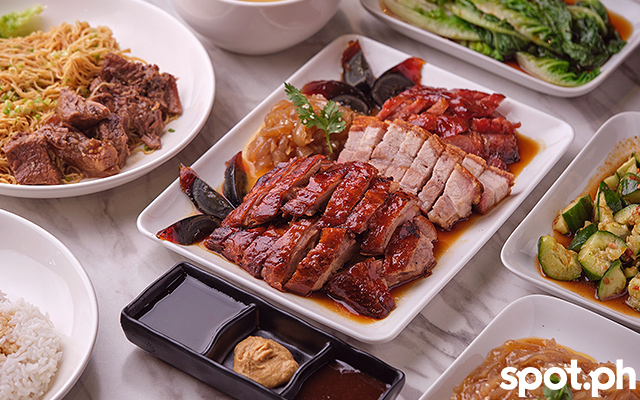 ADVERTISEMENT - CONTINUE READING BELOW
Travelling is still out of the question for many of us. If you're craving for a taste of Hong Kong though, head on over to this cozy spot in Poblacion. Fook Ya cooks up Hong Kong-style roasts and noodles so good and so packed with flavor they'll make you feel as if you're right in the heart of Central. We suggest ordering their Roasted Duck Combination for the full experience; this platter has savory and tender Roast Duck, crisp and juicy Lechon Macau, sweet and savory Char Siu, chewy and nutty jellyfish, with all those flavors rounded out by ultra-rich century eggs. Pair it with any of their equally stellar noodle dishes. The Wanton Noodle, a soothing savory soup with freshly made noodles and bouncy shrimp dumplings, is a strong contender.
Gatong
42 Dalsol Road, Quezon City
Facebook: www.facebook.com/gatongqc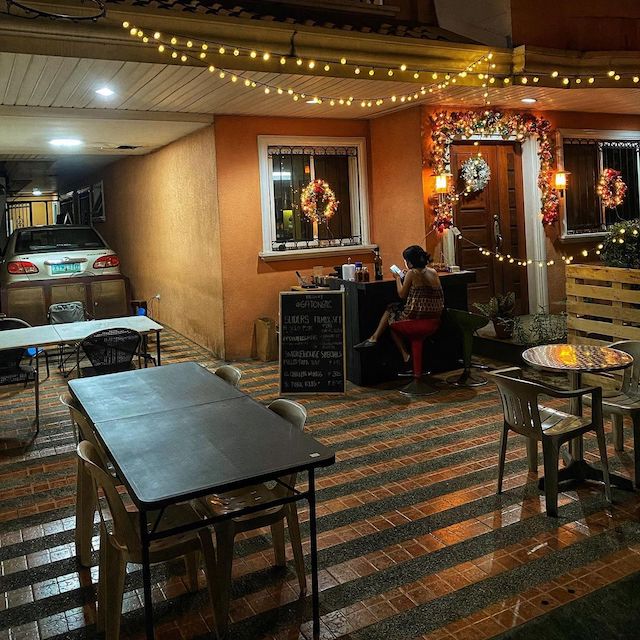 ADVERTISEMENT - CONTINUE READING BELOW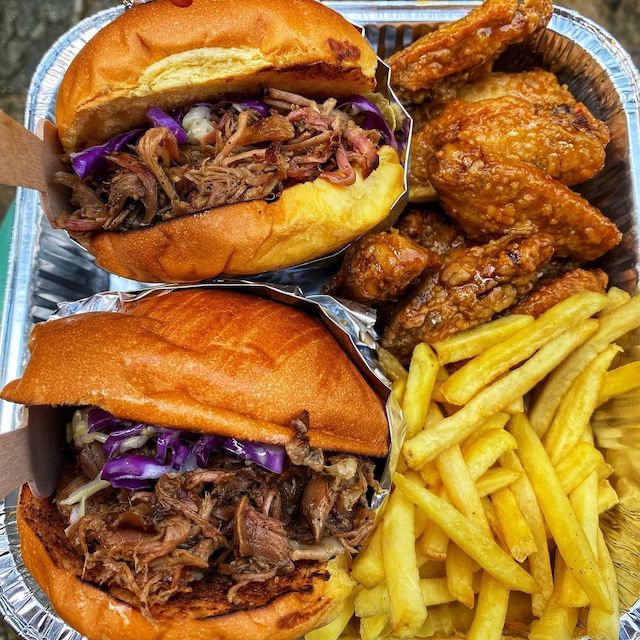 It's all about meat at this backyard-BBQ shop in Quezon City. They make a standout Texas-style pulled pork by smoking pork that's been flavored with their homemade dry rub, resulting in a deeply smoky, savory flavor and uber-juicy makeup. Though they began as an online-only shop with occasional pop-ups, they recently also opened a small dine-in area at their QC headquarters where you can hang out over their signature Pulled Pork Sliders, Carnitas de Sisig tacos, Pork Ribs, and more.
ADVERTISEMENT - CONTINUE READING BELOW
Granville Cafe
189 A. Mabini Street, San Juan City
Contact: 0917-184-5067
Facebook: www.facebook.com/granvillecafesanjuan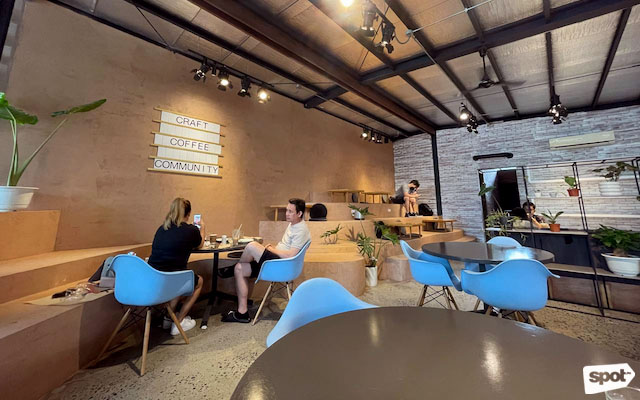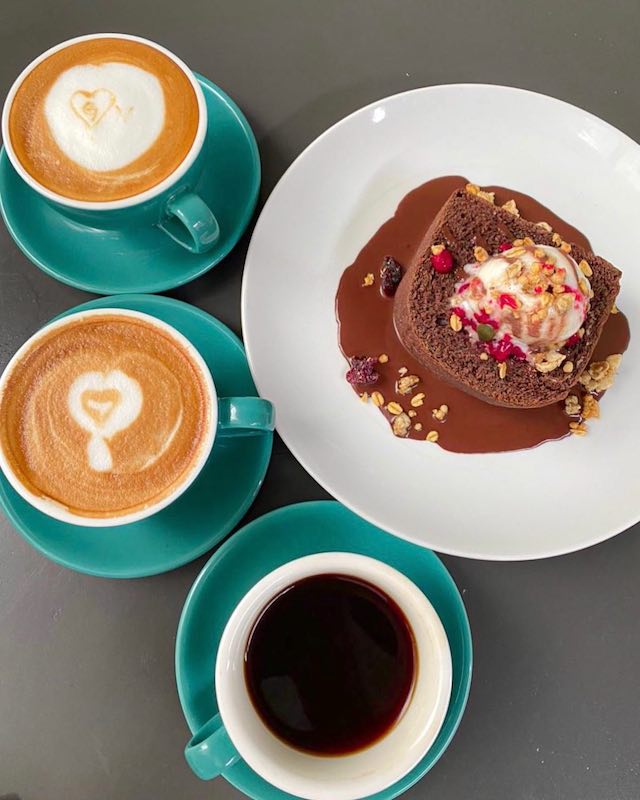 ADVERTISEMENT - CONTINUE READING BELOW
Raise your hand if you love a cup of coffee. Now keep it raised if you wouldn't say no to a great pint of craft beer either. If your hand's still raised, you're in luck: this hip café in San Juan by the name of Granville is known for both. The place doesn't just look IG-worthy; it matches the quiet, secluded vibe you see in photos IRL. It's the perfect place for hanging out with friends over an afternoon coffee while munching on their sweet and savory eats—think pasta dishes with noodles made from scratch and all-day breakfast dishes like Green Eggs & Bacon with Sourdough Bread. If you're in the mood, stay a little later to enjoy some craft beer straight from Nipa Brew.
Haliya
City of Dreams Manila, Aseana Boulevard corner Macapagal Avenue, Entertainment City, Parañaque City
Contact: 8800-8080
Facebook: www.facebook.com/cityofdreamsmanila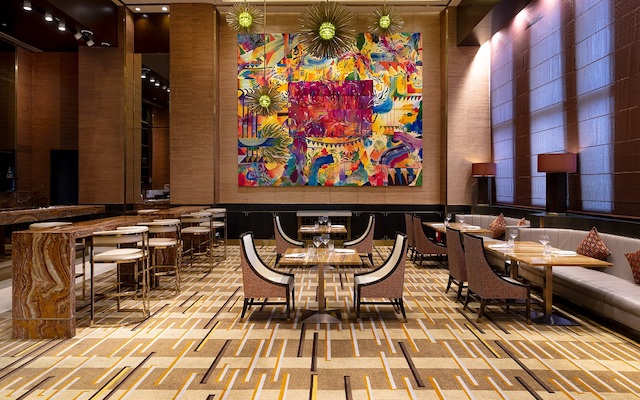 ADVERTISEMENT - CONTINUE READING BELOW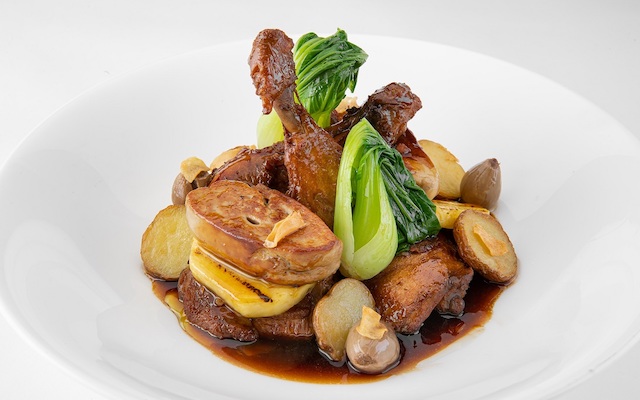 Maybe the only thing that might piss someone off about Haliya (specifically, regarding their adobo with foie gras dish) is that they didn't think of pulling it off first. Sure, mixing highbrow and lowbrow isn't exactly groundbreaking—and perhaps some of you scoff at the very idea of a restaurant trying it again in the year of our Lord 2021—but listen: It is worth gussying up. This isn't "Filipino food with a modern twist" in the way we're sick of hearing. Spare us, please. Haliya is about taking flavors you know and love, and making them shine. They've even got the interiors to match, with high ceilings and geometric seating that'll have you thinking, "Opulence! You! Own! Everything!"
ADVERTISEMENT - CONTINUE READING BELOW
HuChi
Concourse Level, Power Plant Mall, Rockwell, Makati City
Contact: 0919-084-5734
Facebook: www.facebook.com/huchi.ph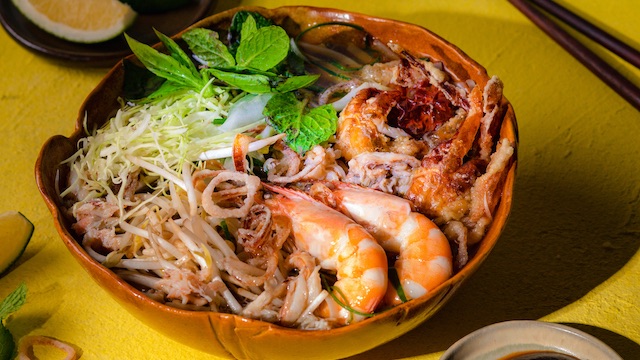 If you're looking to expand your palate beyond your usual pho order, then you definitely have to try out HuChi. This Southeast-Asian spot from The Moment Group focuses on Vietnamese and Thai eats—and for their pho, they pride themselves on making their marinade, meatballs, and sausages in-house, as well as using only the freshest local ingredients. A must-try is the Pho Hai which can only be described as a seafood party in a bowl. It's got a warm and hearty broth topped with poached shrimp, crispy soft-shell crab, mudcrab, cabbage, basil, and leeks; it is pure umami flavor sans being too cloying. If you're looking for an elevated take on the classic pho check out their Pho Bo. This beef-based noodle soup is spiked with burnt-onion oil, giving it an intense depth that just has to be tried to be understood.
ADVERTISEMENT - CONTINUE READING BELOW
IKEA Swedish Restaurant, Bistro, and Café
SM Mall of Asia Complex, Pasay City
Facebook: www.facebook.com/IKEAPhilippinesOfficial/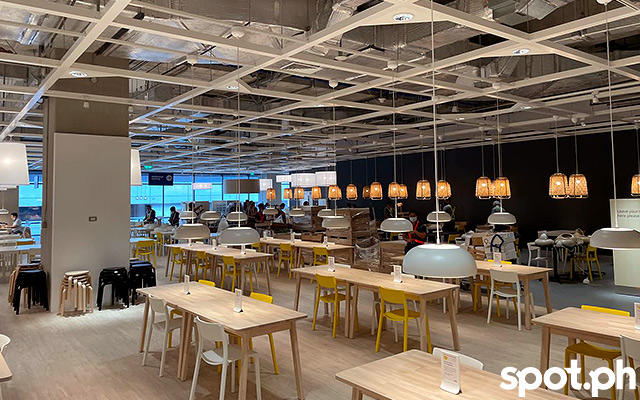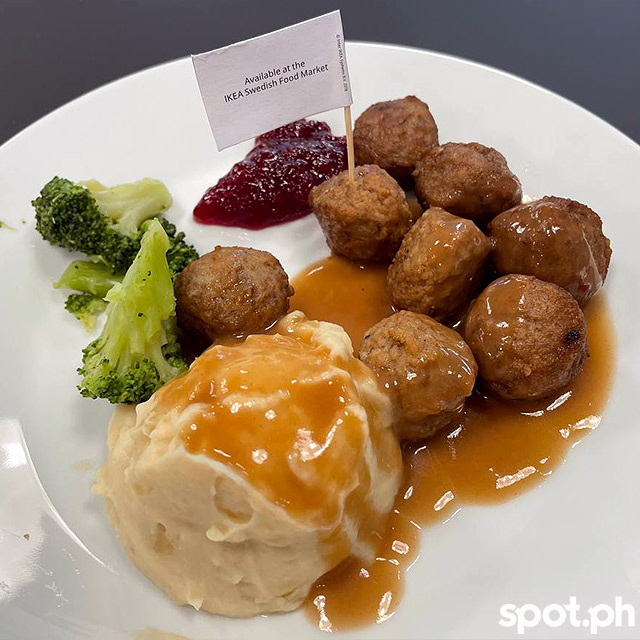 ADVERTISEMENT - CONTINUE READING BELOW
If the past two years have resulted in a deep, clawing need to change your surroundings, then you know that IKEA arrived just in time. A day of window shopping and furniture canvassing can really empty your stomach; enter the Swedish Restaurant, Swedish Bistro, and IKEA Café, all found around the corner of an EKTORP Sofa or a MALM Desk. At the Swedish Restaurant on the fourth level, you can't miss the Swedish Meatballs, if only for posterity; or the Crunchy Almond Chocolate Cake, because, well, cake. You can also stop by the Swedish Bistro on the third level for lighter bites like the Hotdog, or the IKEA Café (also on the third level) for some good ol' fika action with a slice of Chocolate Cake.
Jones All Day
G/F Serendra, Bonifacio Global City
Contact: 0917-836-2173
Facebook: www.facebook.com/jonesalldayph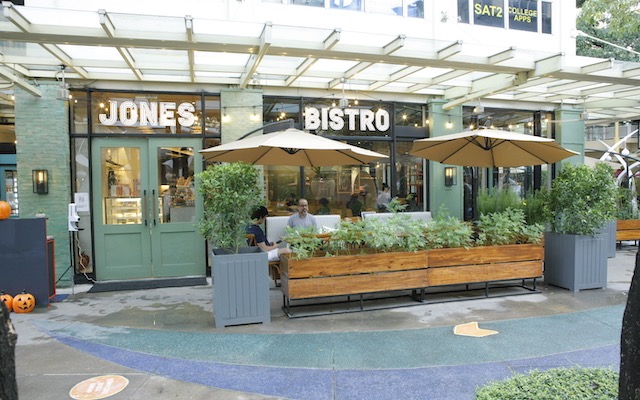 ADVERTISEMENT - CONTINUE READING BELOW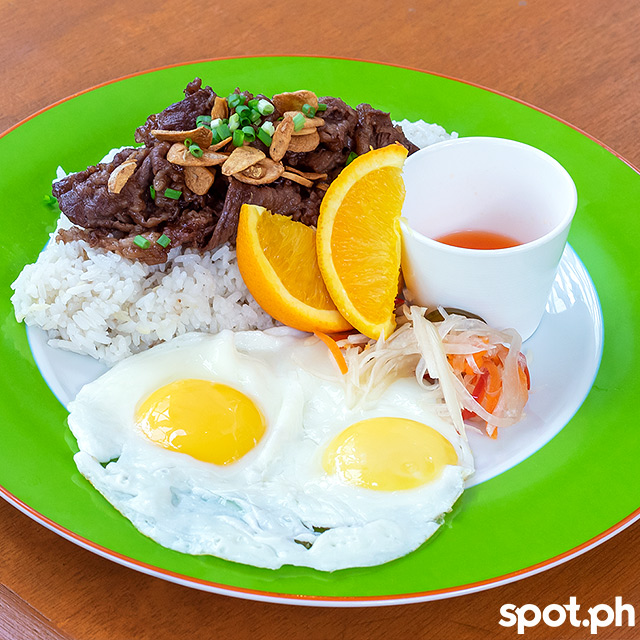 Remember Mr. Jones in Serendra? The well-loved eatery was brought to us by the Raintree Hospitality Group, and they sadly closed their doors in the early 2010s. Enter the recently opened Jones All Day—essentially Mr. Jones' contemporary post-pandemic cousin also by the Raintree group, with more international dishes from around Asia and Europe on their roster but still with the comfy, laid-back vibe that the O.G. is known for. Located in BGC, Jones All Day has got an extensive list of things to choose from—from brunch fare like Mr Jones' Filipino Breakfast (the tapsilog version of which got the top spot on our 2021 Top 10 Tapsilog in Manila list) to heavier bistro plates like the Sizzling Szechuan NZ Lamb Ribs to sourdough pizzas and more. With Chef Kalel Chan in charge of their food, you can expect full-on flavors through and through no matter what you order; it sure doesn't hurt that they've got a stellar alfresco space where you can hang out no matter what time of the day.
ADVERTISEMENT - CONTINUE READING BELOW
Kiwami Food Hall
L/GF C3 Bonifacio High Street Central, Bonifacio Global City
Contact: 0919-074-4541
Facebook: www.facebook.com/kiwamifoodhall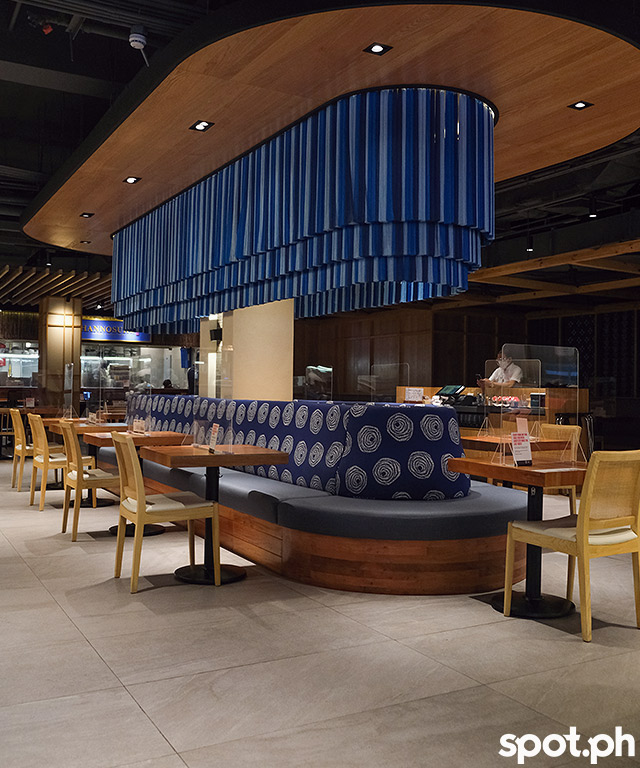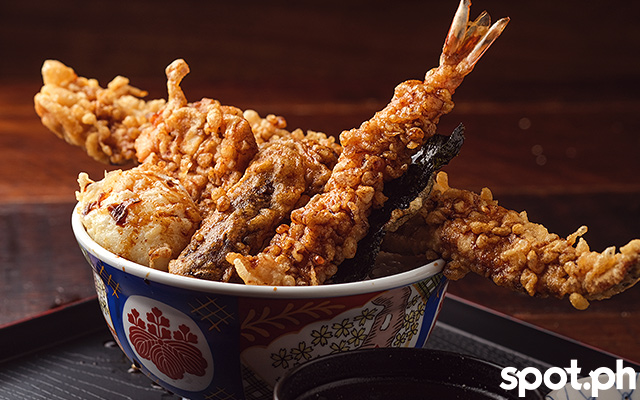 ADVERTISEMENT - CONTINUE READING BELOW
Kiwami is what would happen if you asked someone obsessed with Yuri!! On Ice to think up their dream food hall, and we have to say, if this is how one's inner child gets soothed, we'll go about once a week and consider it therapy. You could argue that a big enough Japanese restaurant could technically fulfill the premise of this food hall, but each establishment found here  really specializes in the dish they contribute. They've got longtime fan favorites—namely Yabu for katsu and Ippudo for ramen. But you'll definitely want to check out the newcomers as well, namely Hannosuke for tempura tendon, and Yakitori Hachibei for yakitori. Get your day-long pretend-trip to Japan started with Hachibei's Platter of skewers, or a plate of their Asparagus Buta Bara Rolls—the rest of your itinerary is up to you. Either way, you'll definitely want to leave room for the silky smooth Hokkaido Milk Soft-Serve at the soft-serve bar.
ADVERTISEMENT - CONTINUE READING BELOW
Kobe Jones
Le Grand Condominium, 130 Valero Street, Salcedo Village, Makati City
Contact: 0915-098-5735
Facebook: www.facebook.com/kobejonesph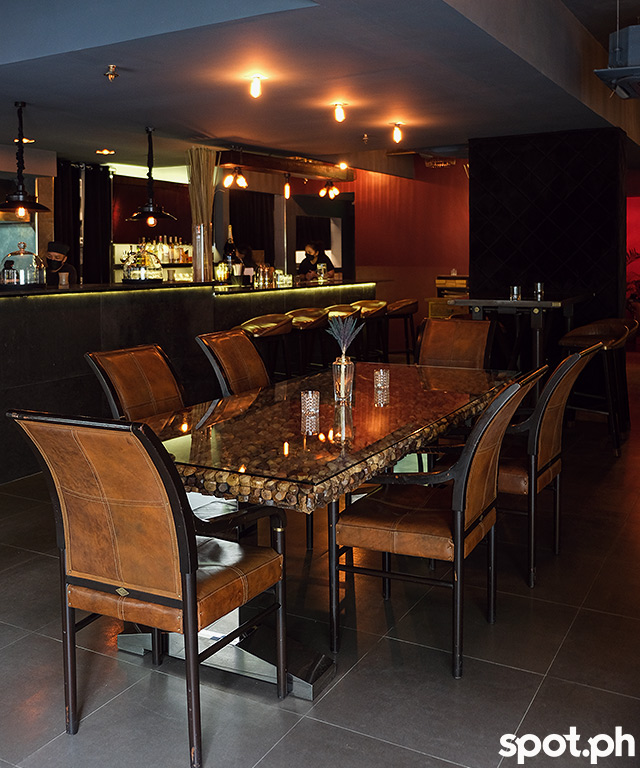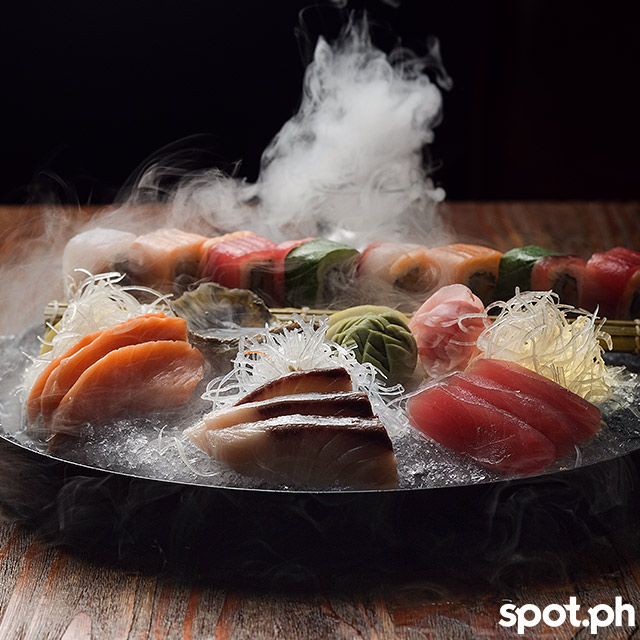 ADVERTISEMENT - CONTINUE READING BELOW
Back in the early aughts, fusion food was still largely a novelty, in that you'd be willing to watch it on TV, but not so much to respect a restaurant that did it. Today, fusion is so prevalent that you'll catch professional kitchens doing it badly and getting away with it; Kobe Jones is definitely not one of those places. Instead, this brooding, thoughtful Salcedo Village restaurant just decided not to limit itself to one genre. They're helmed by Chef Tom Hines, formerly of establishments like Wasabi, Lulu + Hooch, Smith Butcher, and Grill Room—and he draws on his experiences cooking up Western and Asian to come up with a cohesive, East-meets-West menu using top-notch ingredients. From Russian blinis with caviar to Hokkaido scallops to great-quality sushi and sashimi and more, you'll find and immediately satisfy new cravings here; opportunities to explore exactly how temperature and texture play into an incredible dining experience come aplenty. Whatever you do, don't miss the Pan-Fried Miso Salmon, with Norwegian King salmon marinated with white miso and grilled until slightly charred outside but succulent as can be inside.
ADVERTISEMENT - CONTINUE READING BELOW
Le Petit Café Fleur
5893 Enriquez Street, Poblacion, Makati City
Contact: 0917-556-0917
Facebook: www.facebook.com/cafefleur.ph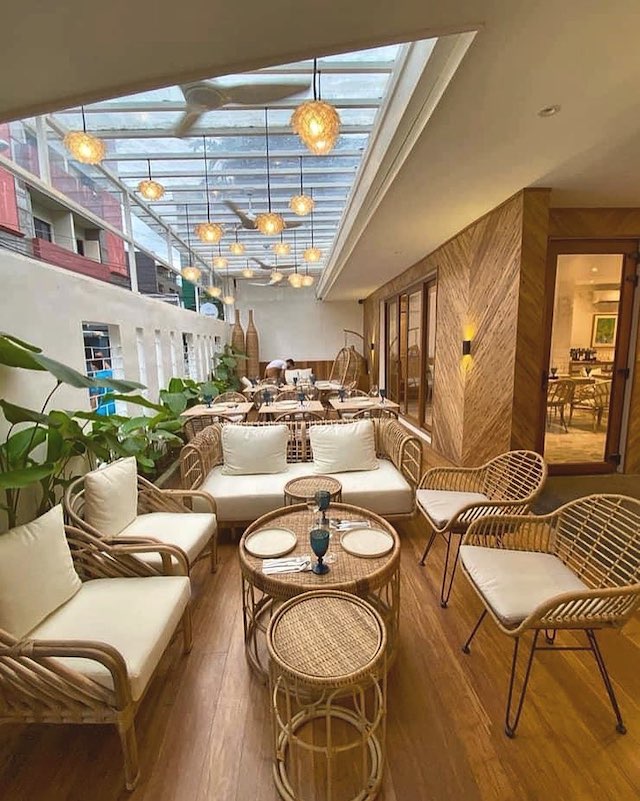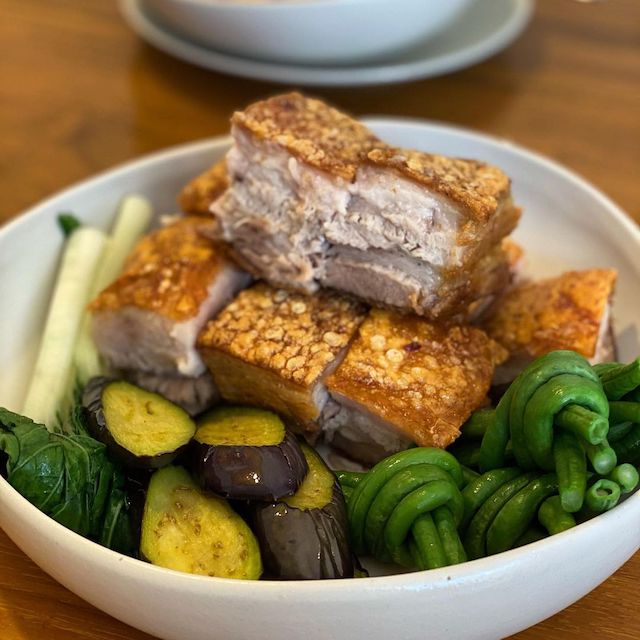 ADVERTISEMENT - CONTINUE READING BELOW
Helmed by Chef Sau del Rosario, beloved Kapampangan joint Café Fleur made its Manila debut as they opened a branch in Poblacion in January, dubbed Le Petit Café Fleur. You'll be treated to some lovely renditions of beloved dishes from Pampanga, including a mean Crispy Pork Belly Truffled Macadamia Kare-Kare (you read that right) and the thick and loaded buko pie that they endearingly call the Vuco Fye. Needless to say, you'll be feasting here so be sure to bring your appetite.
Manduca
G/F Commerce Center Building, 31 Street corner 4th Avenue, Bonifacio Global City
Contact: 0917-146-4852
Facebook: www.facebook.com/manducamnl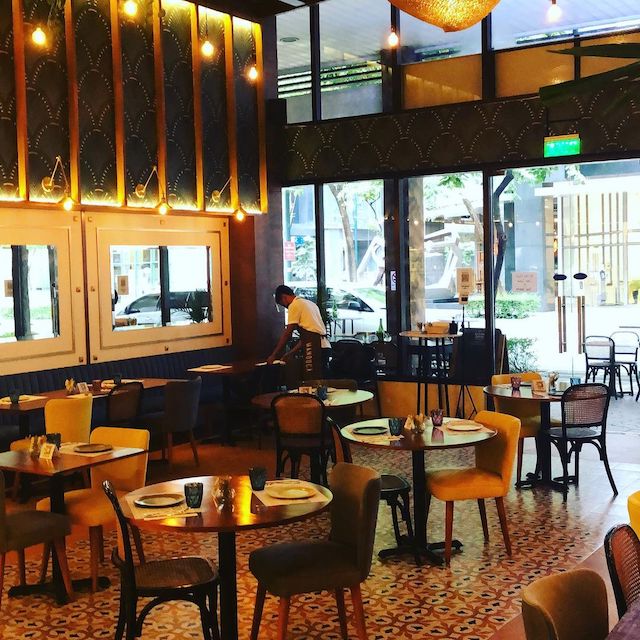 ADVERTISEMENT - CONTINUE READING BELOW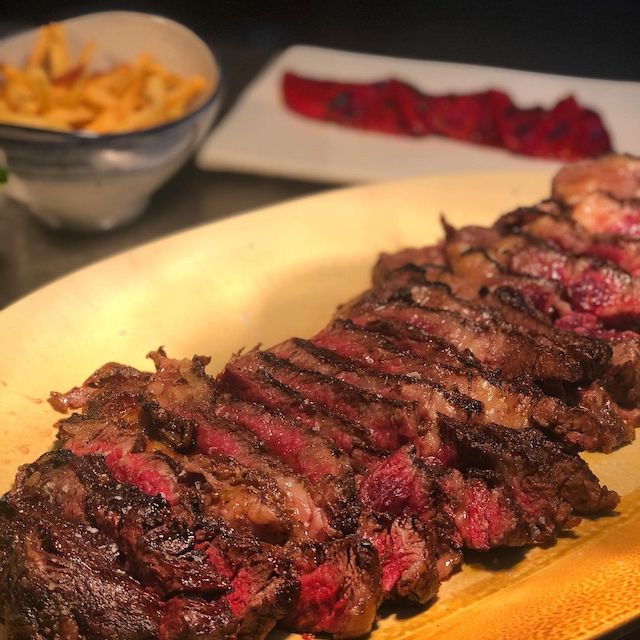 Spanish food has a special place in just about every Filipino's heart, and Manduca—a recently opened BGC spot—is a deserving addition to your list of go-to Spanish establishments in the Metro. The eatery is owned by Ricardo Ferreiro Lopez and Chef Amado Garcia Fernandez, who have come up with a slew of classic and modern tapas, pica-pica, and meaty mains that'll show you just how varied the cuisine can be. Among their must-tries are the Cachopo Asturiano, a schnitzel-esque breaded pocket of of veal striploin layered with ham and cheese; and the one-of-a-kind Brioche de Calamares, a contemporary sandwich of sorts with squid and a kimchi-tinged mayonnaise for added punch.
ADVERTISEMENT - CONTINUE READING BELOW
Masa Bakehouse
231 Aguirre Avenue, BF Parañaque City
Facebook: www.facebook.com/masabybarefoot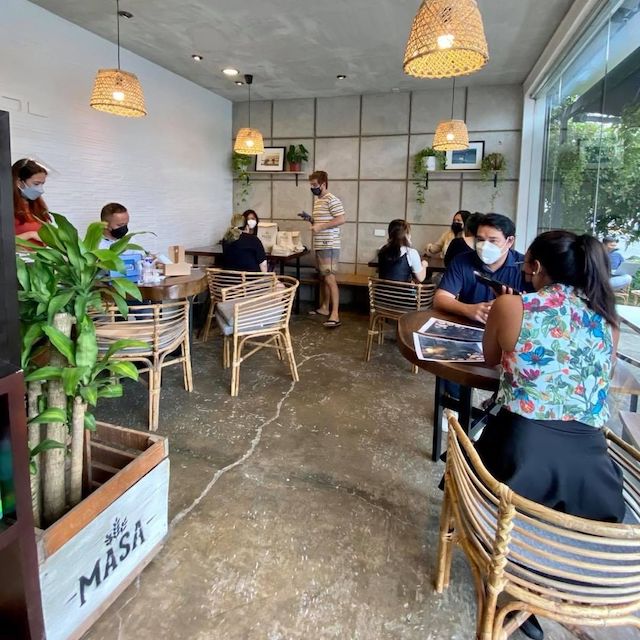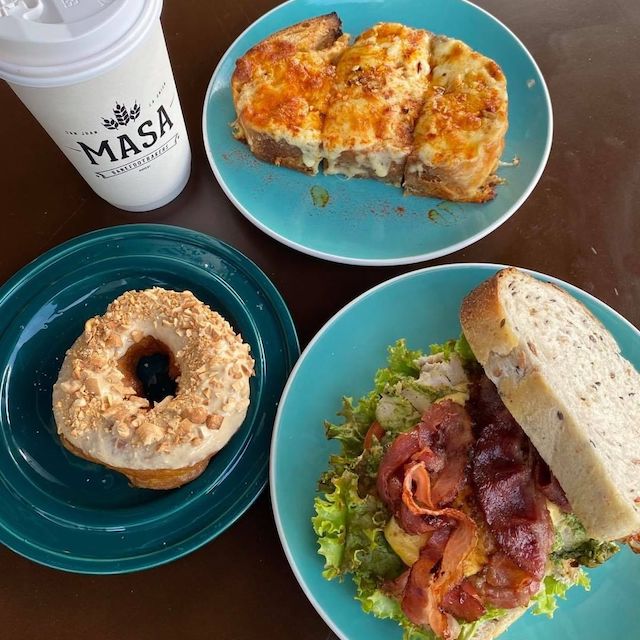 ADVERTISEMENT - CONTINUE READING BELOW
This La Union staple opened in the Metro much to the delight of pre-pandemic beach-goers. But even if the line where the sky meets the sea has never called you, Masa Bakehouse can still be a haven for those who take their bread seriously. (Can we call you carb-nivores?) From croissants to rolls to doughnuts to pizza, there's barely a carb craving they can't satisfy. Add to that the laid-back feel with a breezy al-fresco dining area and you've got yourself quite the hangout spot.
Papakape
5641 Ampere Street, Palanan, Makati City
Facebook: www.facebook.com/papakape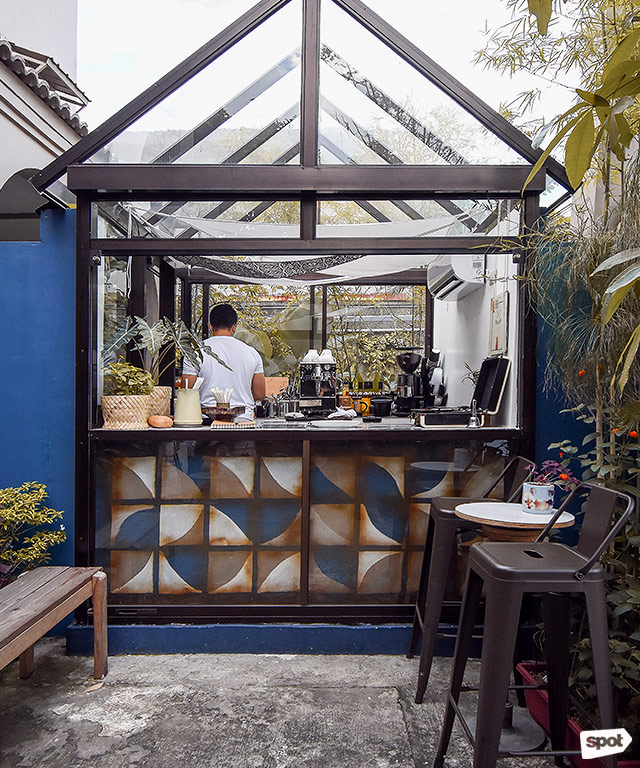 ADVERTISEMENT - CONTINUE READING BELOW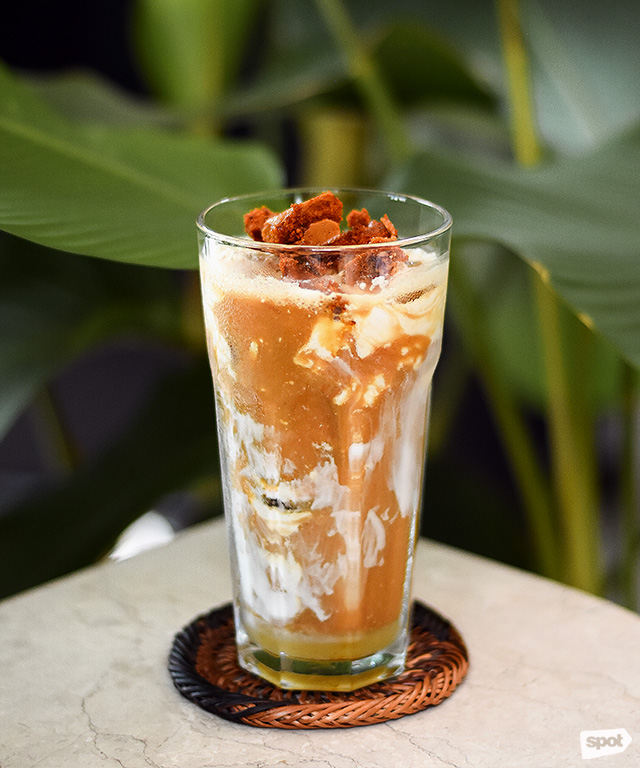 If you take an aerial photo right above Papakape, you might mistake it for one of those glass greenhouses—and in a way, you wouldn't be wrong. This alfresco garage-turned-café is located in a tranquil part of Makati, and consists of a greenhouse-esque glass house counter as well as an outdoor dining area where you can expect plenty of natural light while you enjoy your cup of joe. Peaceful and full of natural greenery, this little cafe makes for a perfect mini escape from reality, even for just an hour or two. Trust us when we say that their vibe isn't the only reason to keep coming back; that honor would have to go to their ginger-infused drinks, like the Kape Gingerccino with ginger-infused coffee, a coco froth, cinnamon, and our very own panutsa; and the Choco Mochaluya, which has their homemade chocolate milk plus ginger-infused coffee.
ADVERTISEMENT - CONTINUE READING BELOW
Pilya's Kitchen
Stall 11, The Grid Food Market, 2/F Power Plant Mall, Rockwell, Makati City
Contact: 0917-707-7459
Facebook: www.facebook.com/pilyaskitchenph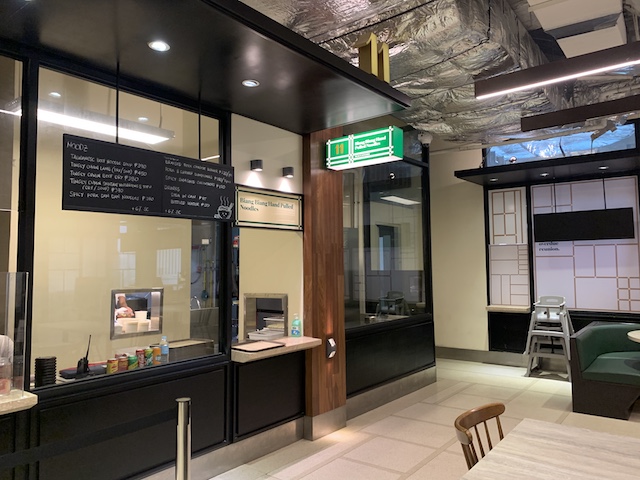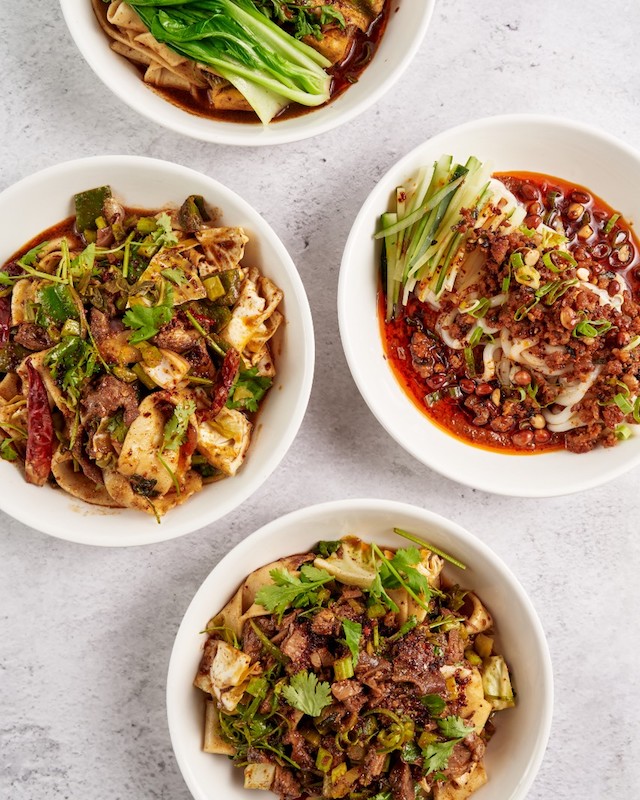 ADVERTISEMENT - CONTINUE READING BELOW
Pilya's Kitchen began as an online venture by Chef Kriza Palmero, who's worked for the likes of Very Fresh Noodles in New York's Chelsea Market—and earlier in 2021 they opened a physical stall at The Grid in Power Plant Mall. You could very well consider them a haven for lovers of noods as they make their own hand pulled biang biang noodles—a.k.a the variety of noodles known for its relative broadness and moderate thickness. Their lineup ranges from soothing noodle soups like the Taiwanese Beef Noodle Soup; to dry noodle dishes that pack a lot of punch, like the Tingly Cumin Lamb; to stellar sides like the piquant Smashed Cucumbers and more.
Rogue Doughnuts
Lane O, Bonifacio High Street, The Fort, Bonifacio Global City
Facebook: www.facebook.com/roguedoughnuts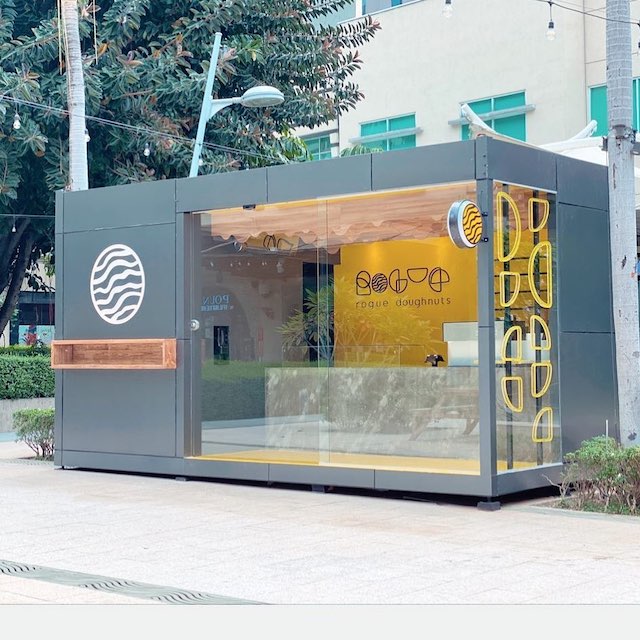 ADVERTISEMENT - CONTINUE READING BELOW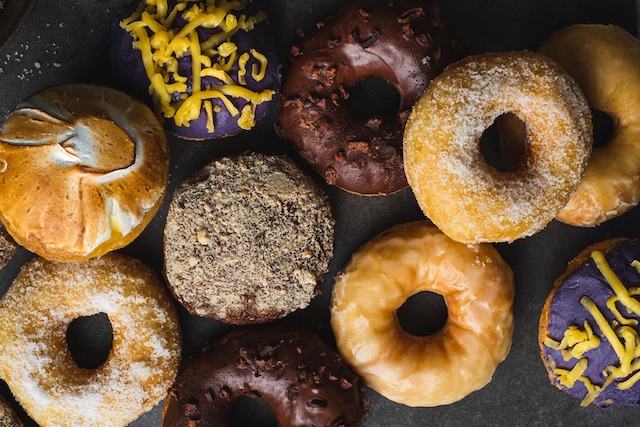 Rogue Doughnuts takes their name very seriously—behold their smorgasbord of unique flavors that you probably wouldn't see in just any doughnut shop, including the truly dark and decadent 64% Mindanao Dark Chocolate with Cacao Nibs and the savory-sweet Patis Honey-Glazed Doughnut! They began as an online venture but recently opened their very own shop in BGC with new doughnut flavors, among which is the matcha-esque White Chocolate Malunggay with Toasted Coconut. To go with their doughnuts you can also sip on their one-of-a-kind coffee drinks, created in collaboration with the famed EDSA Beverage Design Group; the Pili Nut Latte, for example, employs a special dairy-free pili nut milk for creaminess.
ADVERTISEMENT - CONTINUE READING BELOW
Ruth's Chris Steak House
2/F ORE Central, 31st Street, Bonifacio Global City
Facebook: www.facebook.com/ruthschrisph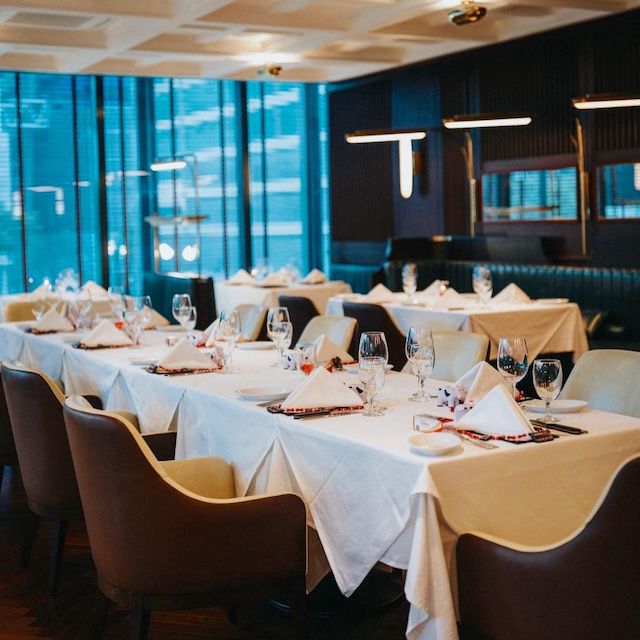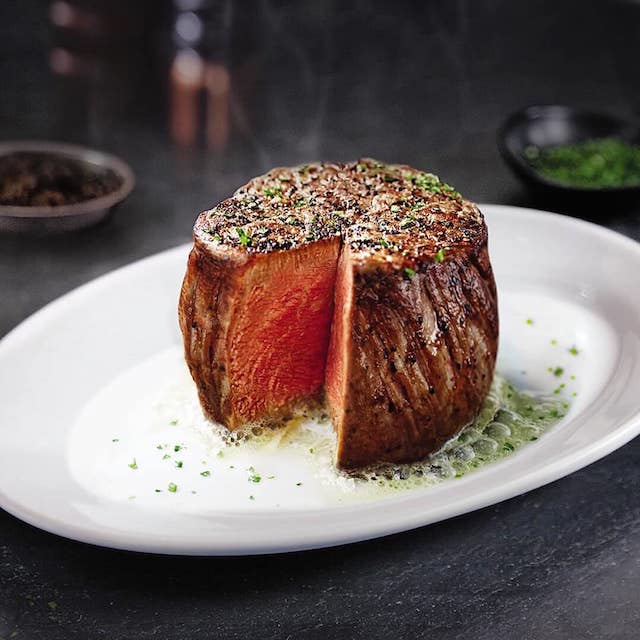 ADVERTISEMENT - CONTINUE READING BELOW
Ah, Ruth's Chris. Try saying this name clearly 10 times fast—accidental lisps aside, this storied American almost-staple certainly landed in BGC with a bang. This carnivore carnival is the place for all things meat, and even if you're unfamiliar with cuts and bones and chucks, you'll find yourself learning, and fast. They've got all the essential steak cuts like the Filet, New York Strip, Ribeye, and more, using corn-fed premium USDA beef and/or USDA Prime beef. Strangely enough, one of their blockbuster items is the Cheesecake—you'll want to leave room for dessert here.
Sukiya
L/2 Glorietta 2, Ayala Center, Makati City
Contact: 8277-1430
Facebook: www.facebook.com/sukiya.philippines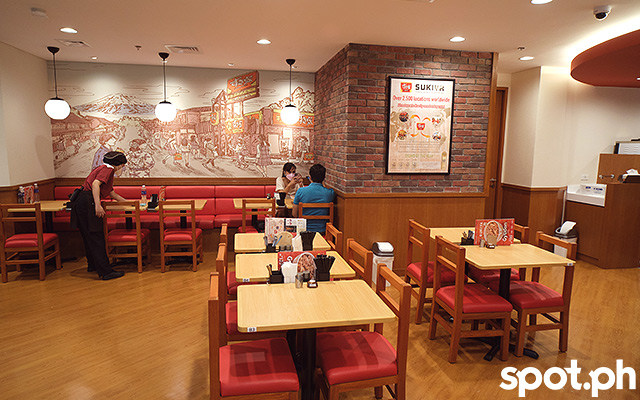 ADVERTISEMENT - CONTINUE READING BELOW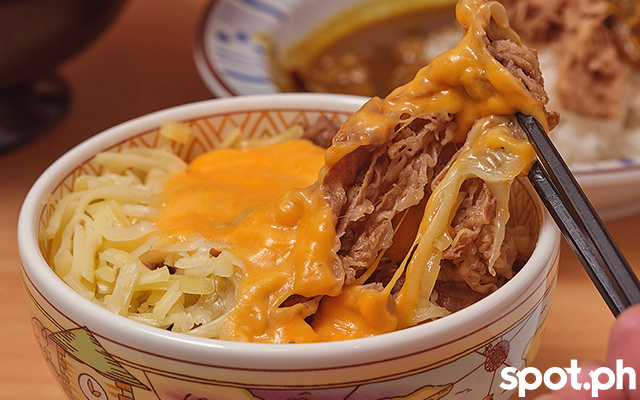 We can't imagine a timeline, alternate universe, or shadow realm where Japanese food (at least, as we know it) isn't a phenomenon that decimates cultural barriers. If there is one, we're glad we don't live in it. Sukiya's recent Philippine launch was not merely welcome, but long-awaited—they're only the leading gyudon chain in Japan. With a menu that starts off with a tender and savory-sweet classic like Gyudon at only P125, your meal can only go up from there. They've also got exclusives at their first local outpost—definitely save space for the Spicy Pork Bowl, with lightly charred, juicy slices of pork and a spicy sauce for a touch of heat.
ADVERTISEMENT - CONTINUE READING BELOW
The Coffee Academics
High Street South, Tower 1, 26th Street, Bonifacio Global City
Contact: 5508-8735
Facebook: www.facebook.com/TCAmanila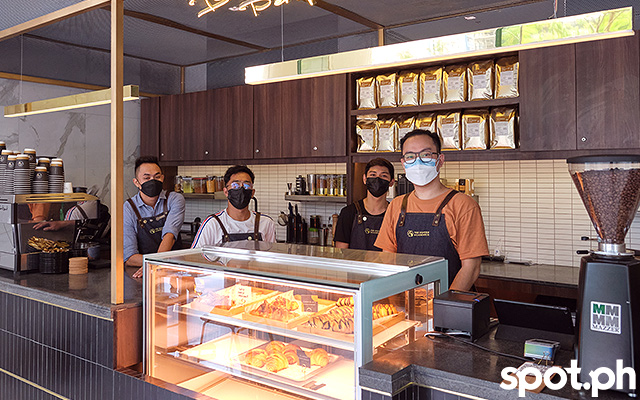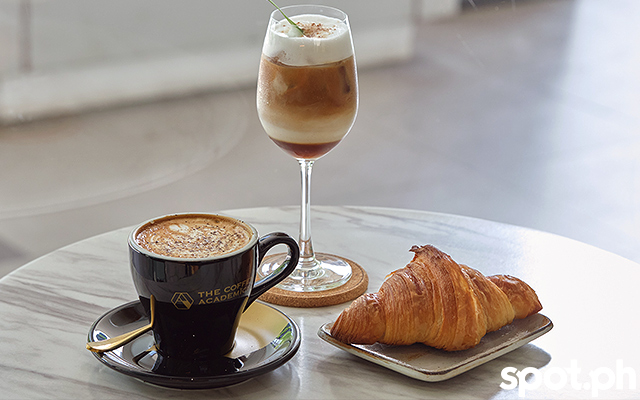 ADVERTISEMENT - CONTINUE READING BELOW
Diehard coffee lovers will know The Coffee Academics, one of the best coffee shops you can visit in Hong Kong, Singapore, and other Asian countries. They finally called the Philippines home as well in 2021! Their first Philippine outpost is located in BGC, and though their space is small, it's as cozy as can be. More importantly, The Coffee Academics takes the art of coffee seriously; their one-of-a-kind handcrafted lattes will take your taste buds on an Asian adventure; standouts include the Agave that's sweetened with Mexican agave nectar and sprinkled with freshly ground black pepper, and the tropical-tasting Jawa latte sweetened with Indonesian palm sugar. Don't miss their flaky yet light croissants, either—they make for a cup of joe's perfect companion but are well worth the trip on their own. The joint is more than a place to grab and go though; chat with their resident baristas while you wait and you're bound to learn a little more about your drink of choice.
ADVERTISEMENT - CONTINUE READING BELOW
The Loggia at Palacio de Memoria
Palacio de Memoria, 95 Roxas Boulevard, Barangay Tambo, Parañaque City
0917-717-9654
Facebook: www.facebook.com/theloggiaatpalacio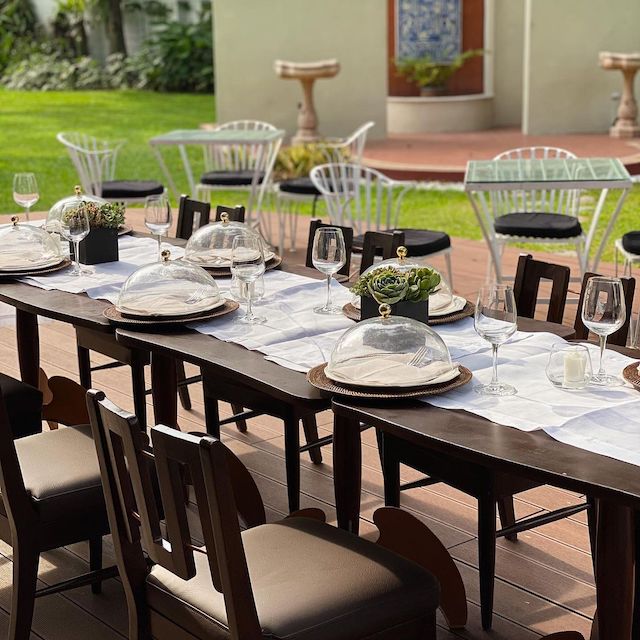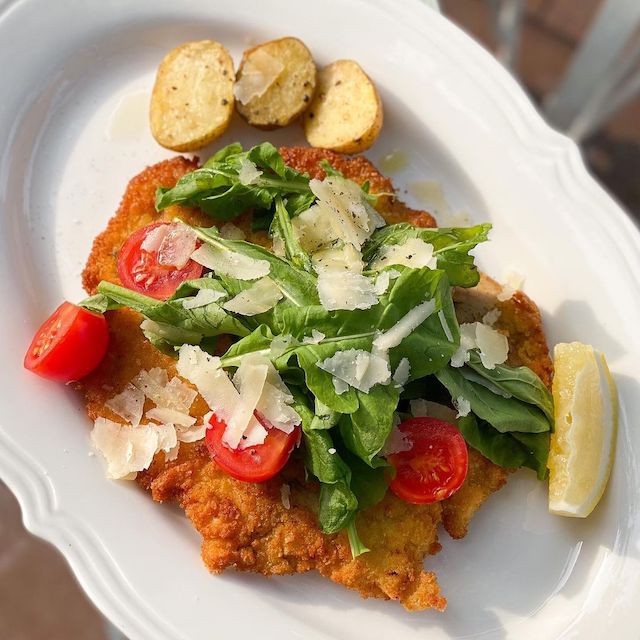 ADVERTISEMENT - CONTINUE READING BELOW
Planning a romantic getaway in the city or simply looking for a unique dining experience? Then you can't go wrong with The Loggia at Palacio de Memoria. Located at a seaside estate in Pasay, this alfresco Italian restaurant is the brainchild of critically acclaimed chef Margarita Forés. The menu is simpler and lighter compared to Forés' other restaurants; a purely intentional choice as they wanted the food tailored to outdoor dining. Must-tries include the Cotoletta of Chicken Breast, an elevated take on the classic chicken parmigiana; there's the Lamb Shoulder Brasato, a hearty lamb stew; and the Penne alla Primavera, a pasta dish with spring veggies give a touch of richness with cream.
Three Squares Cafe and Bar
Unit C-11, 2/F Building C Karrivin Plaza, Chino Roces Avenue Extension, Makati City
Contact: 0977-464-8100
Facebook: www.facebook.com/threesquarescafebar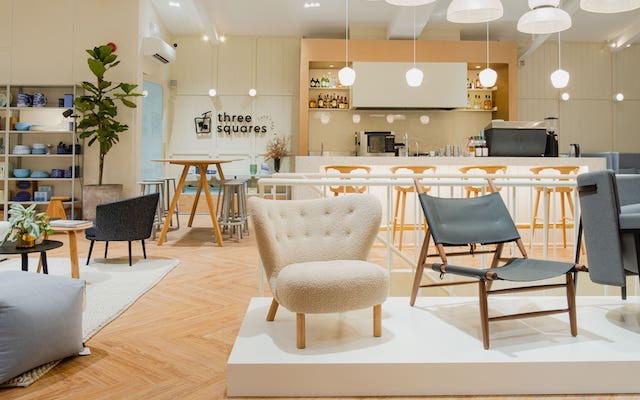 ADVERTISEMENT - CONTINUE READING BELOW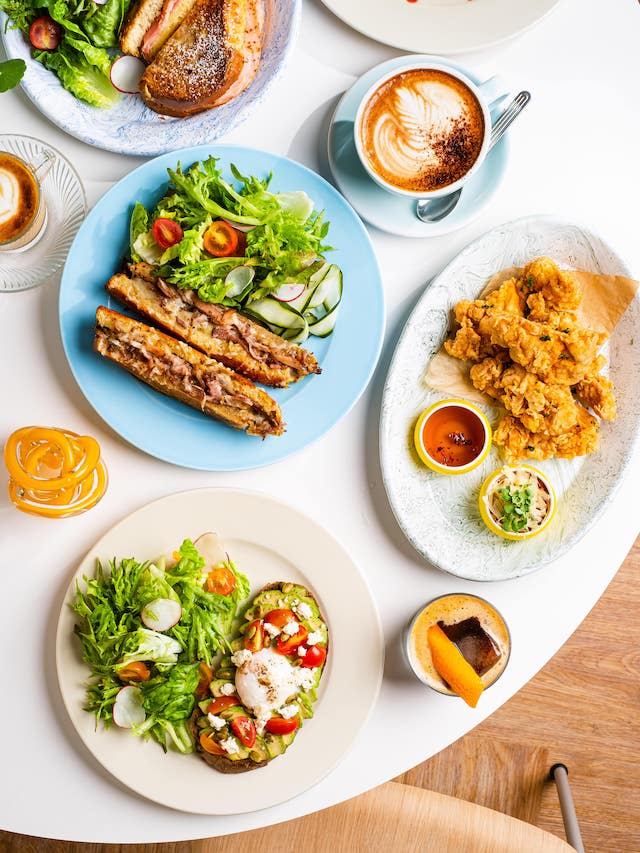 With its pastel walls, light wooden fixtures, and comfy couches, Three Squares Cafe and Bar in Makati can be best described as cozy-meets-sleek. Located inside Design Story's showroom in Karrivin Plaza, the "design-inspired" café's space is quiet enough for meetings yet also welcoming for long catch-up sessions with friends. Add in the fact that their menu is pure comfort food and you've got prime hangout space. Check out more experimental dishes like the squid-ink Aglio Olio Negra and the chunky-crispy Jamon Serrano Croquettes. Wash your meal down with any of their coffee drinks, such as the Cafe Con Leche, a warm and spicy drink made with double espresso, condensed milk, fresh milk, and nutmeg, or any of their alcoholic concoctions if you're looking for a light buzz. We recommend the eponymous Three Squares made with a combo of spiced syrup, coffee, cream, and Irish whisky.
ADVERTISEMENT - CONTINUE READING BELOW
White Flower Tea House
Stall No. 9, The Grid Food Market, 2/F Power Plant Mall, Rockwell, Makati City
Contact: 0917-707-7459
Facebook: www.facebook.com/whiteflowerteahouse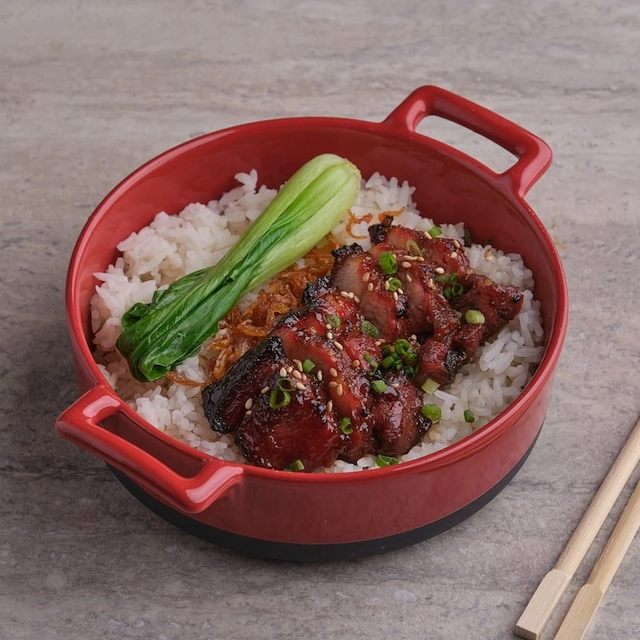 Located at The Grid and with Chef Decker Gokioco (known for his stints at establishments like Tin Hau in Mandarin Oriental, LiLi at the Hyatt Regency Hotel and Casino, and more) at the helm, White Flower Tea House has the must-have eats fans of Chinese comfort food are sure to appreciate. If you've ever gone on a Binondo food crawl, then you might find White Flower's menu familiar. While the menu is relatively compact—especially compared to most traditional Chinese restaurants in the country—you'll be more than satisfied thanks to the attention they put into preparing, flavoring, and presenting each dish. From dim sum like Hakaw to tender and savory-sweet Charsiu to rice and noodle dishes and more, they've got you covered.
ADVERTISEMENT - CONTINUE READING BELOW
Delivery-Only Shops, Home Businesses, and Everything in Between
A Home Kewk
Instagram: www.instagram.com/ahomekewk/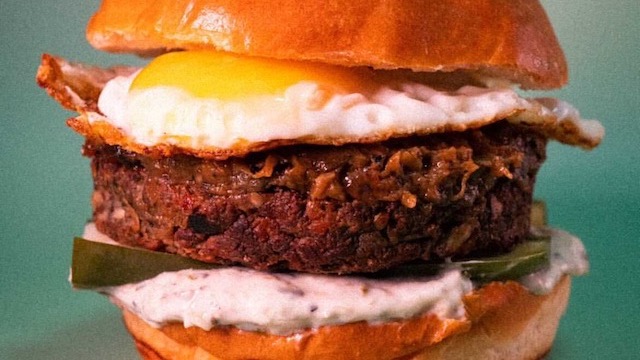 Such a fun name for a serious project can only come from someone like Bea Ledesma, who never quite seems to do anything by halves. If you're going to love eating, really love it—and that's what A Home Kewk, home-cooking focused Instagram personality-turned-online sandwich venture, is all about. Though the account began as a way for Ledesma to share her home-cooking adventures and more, Ledesma took things to the next level in July by holding a pop-up where she sold her own sandwiches—and then continued to sell weekly for takeout and delivery orders on a weekly basis. Apart from her staple Very Veggie Burger—a decidedly plant-forward number with her own earthy, nutty veggie patty plus housemade ranch, onions, and pickled gherkins on a pillowy potato bun—she also occasionally collaborates to come up with special menu items with other known figures in the local food and art scene, including Chef Nicco Santos and Quenee Vilar of Sambar, Carl Jan Cruz and Guava Sketches, Chef Miko Calo of Metronome, and more.
ADVERTISEMENT - CONTINUE READING BELOW
Aguirre Fried Chicken
Contact: 0995-152-1850
Facebook: www.facebook.com/AguirreFriedChicken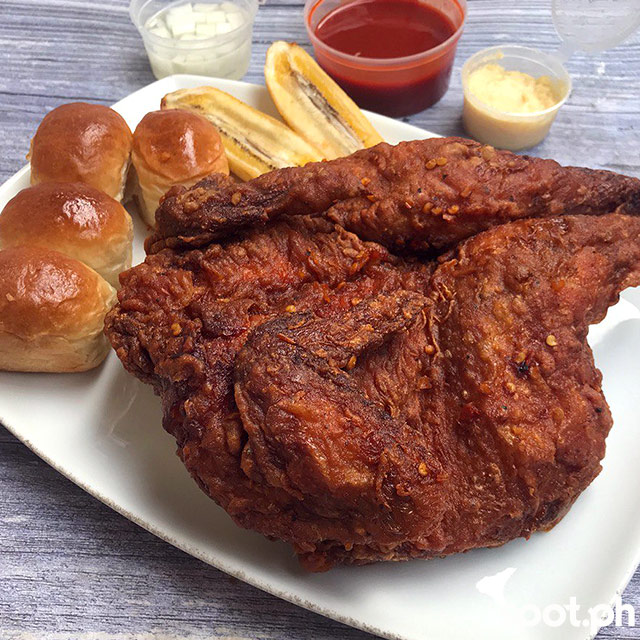 Chef Kel Aguirre needs no introduction, having wowed the palates of food fans in the Metro over the years at his restaurants that include Locavore, FAT, and Ovo—where his penchant for intense, impactful flavors is most evident. At his delivery-only, BF Homes-based shop Aguirre Fried Chicken, the chef goes back to basics in a way, trading the usual long and diverse menu for a focused lineup that zeroes in on their namesake dish, fried chicken. Don't be fooled by the compact menu: Their take is anything but your usual. In The Aguirre Special, they fry up half or whole portions of the bird in such a way that's close to the Filipino style of fried chicken, resulting in a crisp, thin skin that has a slight cragginess to it yet is seemingly of the unbreaded sort, and that's juicy and flavorful enough inside that it hardly needs any accompaniments. Still it's worth checking out their sides, which take inspiration from different parts of the world; in a box, you get their house-blend banana ketchup (which has a more robust profile than commercialized versions), white pickles for tanginess and crunch, a buttery garlic spread, and pillowy dinner rolls! You can also go for the Aguirre Special's spicy counterpart, The Aguirre Hot Box; or if you're one to enjoy picking on your food, don't miss the Chicken Nibblers that's got fried necks, backs, and butts best savored with your hands.
ADVERTISEMENT - CONTINUE READING BELOW
Bamba Buns
Contact: 0917-831-5502
Facebook: www.facebook.com/bambabuns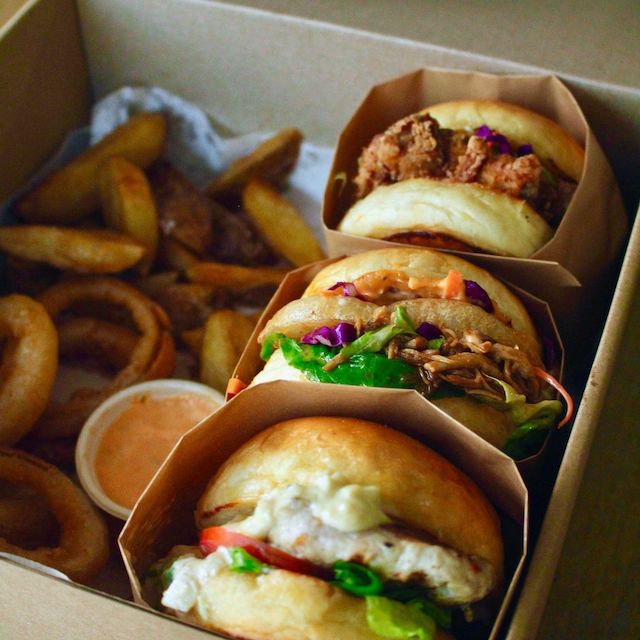 This chef-driven cloud kitchen takes their sandwich game real seriously, going as far as to make their buns and sauces in-house and from scratch! But it pays off in the result, as you get truly excellent sandwiches that are generous on the filling and packed with flavor through and through. (Notably, their buns are soft but don't get soggy!) You're in for a good time whether you go for the signature Bamba, a.k.a. their fried chicken sandwich with crispy-juicy chicken; the Caesar, with grilled chicken smothered in a tangy-umami caesar egg-salad mix; or the Texas BBQ, with a most tender pulled-BBQ chicken filling balanced out by a crisp rainbow slaw. Even their sides are worth writing about; don't miss the perfectly crisp, well-seasoned Triple Cooked Fries and Beer-Battered Onion Rings.
ADVERTISEMENT - CONTINUE READING BELOW
Chori Chori
Contact: 0917-520-1880
Instagram: www.instagram.com/chori.choriph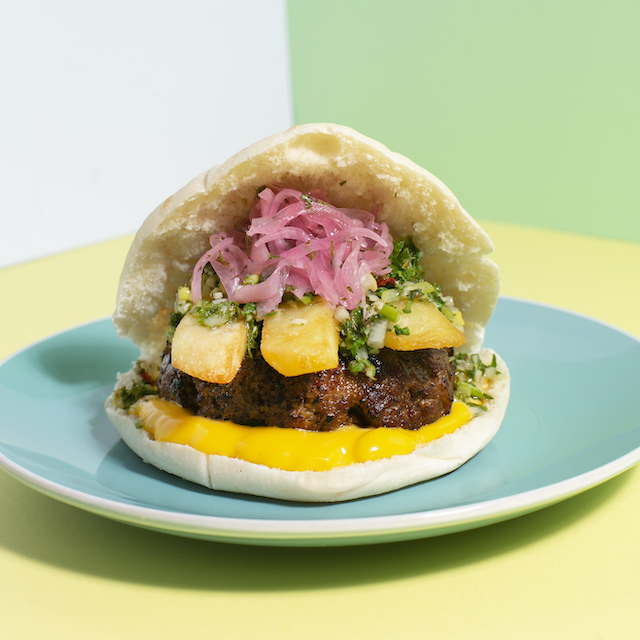 If you want a taste of Latin American treats, you need to hit up Chori Chori on Instagram, stat. Helmed by the folks over at Hola Bombón, this online shop brings us flavorful and spicy street food from Argentina, specializing in choripan, their take on which they call the Chori Sandwich. This is essentially a chorizo burger that's a smokier, feistier experience from the typically sweeter choriburger you might order at a Filipino joint; plus it's stuffed with onion curtido, chimichurri, escabeche aioli, and patatas fritas for a lively mix of meaty, zesty, slightly-spicy, and creamy profiles. You can also try the Criollo Sandwich, which instead uses an herbier but no less flavorful criollo sausage patty.
ADVERTISEMENT - CONTINUE READING BELOW
Chow Time
Facebook: www.facebook.com/eat.chowtime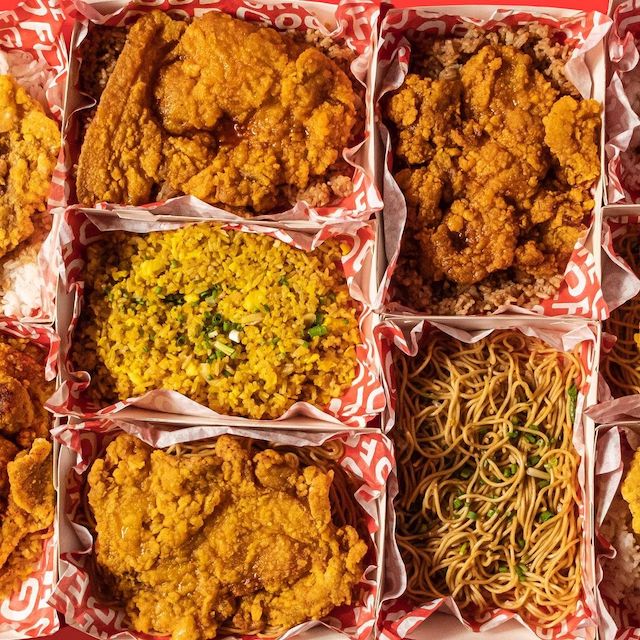 Chinese takeout is extremely popular but let's face it, their menus can be extremely overwhelming at times. That's what Chow Time, a takeout and delivery venture by online restaurant group Mad Eats, hopes to fix. Their menu is simple and full of crowd favorites like dim sum, mains like sweet and sour pork, and of course, rice and noodles. If you're looking for a lighter, snack-friendly bite though, make sure to check out the Easy Chow section of their menu. There's the Sweet & Sour Wonton Crackle, or chips made with wonton skins and topped off with a tangy kimchi powder seasoning, and the Coconut Milk Hopia, a twist on the classic with its custardy coconut milk filling that oozes out as you take a bite.
ADVERTISEMENT - CONTINUE READING BELOW
Cuckoo
Facebook: www.facebook.com/cuckoofriedchicken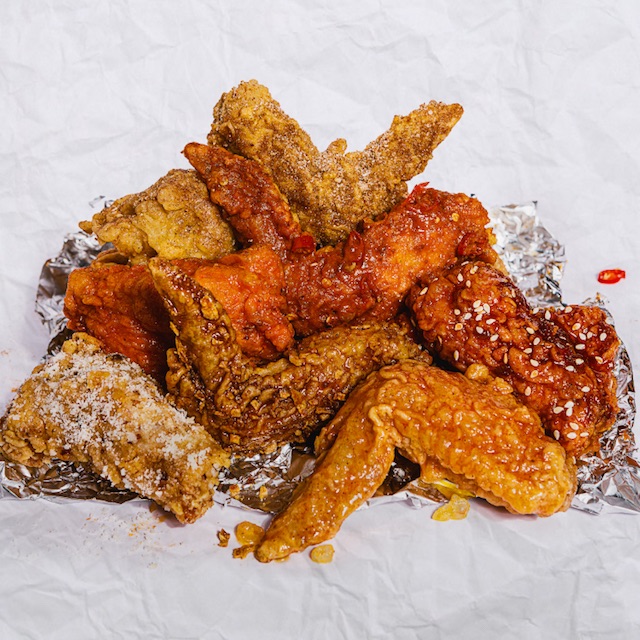 You can't go wrong with fried chicken! If you're looking for something above the typical wings order, check out Cuckoo. This delivery-only venture from The Moment Group cooks up different parts of the bird to crispy, juicy perfection—in particular, we're huge fans of their wings, which come in classic flavors such as Buffalo, Garlic Parm, and Honey Soy Garlic as well as more experimental flavors like the sinigang-inspired House Asim Special and the sweet-and-spicy Gochu Glaze. If you're looking to really branch out though, you have to get the Cuckoo Fried Butt Bombs, which are you—you guessed it—extremely juicy deep-fried chicken butts. Think of it as much more flavorful chicken popcorn.
ADVERTISEMENT - CONTINUE READING BELOW
Deli by Chele
Facebook: www.facebook.com/delibychele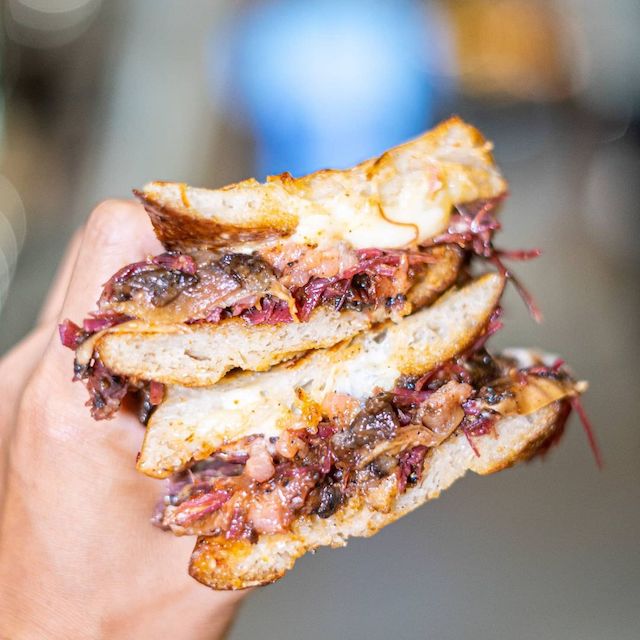 If there's any team that takes the art of crafting up great artisanal eats real seriously, it's the amazing folks behind Gallery by Chele, led by chefs Chele Gonzalez and Carlos Villaflor. At Deli by Chele, they make everything from charcuterie to preserves to breads and cheese from scratch, using responsibly sourced (and as much as possible, local) ingredients and zero preservatives. Apart from selling these meats, cheeses, and jarred provisions on their website, they've also come up with mouthwatering Pastrami Cheese Sandwiches that they often sell at their pop-ups in different parts of the Metro; trust us when we say they're completely worth the hype. These extra-thick sandwiches are stuffed with generous amounts of homemade, well-seasoned pastrami and pull-apart cheese. If you can't manage to get their hands on it during their pop-ups, don't fret. You can also get it for delivery right from the Deli by Chele website.
ADVERTISEMENT - CONTINUE READING BELOW
Dot Coffee
Facebook: www.facebook.com/drink.dotcoffee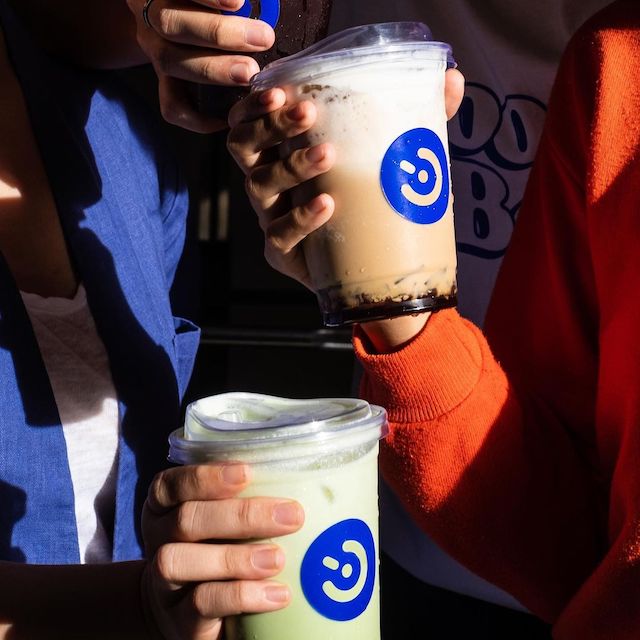 If their other concepts Yang Gang, Chow Time, and Fried Nice are any indication, resto group Mad Eats definitely has a great handle on savory fare—but they prove they can pull off the sweet side of the food equation with equal prowess at Dot Coffee. Through this delivery-only brand, they craft up stellar cups of joe, with a lineup that ranges from your more basic Latte and Signature Mocha (available as ready-to-drink cups and bottled beverages) to more decadent and one-of-a-kind sips like the Signature Mocha Frappuccino and our favorite, the Dirty Horchata. To pair with their coffee drinks you can also nosh on their scratch-made doughnuts; the Triple Cheese and Calamansi Brulee flavors, in particular, are our team favorites.
ADVERTISEMENT - CONTINUE READING BELOW
Hey Pie People
Instagram: www.instagram.com/hey.pie.people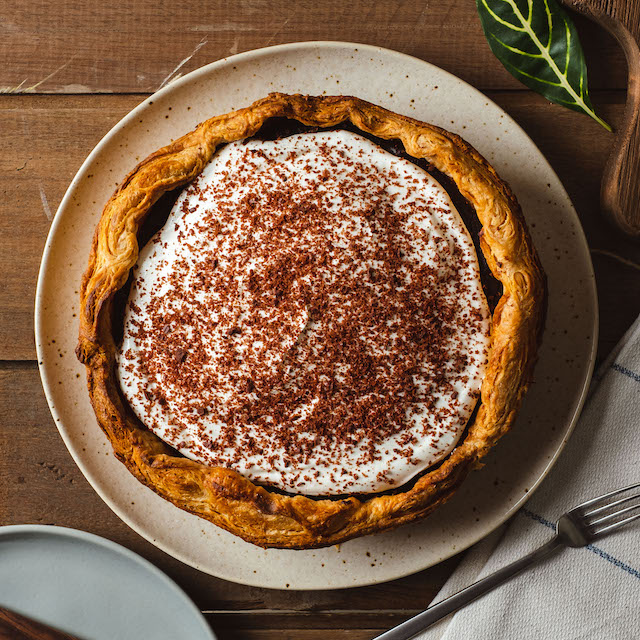 Few home cooks and bakers hit the level of organic popularity and demand that Raeanne Young Sagan of Hey Pie People has enjoyed—so much so that spots for her pie flavor of the week can typically get sold out in a matter of minutes. Sagan has long had a deep obsession with pie, baking different versions of the pastry every day and giving it away to friends. These friends would tell their friends, and she soon gained fame from these referrals and through word-of-mouth—and what began as a personal account taking very limited orders is now a more or less full-fledged biz that takes orders every Saturday (still limited, but on a more regular basis versus before), with flavors (many inspired by her own personal experiences) that change up every week. It's a well-deserved bragging right as Young Sagan has definitely put in the research and manual work it takes to bless her customers with delectable pies—a key characteristic of which is its truly flaky, crisp crust that's sturdy enough that you can hold (and eat!) it like a pizza, making a resounding crackle as you take a bite. While the home-pie business doesn't currently have an on-demand menu, that won't stop us from crossing our fingers that we may see a takeout kiosk with an assortment of flavors to try in the future.
ADVERTISEMENT - CONTINUE READING BELOW
Homestyle by RACKS
Facebook: www.facebook.com/homestylebyracks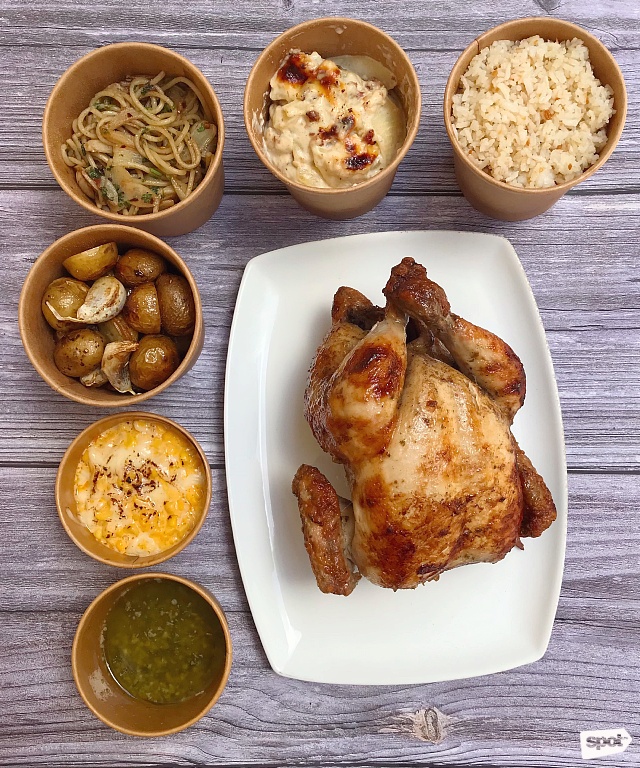 RACKS may be better known for its ribs, but their sub-brand Homestyle by RACKS—which is available for delivery from selected branches, as well as apps like GrabFood and Foodpanda—shines the light on something different: roast chicken. Their Whole Homestyle Rotisserie Chicken is seasoned simply, allowing the fall-off-the-bone tender meat to really shine. The chicken is fantastic solo (for which reason it ranked ninth in our 2021 Top 10 Roast Chicken in Manila list!)—but if you're looking to jazz it up a bit, dip it in their Fresh Lemon Herb Sauce, a tangy, almost chimichurri like sauce. The sides are the perfect complement to the chicken as well, with the garlicky Roasted Marble Potatoes and Rotisserie Rice, the umami-rich Aglio Olio with Anchovies, and the rich Creamy Au Gratin Potatoes easily becoming favorites.
ADVERTISEMENT - CONTINUE READING BELOW
Kumakuma Curry
Facebook: www.facebook.com/kumakumacurryph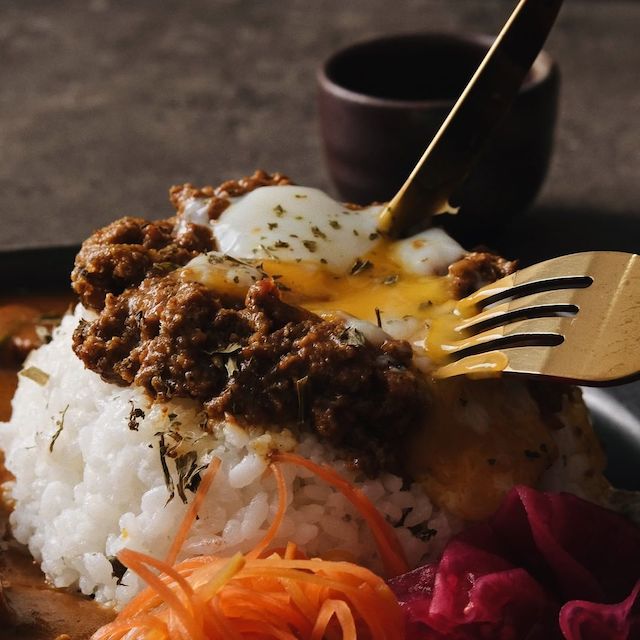 The Japanese have a distinct style of curry that's a tad sweeter and (generally) less intense than its Thai or Indian counterparts—and the dish is put on the spotlight at Kumakuma Curry. Taking after their own Chef Takumi Reyes' "immense, insatiable liking" for Japanese curry, this delivery-only purveyor cooks up curry dishes that are more robust-tasting than many other versions as they make their own roux from scratch—but still deliver the distinct sense of comfort that Japanese curry is known for. Must-tries include the Signature Beef Curry that's got a saucy curry of beef brisket and a dry ground-beef curry mix, plus a runny onsen egg; and the Butter Chicken Karaage that pairs crisp pieces of karaage with a creamy curry sauce inspired by the British-Indian dish of the same name. Their dishes come served in bento boxes complete with Japanese short-grain rice and pickled veggies; plus they're wrapped in the traditional Japanese cloth known as furoshiki for an extra homey touch.
ADVERTISEMENT - CONTINUE READING BELOW
Made in BKK
Contact: 0916-235-1403
Facebook: www.facebook.com/madeinbkkph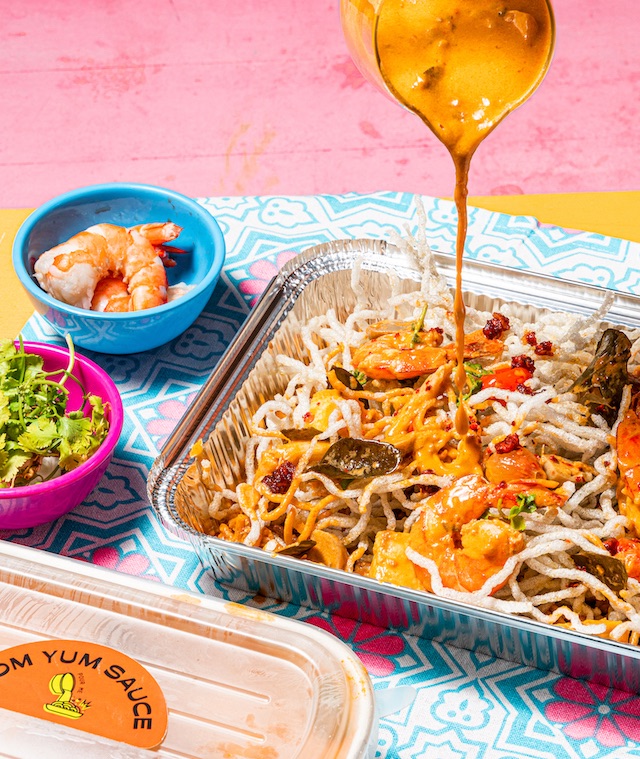 Thai food doesn't get nearly enough credit. Coming from a Filipino palate, it's like our gateway to Pan-Asian cuisines, with the flavors being close enough to ours that we don't feel lost, but different enough to still feel like an adventure. Made in BKK—a delivery venture by Chef Francis Lim (of Nav Modern Thai fame) and the Raspberry Kitchen Group (also behind Ginza Gyu and Mama Cha)—also proves that playing with texture pays off. This is best evidenced by their signature Tom Yum Puff-Noods—verdant but zesty, like regular tom yum, but with crunchy noodles reminiscent of Manam's Crispy Pancit Palabok. They proceed to make this dish truly their own with the whole jumbo prawns, cherry tomatoes, pearl onions, and fish cake. Feeling a little fancier? Get their Wagyu Thai Steak Box.
ADVERTISEMENT - CONTINUE READING BELOW
Musha Shawarma
Contact: 0945-176-1240
Instagram: www.instagram.com/musha.shawarma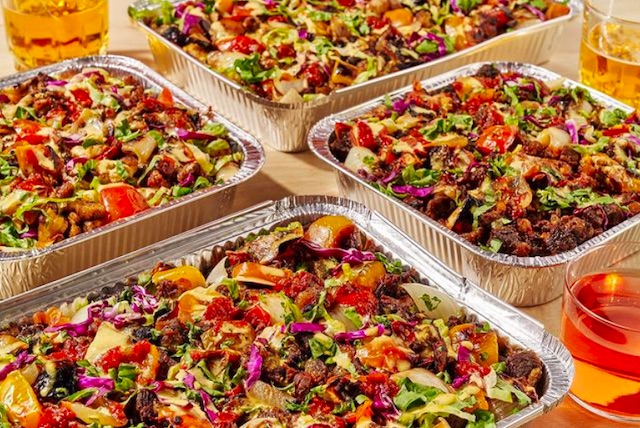 There is no form rice can take—short of being burnt black and calling it charred, we've seen some flavorless shenanigans, y'all—that we all won't find a way to snarf down. It's in our blood, almost literally. Online purveyor Musha Shawarma kicks those cravings to the curb with their Shawarma Rice trays; we highly recommend the Beef version. The vibrant colors and strong, punchy flavors could lift moods in seconds, and the generous addition of crisp and fresh veggies—yup, veggie haters, they work in this case—makes for a crisp and fresh contrast. Best part? All shawarma tray orders come with their special creamy-zesty garlic sauce and slightly-spicy and complex red sauce, which you can drizzle all over your plate as you please.
ADVERTISEMENT - CONTINUE READING BELOW
Papa Pancitan
Facebook: www.facebook.com/PapaPancitan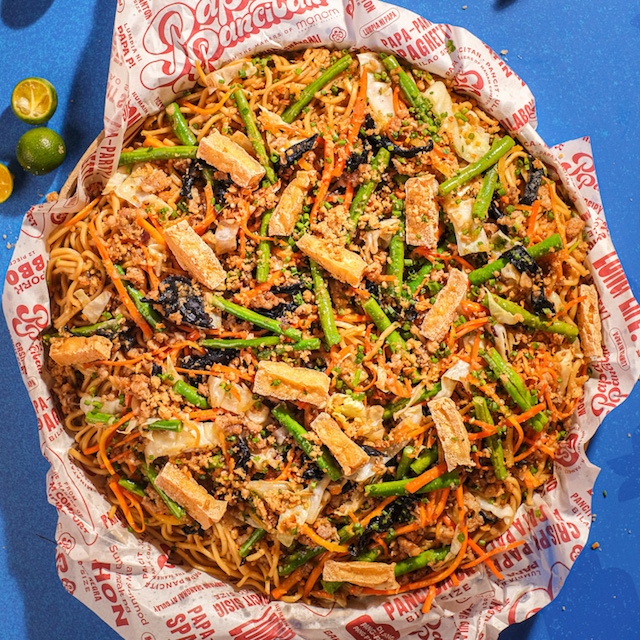 A Filipino party isn't complete without pancit and Papa Pancitan's take will definitely give you a reason to celebrate. This delivery-only venture hails from The Moment Group, and you'll find everything here from classics like Pancit Canton, Pancit Bihon, and Pancit Palabok to more eclectic flavors like Pancit Sisig topped with crispy pork bits and the squid-ink infused Pancit Squid Negra with Garlic Aioli. Pair your chosen pancit with any of their side dishes, whether it's their House Pork BBQ or Fried Mama-nok for protein or their House Lumpiang Shanghai or Lumpiang Gulay for your lumpia fix.
ADVERTISEMENT - CONTINUE READING BELOW
Pizza Plant
Contact: 0998-585-5980
Facebook: www.facebook.com/pizzaplantph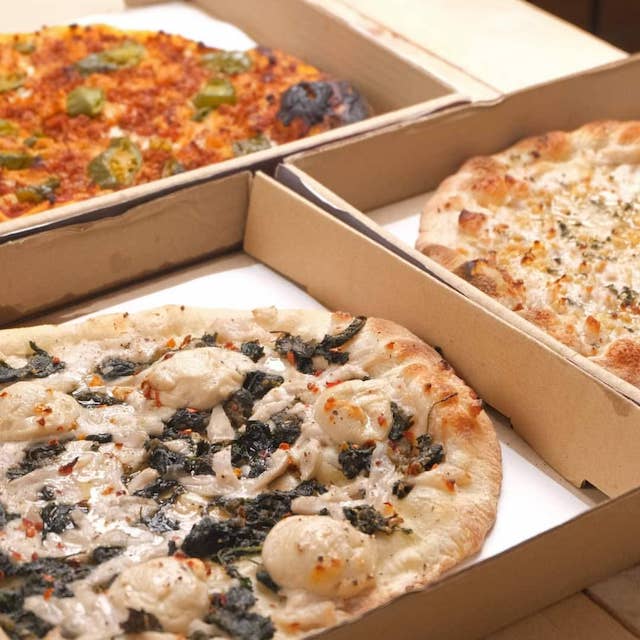 In the last few years, the word "inclusivity" has been thrown around a lot. Sometimes, it's sung out, with hope; other times, it's muttered with a snarl. The "debate" (in quotes, because someone's humanity isn't up for discussion) affects governance, media, and, yes, food—which is why we're glad there are places like Pizza Plant. Vegan sourdough pizza that doesn't cut back on flavor is the name of the game; they didn't invent it, but they're playing it really well. Try their Italian Sausage (made with soy protein) or Potatoroni (yup, that's "pepperoni" made with potatoes and it works) to dip your toes in the vegan waters. Their pizzas come complete with a vegan spicy bee-friendly "honey" for a sweet-spicy kick.
ADVERTISEMENT - CONTINUE READING BELOW
Samsam Chikin
Contact: 0968-606-1370
Facebook: www.facebook.com/samsamchikin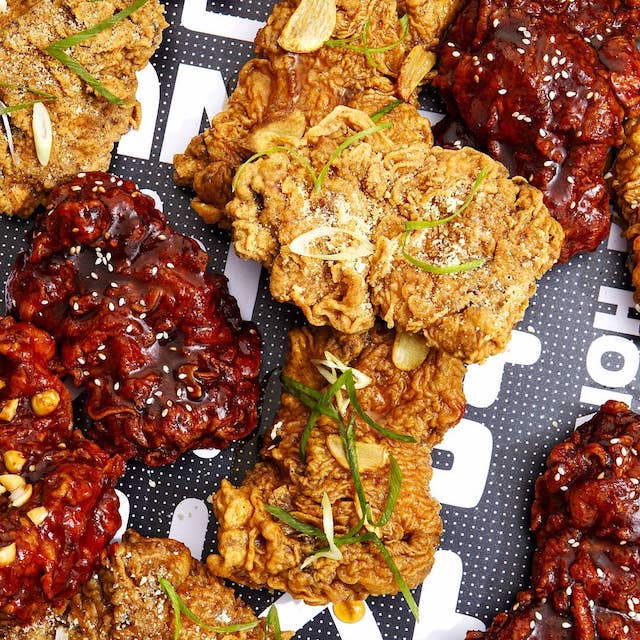 Part and parcel of the appeal of Korean fried chicken is its signature resounding crunch—often the result of a double-frying process that locks in crispiness while rendering off excess grease. Samsam Chikin's take on the dish could very well be the crispiest we've tried! The brand hails from Happyfoods Group of Restaurants, a.k.a. the folks behind Sariwon Korean Barbecue, Soban K-Town Grill, and Sibyullee Unlimited Korean BBQ—and they extend that same great hand at Korean eats to fried chicken at this delivery-only shop. Apart from the aforementioned A+ texture, their fried chicken also delivers impactful flavor through and through—whether you go for the slightly-sweet Honey Soy, the garlic-chip studded Soy Garlic, the sweet-spicy Yangnyeom (which is ingeniously peppered with peanut bits for added texture!), or the bold-red Gochujang.
ADVERTISEMENT - CONTINUE READING BELOW
Simaron Kitchen
Facebook: www.facebook.com/simaronkitchen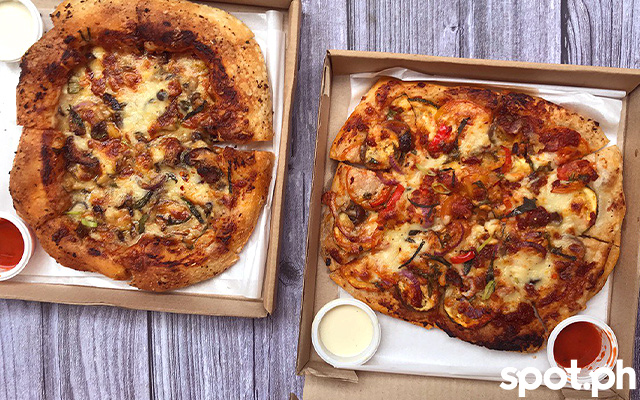 Simaron Kitchen almost feels like a phoenix rising from former Kamuning haunt Catch272's ashes, as the folks behind the beloved bar decided to open the new pizza shop based loosely on the latter's menu. It took many trials before Simaron nailed their signature handcrafted pizzas, with a special dough that takes a lot of work and time to create. They've got you covered no matter what kind of pizza you're in the mood for; cheesy, meaty, or vegetarian; our faves include the earthy-pungent Project 2-3 with three kinds of mushrooms and blue cheese, and the earthy-tasting Vegeta with zucchini, eggplant, tomatoes, bell peppers, onions, and mushrooms. For their pies you've got the choice between the wider and puffier Fat Edge and narrower No Edge for the cornicione; plus, they come with their homemade Garlic Aioli and Hot Sauce that you can dip into or dab on for added flava.
ADVERTISEMENT - CONTINUE READING BELOW
Simone and Amelia
Contact: 0917-323-5309
Instagram: www.instagram.com/simoneandamelia/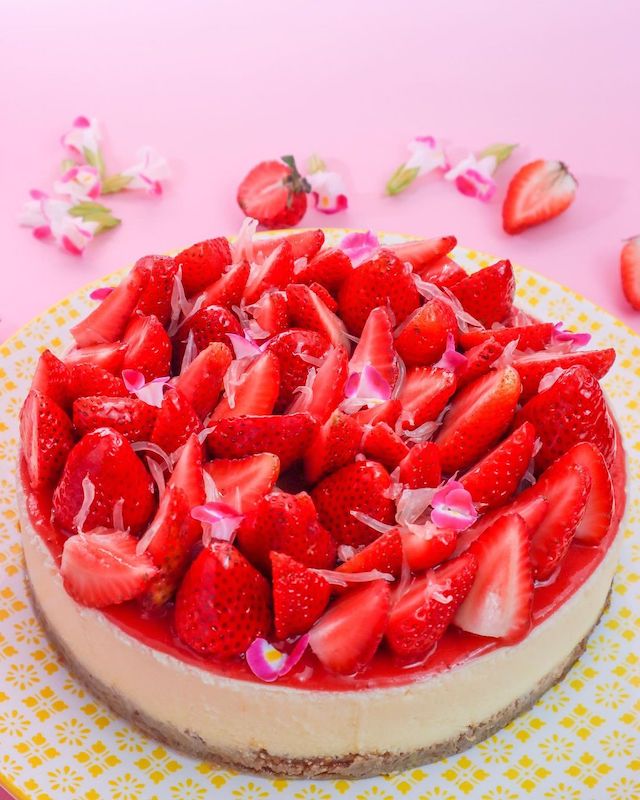 The thing about Filipino flavors—particularly in the dessert world—is that as amazing as they can be in traditional Filipino applications, they also make for stellar desserts when you append French techniques to the mix. Simone and Amelia does just that with great dexterity. Award-winning chef Laetitia Moreau—along with entrepreneur friends Nikki and Anton Reyes—weaves together local and global flavors along with French techniques to make some seriously swoon-worthy pastries. Their selection changes regularly, but the Strawberry Pomelo Cheesecake is always a great choice, thanks to its combo of fresh strawberries and pomelo, a homemade strawberry jam, and a creamy cheesecake that cushions against the fruits' vibrant tang. They also make a Calamansi Lemon Roll that's light in texture yet vibrant in flavor; and if you're looking for a real decadent bite, the 100% Chocolate Cup—with layers of an Auro Chocolate dark-chocolate mousse, milk-chocolate cream, cocoa crumble, thin chocolate disk, and cacao nibs—is a standout.
ADVERTISEMENT - CONTINUE READING BELOW
The French Rotisserie
Facebook: www.facebook.com/The-French-Rotisserie-107853878393899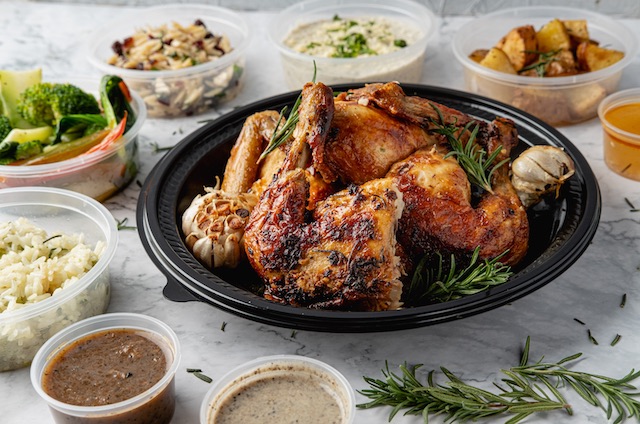 The newest stall at Off-Grid gives good ol' roast chicken the respect it deserves, taking the classic dish to elegant heights with great-quality ingredients—without losing sight of the comforting quality any good roast chicken should be able to deliver. At the helm of their kitchen is Chef Natalia Moran, also of Manila Inasal, Granivore, and other establishments—and her signature flair for pulling off comfort eats with a skilled hand, and throwing in modern touches but still keeping everything cohesive, is evident in every bite you'll be having of their succulent, flavorful roast bird. They rightfully give equal attention to the sides—think mashed potatoes made extra aromatic thanks to truffle, or steamed vegetables given umami thanks to a sesame sauce. The sauces, too, are superb; we could just about drink their signature peppercorn sauce by the bowl.
ADVERTISEMENT - CONTINUE READING BELOW
Wildflour Burger
Facebook: www.facebook.com/WildflourBurger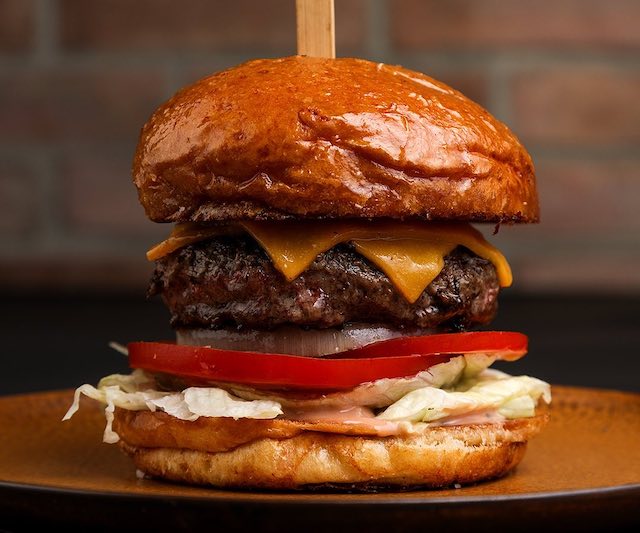 Many know Wildflour for its brunch offerings and wide array of pastries, but did you know that their burgers have their very own cult following? So much so that the brand decided to launch a delivery venture this year that focuses entirely on these meaty sandwiches. Wildflour Burger's menu may be short, but it does not disappoint. True to form, it features the top-notch ingredients and techniques Wildflour is known for. We suggest starting with the Original Cheeseburger if you're a Wildflour-burger newbie. It comes with a thick and juicy Canadian beef patty topped with American cheese and a secret sauce sandwiched in between freshly baked brioche buns.
ADVERTISEMENT - CONTINUE READING BELOW
Yang Gang
Facebook: www.facebook.com/eat.yanggang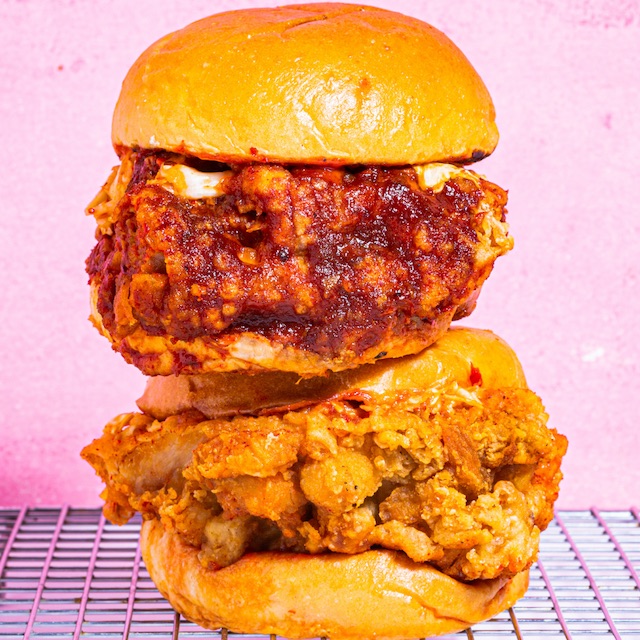 Who says no to Korean fried chicken? Once you see Yang Gang's mouth-watering options, you sure won't. The online joint is a product from Mad Eats, and is determined to serve up the crunchiest-on-the-outside, juiciest-on-the-inside Korean double-fried chicken. Everything from the classic plain fried chicken—which has distinctly crackly skin and juicy, well-seasoned meat—down to the more extra options like Soy Garlic and BBQ will have you licking your fingers clean by the end. And how could we forget: be sure to include their rich cheese sauce with your chicken—your tastebuds will thank you. Their chicken can also be had in between buttery brioche buns, a spicy kimchi slaw, and gochujang mayo in the flavor-packed, heart-stopping Fried Chikin Sandwich.
ADVERTISEMENT - CONTINUE READING BELOW
Hey, Spotters! Check us out on Viber to join our Community and subscribe to our Chatbot.
Your guide to thriving in
this
strange new world.
Share this story with your friends!
---
Help us make Spot.ph better!
Take the short survey
Load More Stories