10 Pinoy Movies From 2020 You Should Have Watched By Now
Not everything that came out of 2020 was terrible.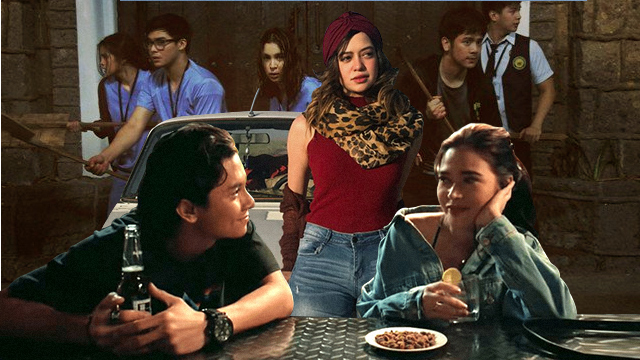 (SPOT.ph) The year 2020 isn't exactly the type of year anyone would want to revisit—but hey, at least we got some real good movies out of it! For this list, we round up the local works you definitely should not have missed out on, from a major animated flick to epic thrillers, and even a much-awaited prequel. Cinema is just one of the many industries that took a hit this year but these flicks prove local production is still thriving. Be sure to keep these on your watch list if you haven't already seen them!
Also read: 
10 Huge Movies We Can't Wait to See When the 2020 Craziness Ends
10 Local Films You Can Stream for Free
20 New Movies We Can't Wait to See in 2020
The Serious List: Your Guide to What to Watch Now
Have you ticked these 10 must-watch Pinoy Movies 2020 off your list?
Death of Nintendo
ADVERTISEMENT - CONTINUE READING BELOW
Remember blowing into your old game cartridges to get them working? Well, this acclaimed indie film takes you back to that feeling and more. This film tracks the adventures and misadventures of four friends as they figure out adolescence—with events leading up to the historic 1991 Pinatubo eruption. The film was directed by Smaller and Smaller Circles' Raya Martin and made its world premiere at Berlin's Generation Kplus program.
Why you should watch it: Come for the nostalgia, stay for the poignant peek at everything that makes the Pinoy growing-up experience, well, Pinoy.
On Vodka, Beers and Regrets
CONTINUE READING BELOW
Recommended Videos
Featuring a whole lot of vodka, beer—and yup, regrets, this film was a huge box office hit when it dropped in theaters in Febuary. We're sure you remember the sweet chemistry of JC Santos and Bela Padilla when they starred together in 100 Tula Para Kay Stella and this does not disappoint in the feels department. This rom-com follows faded child star Jane (Padilla) and her rocky, are-they-or-aren't-they relationship with Francis (Santos), a band frontman.
Why you should watch it: This Irene Villamor-written drama is perfect for when you need something to hit you right in the feels.
Block Z
Acclaimed director Mikhail Red dropped his action zombie thriller Block Z early in the year. It stars Julia Barretto and Joshua Garcia (a.k.a. JoshLia) as students trapped in a university during a zombie outbreak. Expect lots of gore, blood, and badassery.
Why you should watch it: An epidemic in 2020? Now where have we heard that before. Terrible jokes aside, not only is this a Red film, it is also one of the biggest zombie flicks produced locally as of late.
ADVERTISEMENT - CONTINUE READING BELOW
Hayop Ka! The Nimfa Dimaano Story
A drama-filled teleserye type story told through anthropomorphic animals in an animated Manila? Yes, please! Hayop Ka! is a huge animated project from Rocketsheep Studio, the same folks behind the live-action and animated Saving Sally, found a home on Netflix this year. It revolves around a sexy salescat Nimfa (voiced by Angelica Panganiban), who becomes entangled in a love triangle between Roger (voiced by Robin Padilla), her macho mongrel janitor boyfriend, and Iñigo Villanueva (voiced by Sam Milby), a wealthy businessdog.
Why you should watch it: The pun-filled Hayop Ka! is a fun take on the teleserye tropes we all know and sometimes love—and is arguably a great step ahead for the local animation scene.
Alter Me
In this romantic drama, Jasmine Curtis-Smith and Enchong Dee take on more risqué roles as Aimee and Uno. This flick brings the shadowy subversive alter world on Twitter out into the real world of Metro Manila—and places Aimee and Uno at a turning point in their lives.
Why you should watch it: We're sure you know how messy the alter world can get—heck, even online dating can get wild—but this movie explores the real-life consequences of the connections you make online (and just how much messier that can get).
Isa Pang Bahaghari
Joel Lamangan, the same director behind Rainbow's Sunset, is back—and this time he's bringing Nora Aunor. The film follows a 65-year-old seaman who reappears years after having been supposedly lost to the ocean. His family, including his wife (Aunor), have moved on with their lives at this point and the seaman recruits his best friend to help him re-woo the loves of his life.
ADVERTISEMENT - CONTINUE READING BELOW
Why you should watch it: It's said to have a shocking ending, according to the select press who attended its previews.
Finding Agnes
This quiet, soul-searching journey set in the fantastical landscapes of Morocco was originally supposed to be a rom-com—but we're thankful this Netflix film went the other way. It stars Jelson Bay as a rich but jaded businessman searching to connect with the mother who abandoned him as a child. His mission lands him in Marrakesh where he meets Cathy Duvera (Sue Ramirez), the manager of the B&B his mom owned—and who appears to have taken his place as her child.
Why you should watch it: Aside from vicarious escape to Morocco, this barebones film will take you deep into a poignant and worth-watching story about a person just trying to connect.
Four Sisters Before the Wedding
Ever wanted to find out how Bobbie became the only one who isn't a "favorite"? Well, get your tissues out for the much-awaited prequel to Four Sisters and a Wedding! You know a movie is good when it's still being used as meme content nearly a decade after its release. The Salazar siblings are back, this time with Charlie Dizon as Teddie, Alexa Ilacad as Bobbie, Gillian Vicencio as Alex, Belle Mariano as Gabbie, and Clarence Delgado as RebReb.
Why you should watch it: Don't lie, we know you definitely relate to at least one of the Salazar sibs.
The Boy Foretold by the Stars
ADVERTISEMENT - CONTINUE READING BELOW
Two students from an all-boys Catholic school—one decidedly queer and out about it, and the other fresh from a three-year relationship with a girl—find themselves at a crossroads. One is sure the other is the soulmate prophesied by a fortune teller, and the other isn't even sure who he is anymore.
Why you should watch it: Fate and faith are at the core of the first ever Boys Love entry to the Metro Manila Film Festival film fest.
Fan Girl
This Antoinette Jadaone-directed film had its world premiere at the 33rd Tokyo International Film Festival, for starters. It follows newcomer Charlie Dizon (yup, she's on a roll!) as a fan girl to heartthrob and superstar Paulo Avelino—who yes, plays himself—and what happens when she finds herself alone with her idol at some remote location.
Why you should watch it: People have been super mum about how this genre-bending take on the "obsessed fan" trope plays out—and with Jadaone at its helm, we can only expect the unexpected.
Share this story with your friends!
---
Help us make Spot.ph better!
Take the short survey
Load More Stories