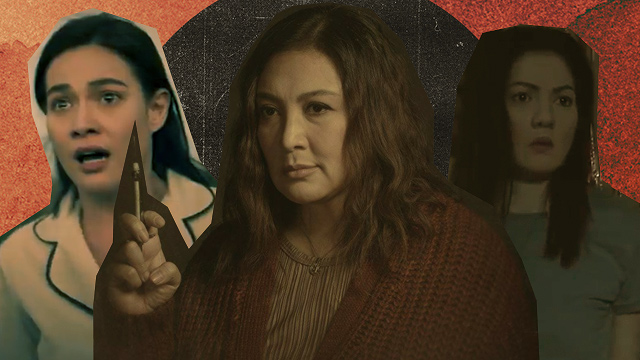 (SPOT.ph) 2019 was a good year for horror films, with the likes of Midsommar and Us. Hollywood films might have given you the spooks, but the local film scene also had a good roster of flicks to keep you awake at night. Whether you're a horror fan or not, here are a few flicks to check out the next time you're in a mood for a good scare. 
ADVERTISEMENT - CONTINUE READING BELOW
Also read:
10 Creepiest Scenes in Pinoy Horror Films
10 New Horror Films to Watch If You're Brave Enough
10 Horror Flicks You Can Stream on Netflix to Give You the Chills
10 Pinoy Horror Movies You Can Stream Right Now
Here are 10 Pinoy horror films that gave us chills in 2019:
Eerie
Directed by Mikhail Red, Eerie follows guidance counsellor Pat Consolacion (Bea Alonzo), who takes on a job at the Sta. Lucia Academy, an exclusive all-girls private school run by Catholic nuns. As she gets closer to the students beyond her post of counselor, she independently investigates the suicide of a pupil without telling the strict head teacher, Mother Superior Alice (Charo Santos-Concio). As she uncovers the school's centuries-old secrets, she and the students spiral into madness. Fun fact: Eerie is the fourth best-selling film of 2019.
Kuwaresma
Kuwaresma follows teenager Luis Fajardo (Seth Gonzalez) returning to his hometown of Baguio to attend the wake of his late twin sister, Manuela. His parents—Dr. Rebecca Fajardo (Sharon Cuneta), an unkempt and passive matriarch, and Arturo Fajardo (John Arcilla), the strict and secretive father—greet him when he arrives, but they don't divulge what truly caused his sister's death. Determined to find the truth, he uncovers bloody clues left around their house, and is eventually warned by a medium (Guila Alvarez) that he's being kept in the dark.
Clarita
The seventh best-selling Filipino film of 2019 follows the life of Clarita (Jodi Sta. Maria), a woman who has gone off to kill people in cold blood. Some claim she is afflicted with a mental disorder, but all the help she got from experts and professionals proved to be useless and her murderous tendencies persisted. Believing her to be possessed, she is detained and later visited by Fathers Salvador (Ricky Davao) and Benedicto (Arron Villaflor) to exorcise the demon attacking her and using her body as a host. This Derick Cabrido-directed film from Black Sheep Productions is inspired by the true story of Clarita Villanueva in 1953, who reportedly got bitten by invisible creatures while in jail.
Abandoned
Abandoned is an iWant Original directed by Liway director Kip Oebanda, which revolves around a single mother (Beauty Gonzales) who works as a security guard to provide for her child (Seth Fedelin). Struggling to make ends meet, she takes on making rounds at an abandoned building in Manila. The night shift stirs fear in her, yet she persists for the extra money. As ghosts and spirits begin to haunt her, it's only a matter of time before the horrors invade her own home and life. If you haven't seen this yet, the movie is available to stream on iWant. 
ADVERTISEMENT - CONTINUE READING BELOW
Banal
A group of teenagers find themselves in the forest of mystical Mount Awanggan, known for granting the wishes of those who reach its peak. They're warned of all the horrors they may encounter on the way up yet they continue their trek, only to realize that their worst fears are true. Aside from supernatural haunts, the young cast—consisting of Andrea Brillantes, Bianca Umali, Miguel Tanfelix, Taki Saito, and Kim Last—helps unravel issues of peer pressure, identity crises, and great responsibility.
Second Coming
Moving into new, sparkly, haunted houses are nothing new in the realm of horror, and this flick shows how physical space and structure can preserve the soul and intentions of those who have passed. Second Coming stars Sta. Maria in another horror film, this time as  Bea, who has just married a widower named Pao (Marvin Agustin). Aside from adjusting to a new marriage, Bea must also become a stepmother to Pao's daughter Imee (Angelica Ulip), who still holds on to the memory of her real mother (Queenierich Rehman). As Bea attempts to fill the void, the house and Imee both drive her mad. The film also stars Arcilla and Bing Loyzaga.
ADVERTISEMENT - CONTINUE READING BELOW
The Ghosting
Andrea Brillantes plays Grace, a girl who's new to town and eager to make friends. Everything seems normal until Ken (Dead Kids' Khalil Ramos), a boy who can't seem to relax and is always on the lookout for danger, comes along. A mysterious doll head appears in Grace's bag one day, and Ken fears she may be the next abductee of the cursed girl at the red house. Together, they try to learn more about the mysterious disappearances and apparitions in town, and try to get Grace out of harm's way before it's too late.
Santigwar 
The Santigwar is a kind of albularyo who not only heals and does magic, they also fight against evil. Young Hasmin (Alexa Ilacad) is a Santigwar herself and has been on the lookout for the aswang clan that is responsible for killing her mother. A band of teenagers arrive and triggers her senses, and she realizes the aswang is closer than ever before. Fearing for their safety, she pushes them to leave. This film under Reality Entertainment is directed by Joven Tan and also stars Marlo Mortel, Marco Gallo, Paulo Angeles, Mich Liggayu, and Pam Gonzales.
ADVERTISEMENT - CONTINUE READING BELOW
Maledicto
Xavier "Xavi" Lavezares (Tom Rodriguez) was on his way to becoming one of the best psychiatrists around, until his possessed sister Mara (Inah De Belen) kills herself in front of him, rendering him traumatized. In an attempt to find answers, he becomes a priest and immerses himself in the school of exorcism. Sister Barbara "Barbie" Vergel de Dios (Jasmine Curtis-Smith) claims that one of her former students, Agnes (Miles Ocampo), is showing signs of posession. With no one believing her, she turns to Fr. Xavi, and together, they exhaust all means to exorcise Agnes, and face a grim reality ahead of them. 
Sunod
Directed by Carlo Ledesma, Sunod features Carmina Villaroel as mother willing to do everything to help her daughter recover. As hospital bills pile up, she signs up to become a call center agent. One night at work, she encounters a phone call that fades into static and ends in a shriek. After this, a mysterious figure begins to follow her wherever she goes. Sunod also stars JC Santos and Mylene Dizon and it is the only horror entry in the 2019 Metro Manila Film Festival.
ADVERTISEMENT - CONTINUE READING BELOW
Share this story with your friends!
---
Help us make Spot.ph better!
Take the short survey
More Videos You Can Watch
Load More Stories