10 Rom-Coms You Can Watch By Yourself
Who said you need an S.O. to enjoy a rom-com?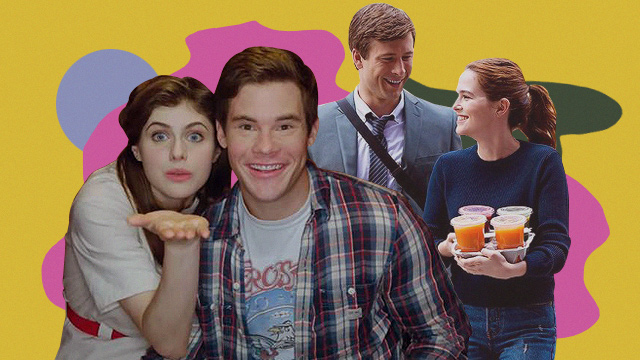 (SPOT.ph) The cheesy dialogue, the unrealistic meet-cute, and of course, the overly attractive people—the rom-com. You would know by now that romantic comedies are in no way true to life (if you're living in one, good for you!), but there's no denying that they still provide a great escape from reality, regardless of your relationship status. Yes, it might be about finding love, but laughs are guaranteed in between, and who could say no to a feel-good flick? Nobody said you needed an S.O. to watch rom-coms, so we round up a few you can watch in your own time.
Here are 10 rom-coms you can watch—no company needed:
A Cinderella Story (2004)
Inspired by the fairytale you grew up with, A Cinderella Story follows Sam Montgomery (Hillary Duff), the modern-day Cinderella in this 2004 flick. After her wealthy father Hal (Whip Hubley) dies, she's left in the hands and under the mercy of her vain stepmother Fiona (Jennifer Coolidge) and mean stepsisters Brianna (Madeline Zimma) and Gabriella (Andrea Avery). Aside from constantly tending to their whims, she also has to work at the family diner in order to save enough money to go to Princeton University. Sure, there's a charming prince in this one (in the form of Chad Michael Murray, no less), but that's not the main focus of the story, and you'll be busy rooting for Sam and her Princeton dreams.
ADVERTISEMENT - CONTINUE READING BELOW
How To Be Single (2016)
You might think this is a "being single is way better" flick, but we assure you it's not, as it explores the drama, comedy, and beautiful messes of relationships, no matter where you stand on being partnered. Alice (Dakota Johnson) breaks things off with her boyfriend to take the next step in her career, and in the process learns lessons of love and life with three women: her sister Meg (Leslie Mann), a gynecologist who wants no children of her own; Australian co-worker Robin (Rebel Wilson) who lives life on the wild side with hook-ups and one-night-stands; and Lucy (Alison Brie), a girl fixated on finding "The One." Aside from forming friendships with these girls, Alice begins to understand more about who she is what she wants out of relationships.
CONTINUE READING BELOW
Recommended Videos
Crazy, Stupid, Love (2011)
There's a lot going on in Crazy, Stupid, Love, but it all adds up to a fun watch: Cal (Steve Carell) and Emily Weaver (Julianne Moore) are on the brink of a divorce when Jacob Palmer (Ryan Gosling) enters the picture. With his help, Cal gets his mojo back and begins to seduce women like it's his job. The other members of the Weaver family have their own romances going on, and the way their different storylines all bizarrely intertwine will have you clutching your stomach, while also leaving you a bit wiser on the topic of love.
When We First Met (2018)
Traveling through time to correct that one misstep during your first encounter with your crush sounds like serious business, but when the consequences are hilarious, you'll shrug it off. Noah Ashby (Adam DeVine) is at the engagement party of Avery Martin (Alexandra Daddario), a girl he's been in love with for three years. As night falls, he finds himself drunk in a photobooth and realizes he can redo his first meeting with Avery. With his current knowledge and determination to get the girl, he goes back in time and ends up with mixed—and horribly funny—results.
ADVERTISEMENT - CONTINUE READING BELOW
Set It Up (2018)
You're overworked, underpaid, and dead inside, and a workaholic boss only worsens that. Now, if only your boss got distracted from work, it would leave you some time to squeeze in a bit of rest. Set It Up's Harper Moore (Zoey Deutch) is an assistant to sports journalist Kristen Stevens (Lucy Liu), while Charlie Young (Glen Powell) is an assistant to venture capitalist Rick Otis (Taye Diggs), with both bosses very much at the top of their game. That, and Kristen and Otis are both high-strung with crazy demands. Harper and Charlie hatch a plan to get their bosses to date each other in order to get their minds off work, but the assistant duo slowly realize it's not that easy to get two hustlers to get along.
Crazy Rich Asians (2018)
Nick Young (Henry Golding) brings girlfriend Rachel Chu (Constance Wu) to his home country of Singapore to attend his best friend Colin's (Chris Pang) wedding. Through her college friend Peik Lin (Awkwafina), Rachel discovers that the guy she's dating is a member of the country's high society. She's not welcome in that small circle, but she especially feels it with Nick's mother, Eleanor (Michelle Yeoh). Rachel refuses to back down and is adamant about proving her worth. It sounds serious, we know, but trust us when we say your cheeks will hurt from all the Asian jokes, crazy antics, and extravagant displays of wealth. A little party never killed anybody after all, and this movie is your invite.
ADVERTISEMENT - CONTINUE READING BELOW
Book Club (2018)
You've heard of Fifty Shades of Grey, a raunchy read that hit shelves in 2011, which got its own film in 2015. In Book Club, four women—hotelier Vivian (Jane Fonda) who is scared of commitment, recently widowed Diane (Diane Keaton), divorced federal judge Sharon (Candice Bergen), and married but sexually frustrated Carol (Mary Steenburgen)—read the said book and are turned on, and they take it as their go signal to explore things that have scared them before. If you've sneakily read an excerpt of their book of choice, you'll be able to relate and earn a few nuggets of wisdom along the way.
Love Actually (2003)
Christmas and rom-coms go well together like strawberries and cream, and Love Actually is a romantic comedy you need to see at least once (or over and over again). The film features an ensemble cast—including Alan Rickman, Bill Nighy, Colin Firth, Emma Thompson, Hugh Grant, Laura Linney, Liam Neeson, Martine McCutcheon, and Mr. Bean's Rowan Atkinson to name a few—and is set five weeks before Christmas. Ten separate stories happen simultaneously, each one exploring a different kind of love between different individuals, which are all connected.
Legally Blonde (2001)
Whoever said pretty girls can't be smart and vice versa seriously needs to reevaluate that mindset because gals like Elle Woods (Reese Witherspoon) prove that you can get things done and still look cute. After boyfriend Warner (Matthew Davis) breaks up with her for being too blonde (read: not smart), she does everything she can to get into Harvard Law to win him back. She has a hard time adjusting to her new surroundings and snooty classmates, but Elle is determined to prove her worth, and maybe strike up a new romance along the way. Not only will you be inspired by her dedication to the hustle, you'll also gain access to a trove of quotable quotes from the film!
ADVERTISEMENT - CONTINUE READING BELOW
Always Be My Maybe (2019)
Childhood friends and neighbors Marcus (Randall Park) and Sasha (Ali Wong) haven't been in touch since their awkward teenage fling, but Sasha, now a renowned chef, returns to their hometown of San Francisco, and the two attempt to rekindle the friendship. Always Be My Maybe is written by Wong and Park alongside Michael Golamco, so there's no shortage of laughs from the comedic duo on screen. We know you ordered romance and comedy, but you'll also get a side of music and a generous serving of Keanu Reeves. Trust us, it all works out.
Share this story with your friends!
---
Help us make Spot.ph better!
Take the short survey
Load More Stories